Swedish singer visits Bonners Ferry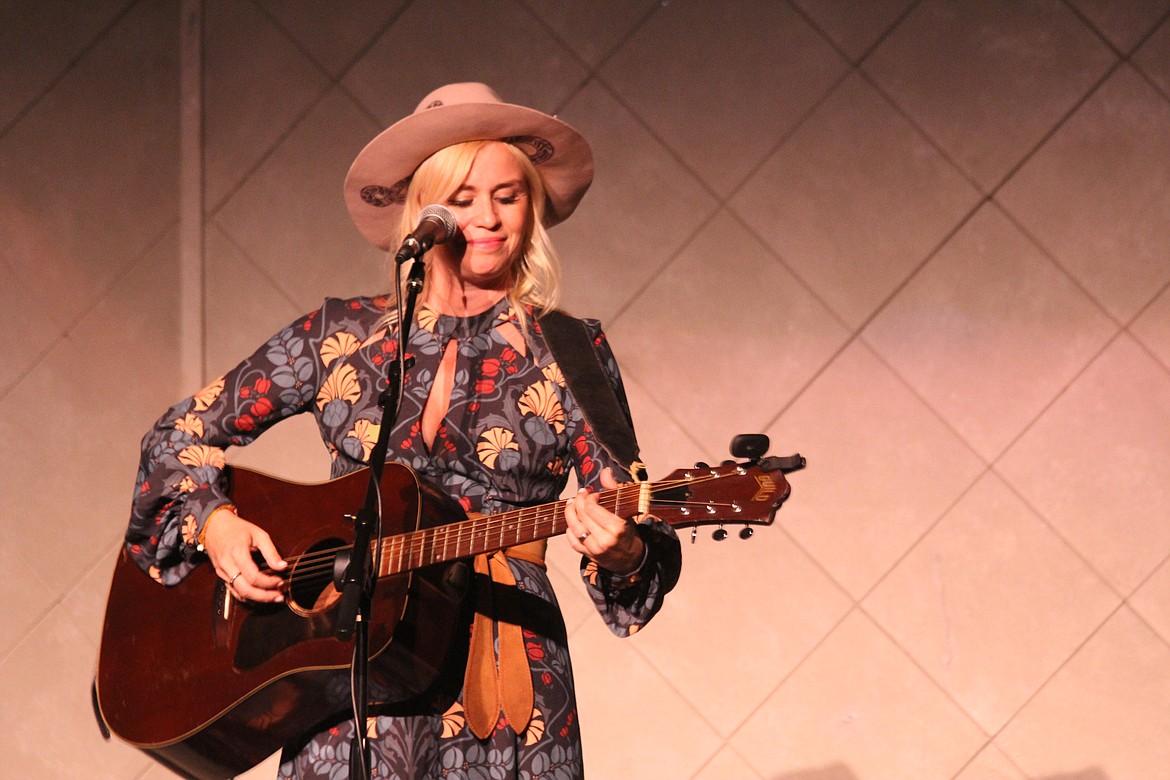 Photos by TANNA YEOUMANS Sofia Talvik performs at The Pearl Theater in Bonners Ferry on Friday, June 21, during her U.S. tour.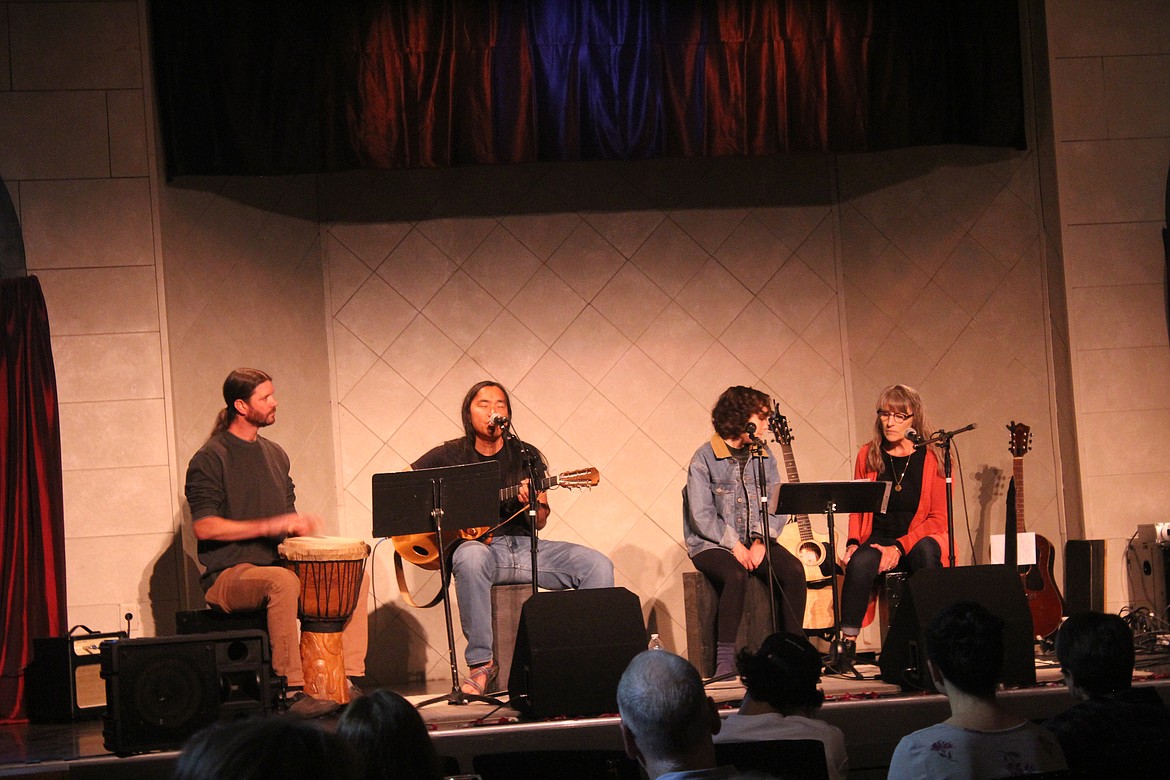 The opening act for Sofia Talvik featured local musicians Josh Sherven, Paul Bonnell, India Rain and Barb Robertson.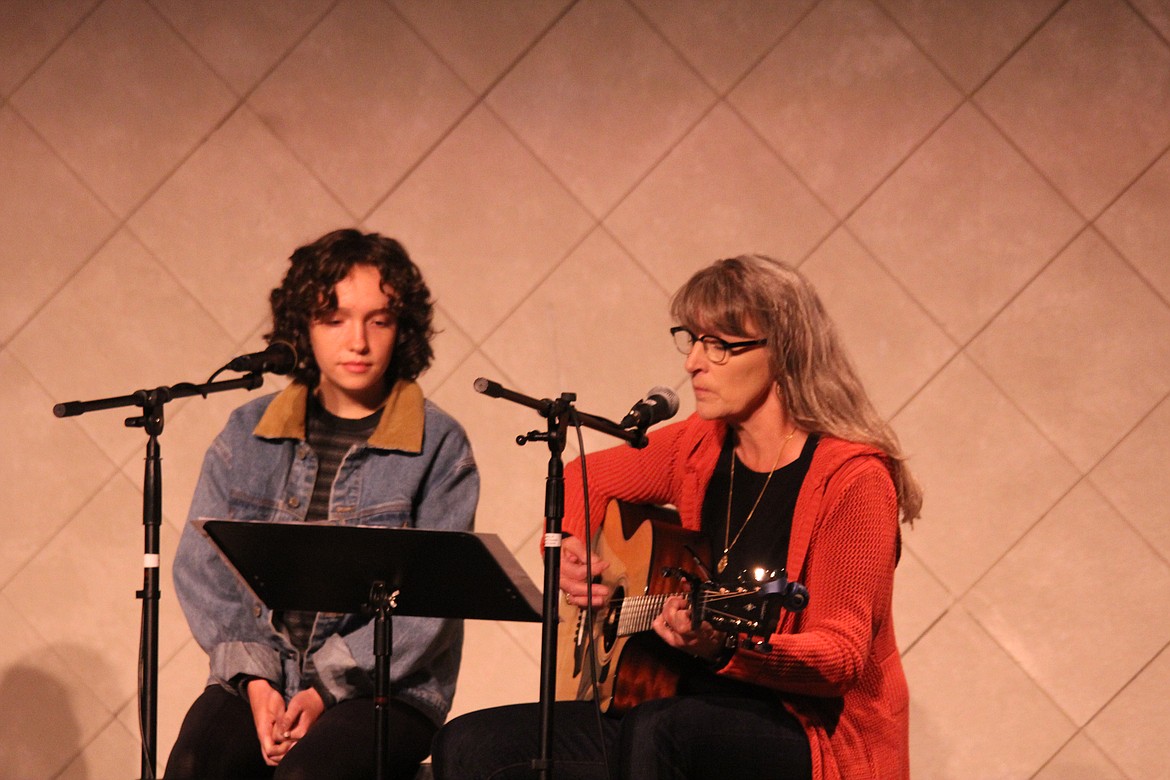 Photo by TANNA YEOUMANS India Rain and Barb Robertson harmonized during the performance.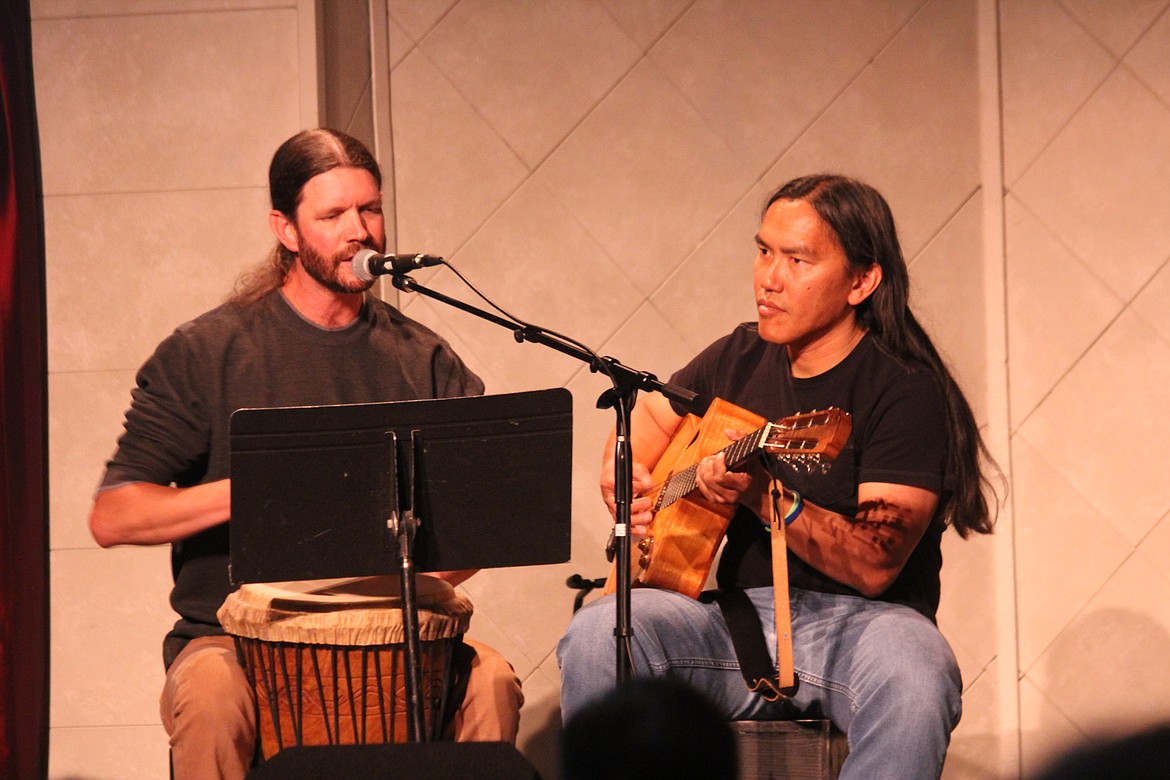 Photo by TANNA YEOUMANS Josh Sherven played a song that he wrote 14 years ago for the first time accompanied by Paul Bonnell.
Previous
Next
by
Tanna Yeoumans Staff Writer
|
June 27, 2019 1:00 AM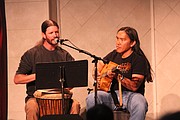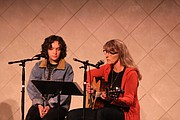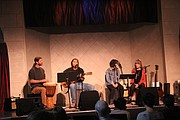 BONNERS FERRY — On June 21, the much anticipated Swedish singer/songwriter, Sofia Talvik, made a stop in Bonners Ferry at the Pearl Theater on her 2019 tour through a portion of the U.S.
Talvik first performed in 2002 after a few years of playing guitar and writing songs, eventually releasing her first album in 2005. In 2011, she quit her regular job and pursued her passion of singing and traveling.
Talvik grew up on an island in Sweden, which she bases not only her roots upon, but some of her songs as well.
"Some of my songs on my upcoming album 'Paws of a Bear,' which will be released later this year, are covering my Swedish home and my thoughts around this," said Talvik. "I sort of became a performer by accident, I was writing songs for my own pleasure but sent a demo to a Swedish radio show which picked it up and started playing it a lot."
Talvik continued to keep music on the side for quite some time until her husband encouraged her to take it further. He quit his day job to accompany her as the sound technician, enabling the couple to embark on a year and a half long tour across the USA.
"Idaho has been one of my favorite states since that first long 2011 tour which took me through 37 states," said Talvik. "You can tell since it's featured in the title track from my latest album 'Big Sky Country'. I know that's technically Montana's slogan but that's how I felt traveling through all these northern states, Idaho, Wyoming, Montana. The wilderness up there really speak to me."
Talvik and her husband travel in an RV, which enables them to sight see, visit tourist destinations, and get the full experience of the road trip tour.
"I hope I can find the time on this tour to go back to Kirkham Hot springs which is one of my favorite Idaho destinations," said Talvik.
The couple had previously visited southern Idaho and ended up booking a return visit to a concert house in Boise.
"We also wanted to see a different part of the state where we hadn't been before, so it worked out when we got the booking at Pearl Theater," said Talvik.
Being a touring musician is not always easy. There can be dilemmas with vehicles, venues, and so many more things that can go wrong.
"I've realized over the years that it's not the big fame and fortune that will be your way to happiness," said Talvik. "For me it's getting to explore the world while doing the thing I love. Meeting all different sorts of people, and coming to places I haven't been before, as well as returning to places I love."
With dilemmas come triumphs as one overcomes and moves forward. Having a loved one close by, sharing the experiences, makes a world of difference.
"Of course there are things I'd love to see happen, that would make my daily life easier and let me focus more on the creative side of this job, but for now I realize I am very lucky to be able to do what I do and to have my husband with me on the road," said Talvik.
There was an opening act for Talvik by a group of local musicians comprised of Paul Bonnell, Barb Robertson, Josh Sherven and India Rain. They played unique takes on songs that they chose, but some songs were originals.
Sherven wrote a song 14 years ago during his travels between the lower 48 states and Alaska. During their opening act, Sherven performed that song for the first time ever, much to the audience's delight which was evidenced by the response at the end of the song.
"I'm excited to see The Pearl continue to find such unique and incredible artists," said Sherven of the evening. "It was awesome to have Sofia Talvik in Bonners Ferry."
There was widespread compliments toward the evening's performers.
"I really enjoyed listening to her music, and I especially appreciated her sharing her Swedish folk songs with us," said Rain of Talvik. "They were beautiful. She has great stage presence and is a super sweet person."
During a portion of her act, Talvik spoke about the Summer Solstice, which is also a holiday celebration in Sweden known for Midsummer festivities.
"Meeting Sofia and Jonas reminded me of how roads, stories, and music connect us," said Bonnell. "I loved Sofia's compelling songs about home, longing, and the sea. A memorable Summer Solstice."
Robertson gave the audience a show with her strong, melodic voice during their opening act and solo song.
"I had a great time," said Robertson. "The audience was warm and engaging."
"It was great fun in Bonners Ferry," said Talvik. "I sure hope to be back again on a future tour."
The Pearl Theater continues to search for and bring artists to Bonners Ferry, enabling community members to have an evening of entertainment. For future events, visit www.thepearltheater.org.
---