Fifteen Boundary County volunteers cook, deliver meals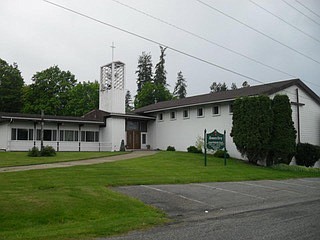 The Boundary County Victims Services teamed up with Bonners Ferry United Methodist Church to cook and deliver meals for 20 people in need.
Courtesy photo
by
Mandi Bateman
Editor
|
April 2, 2020 1:00 AM
BONNERS FERRY — In tough times, people always seem to emerge from the crowd to step up and help others, but in Boundary County, this is more evident than many other places. Boundary County is a place known for friendly people — neighbors helping neighbors.
Boundary County Victim Services Executive Director Rebecca James knew there were programs in place to serve food to children during the COVID-19 pandemic, but she was concerned about the vulnerable adults. She passed her idea onto one of the Victims Advocates, Cindy Pereira.
"I knew that she is really good with working with the elderly and she really enjoys that," said James.
Pereira immediately went to work and partnered up with the Bonners Ferry United Methodist Church, which had a kitchen. They gathered 15 volunteers and identified 20 people in need of meals.
"It is actually a small group because we couldn't overwhelm the kitchen," said Pereira. "There were so many things to consider, but everything just flowed."
Last Thursday, the cooks and drivers teamed up and delivered three meals to each of the 20 people.
"Our recipients were thrilled and appreciative to receive our wonderful packages, constantly repeating their thanks and showering us with compliments for doing this brave deed instead of staying home and keeping ourselves safe," Pereira wrote in a thank you letter that she sent out to all the volunteers.
Due to social distancing, they are not able to have many people cooking the meals, and that has limited the amount that they are able to do. Also, they have limited food, but plan to continue to serve the people as long as they can.
"We can't do big numbers at the moment," said Pereira. "We don't know how long this is going to go, so we are working with the food that we do have in the kitchen."
These volunteers are bringing more than food to feed the body — they also brought hope to nourish the soul.
"It was such a joy to be delivering, because some of them are alone and don't get out that much, and they just want to talk," said Pereira. "It is just such a nice opportunity for them to know that people care."
Pereira points out that there are other groups in Boundary County offering to help and she encourages anyone with a need to reach out to their own circles first, like churches or other organizations.
For anyone who may wish to donate to the group of volunteers, contact Cindy Pereira at 208-304-6429 for more information.
---