Help for those who need it
by
Mandi Bateman
Editor
|
April 2, 2020 1:00 AM
BONNERS FERRY — There is a reason Bonners Ferry has the reputation of being the friendliest town in Idaho. Now, more than ever, the community is proving that point — from lifetime residents to newcomers — they are offering to step up and help those in need during these tough times.
Virginia Bangoup has lived in Bonners Ferry for almost three weeks, but it took less time than that for her to fall in love with the community and want to help.
Upon arriving here, she started working for Yoder's Market, but has a background as an Uber and a Lyft driver, and she thought she could use that experience to help.
"There is going to be people that I know will be shut in due to health issues that need stuff delivered to them," said Bangoup. "All I am asking is one or two dollars for gas — whatever they can afford to help me out with gas — that is all I need."
Bangoup is prepared with a mask made for her by a friend of hers.
If someone is in need of having groceries delivered, Bangoup is happy to help. Contact her mornings at 425-750-7424.
Another group stepping up to help those in need are ones that already volunteer to keep the community safe — the South Boundary firefighters.
"Our Fire District is made up of volunteers, some of which are off of work now since their job was not considered essential services or they are broken up into shifts so as not to take out their whole company if someone were to be infected with COVID-19," wrote South Boundary Fire Chief Tony Rohrwasser in a press release. "So when a volunteer is out of work they go and find something else to volunteer for."
According to the press release, one of the volunteers, Cori Vandecoevering, brought up an idea of trying to help those that are prime candidates for having serious or fatal effects from the virus if exposed.
If a person is 60 years or older, immune compromised, or physically challenged, the South Boundary firefighters can help get food and other essential supplies to them.
"Super 1 Foods has a program where people can order their food online at super1foods.net." wrote Rohrwasser. "If you set up an account, order food, then call, text or email South Boundary Fire, tell us your pick up time and give us your order approval number, we can go to the store, pick up your order and deliver it to your home."
Other stores, including the Naples General Store, have ordering policies in place to accommodate the situation being faced right now.
"Your goods will be delivered on a District vehicle which will be disinfected and cleaned after each run," wrote Rohrwasser. "The District member will come to your door with an N95 mask and gloves to protect you and the driver from any transmission of the virus."
For more information or to request help, contact Tony Rohrwasser at 208-290-2613 or chief@southboundaryfire.com.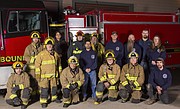 ---