Quilters become mask makers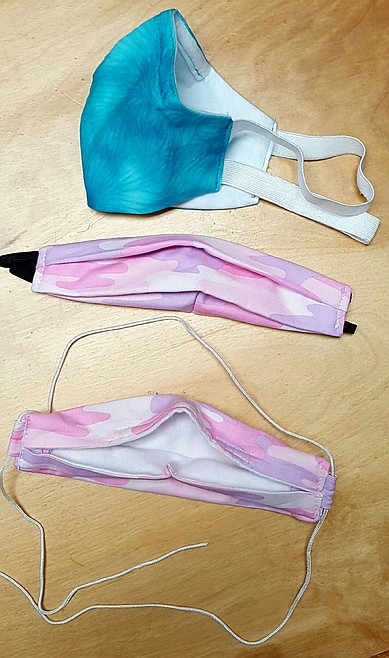 People in the community are stepping up and creating hand made masks for healthcare workers, and others in need.
Photo by CALLIES NICHE
by
Mandi Bateman
Editor
|
April 2, 2020 1:00 AM
BONNERS FERRY — They are just bits of fabric.
But these bits of fabric, put together and created by volunteers in Boundary County, have the potential to change someone's life.
Homemade masks are being created by volunteers and are donated to those in need, including to healthcare workers at Boundary Community Hospital. Others are making the masks for themselves and their family, in hopes to do their part to stay safe and help slow the COVID-19 pandemic.
"I heard one 9B Quilter was busy making for her family," said Bev Hokanson. "A friend of hers made masks for her to give out at work at the courthouse. Gals from Good Grief area are making for various hospitals. Baptist gals are making masks for EMT First Responders."
Many of the people behind this drive are quilters, taking their skills and using them for this important task.
"The quilters of America have put their quilting on hold to make masks for the medical community," said Callie Riese, owner of Callies Niche. "Due to the lack of masks for our medical community many quilters and sewists from the east to west coast have been donating their time and materials to producing these for our medical workers."
Local group, 9B Quilters, has members hard at work right now making masks, even putting sign-up sheets at the grocery stores, offering to make masks for the employees there.
9B Quilters member Gini Woodward has made 20 for Harmony House, a residential care facility in Hayden. Doreen O'Brien reports on the group's Facebook page that she has made about 100 or more and will continue as long as her supplies last.
"Callies Niche is spearheading to make for other local needs and I am helping her by picking up masks dropped off at her shop. Washing them and distributing," said Hokanson.
Riese said they have been trying to follow what the CDC is recommending. Although these masks are not guaranteed to be 100 percent effective, they do offer more protection than not wearing one at all.
At this time, they are making two different styles.
"One style is designed to go over medical face masks so they are able to reuse their professional one," said Riese. "For those who are unable to obtain a professional medical mask another type is designed to fit more firmly to the face to help prevent water droplets from entering the nose or mouth."
The Boundary Community Hospital is grateful for the masks they have received so far.
"We have been getting masks, the community is making them, and we are encouraging the donation. You never know when we might need them," said Lauren Kuczka, marketing director for Boundary Community Hospital. "There are all different patterns and stuff. The ones that we have been getting are just so cute — we don't want to use them!"
For those wanting to make masks, either to donate or for family and friends, Riese said many different patterns and styles can be found for free online, as well as several YouTube videos on how to assemble them.
Riese also has posted patterns to the Callie's Niche Facebook page.
"If you have questions you can call my store and I can get you going in the right direction," said Riese. "Even though my door is closed to the public, I am there regular hours. Please call if you would like to help."
One problem they are facing is a lack of elastic. The volunteers are looking for any elastic people may have that they are willing to spare.
"If you have any 1/8-inch elastic to 3/8-inch elastic that you would like to donate to our local community face masks for the hospital please contact me, even if only in 8-12 inch pieces," said Riese. "Our medical staff could use more masks."
For those wanting to make masks for themselves, Riese is happy to help give them alternatives to using elastic.
The material needed to make the masks can also be found at Callie's Niche. Contact the store during regular business hours for more information.
"Quilts are labors of love, given out of the kindness of the heart," said Riese. "Now all quilters and sewists are making hundreds of masks with love."
For more information or supplies, contact Callie's Niche at 208-267-1583 or find them on Facebook.
Caregivers for elderly who would like a mask can contact Callie's Niche or Bev Hokanson 208-267-5355.
For those wanting to donate masks to the Boundary Community Hospital, they need to put them in ziploc bags and label how many masks are in the bag. They can be dropped off at Outpatient Services in a bin between the doors.
---