Boundary Ambulance urges people to wear masks in public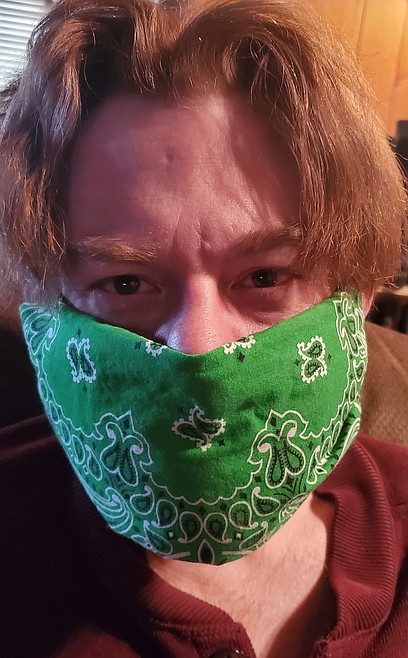 Photo by MANDI BATEMAN Face masks can be made simply at home if a commercial one is not available.
by
Mandi Bateman
Editor
|
April 5, 2020 1:52 PM
BONNERS FERRY — Until the risk posed by COVID-19 has abated, Boundary Ambulance Service is urging people to wear respiratory protective face masks when in public.
According to a press release from Boundary Ambulance, they state that they have read credible reports from overseas of COVID-19 being transmitted by individuals who had no symptoms. These people often didn't even know they were sick or contagious.
"We are extremely pleased now to see several government health agencies acknowledging this reality by changing their guidance to recommend the use of face masks by individuals while in public," said Boundary Ambulance in the press release.
According to Boundary Ambulance, the benefit of wearing a mask is air filtration, the level of which depends on the quality and fit of the mask. This not only can protect the wearer, but also the others around the person, in case they are unknowingly carrying the virus.
Masks can fail due to cross contamination while wearing, or when taking off the mask. Boundary Ambulance said the wearer must resist the urge to touch or scratch their face while wearing a mask, must wash or sanitize their hands before and after adjusting or removing the mask, and must keep both mouth and nose covered with the mask at all times while they are wearing it.
"Wearing a mask during an infectious disease outbreak is not at all rude, and in fact is a very polite thing we can do for our neighbors during our essential trips out," said Boundary Ambulance Operations Captain Drew Rinella in the press release.
If a person is unable to obtain a commercially produced mask, they can make one at home using common materials like a bandana or a t-shirt.
"You may have heard that wearing a commercially produced respirator mask prevents health care workers from receiving them, but that is simply not true," said Rinella in the press release. "Health care facilities, like Boundary Ambulance, purchase medical supplies from dedicated medical supply companies; not from retail outlets like hardware stores. Mask manufacturers have already diverted the vast majority of their sales to health care use, and several major retailers have stopped carrying respirator masks altogether."
Boundary Ambulance notes that wearing a mask is only one component of a total infection control strategy. They recommend frequent hand washing and staying home when you are sick.
For those individuals with a respiratory or heart condition, Boundary Ambulance advises them to check with their doctor to make sure they are healthy enough to wear a mask.
Guidance on disinfecting masks for reuse has been developed by Stanford Medicine. To learn more about mask disinfection: stanfordmedicine.app.box.com/v/covid19-PPE-1-1
For information about face coverings, including tips for creating homemade face masks: www.cdc.gov/coronavirus/2019-ncov/prevent-getting-sick/cloth-face-cover.html www.cdc.gov/coronavirus/2019-ncov/prevent-getting-sick/diy-cloth-face-coverings.html
---