PHD begins to receive vaccine for essential, healthcare workers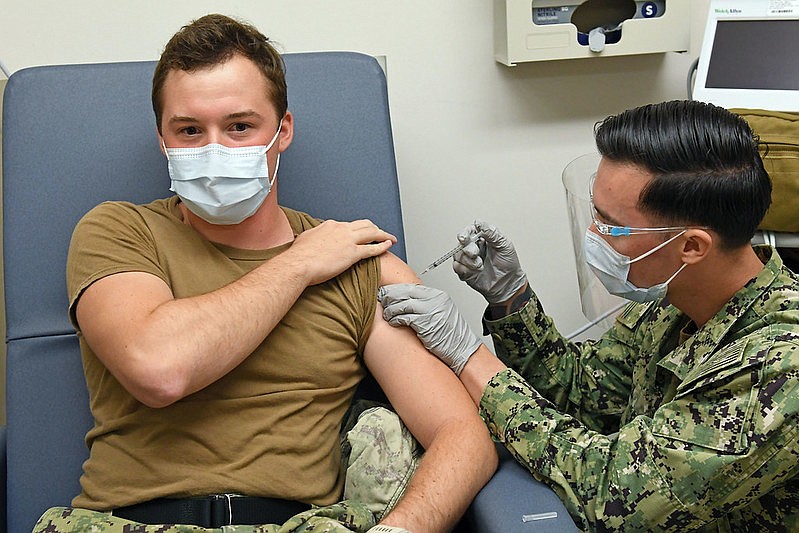 (Photo by U.S. Navy / CC BY 2.0) Hospital Corpsman 3rd Class David Tuil, assigned to the Preventive Medicine Department at Naval Health Clinic Hawaii (NHCH), administers one of the first Pfizer-BioNTech COVID-19 vaccines at NHCH to Hospital Corpsman 3rd Class Gage Finn
by
VICTOR CORRAL MARTINEZ
Staff Writer
|
December 18, 2020 9:50 AM
According to the state of Idaho, 944 COVID-19 vaccines have been administered, with many more to be distributed as supplies of the vaccine begin to be allotted to states.
Idaho Governor Brad Little convened the Idaho COVID-19 vaccine Advisory Committee (CVAC) to advise him on and assist state and local entities with prioritizing vaccines when they are in limited supply and guide planning efforts broadly communicate messaging to ensure equitable access to COVID-19 vaccines across the state.
In total, the Panhandle Health District is set to receive nearly 2,000 doses of the COVID-19 vaccine; A spokeswoman for the Panhandle Health District said they received 1,950 doses in their initial shipment, with 975 of those going to Kootenai Health.
The first vaccines will be given to long-term care residents, healthcare providers, and essential workers.
Healthcare personnel such as Hospital staff are essential for the care of COVID-19 patients and maintaining hospital capacity (includes support staff and clinical staff) and long-term care facility residents.
Essential workers include first responders (other than EMS) and safety (fire/police/protective services/community support), Pre-K–12 school staff and teachers and daycare workers, Correctional and detention facility staff (other than medical), food processing workers, grocery and convenience store, workers.
In Boundary County, there are 218 confirmed cases of COVID-19 and 255 probable cases; 168 cases are currently active.
Panhandle Health District has confirmed a total of 146 COVID-19 related deaths, with 6 of those deaths occurring in Boundary County.
The 7-day incidence rate is at 37.3 as of Friday, Dec. 18, 2020. A rate much lower incidence rate than on Nov. 3, which featured an incidence rate of 84.
---