APEX Fitness & Martial Arts now open
by
TONIA BROOKS
Staff Writer
|
February 27, 2020 1:00 AM
BONNERS FERRY— APEX Fitness & Martial Arts gym is now open with all brand-new equipment and group classes running every day except Sunday.
The 6686 Main St. building has been remodeled and restored with so much fervor one could barely remember the dilapidated property that stood in its place prior to the creation of the gym.
Operating primarily as a functional movement gym, APEX Fitness & Martial Arts is roomy and organized.
"Our grand opening, this past Saturday, was a success," said Professor Sam Brown, co-owner of the gym.
Martial arts is a big focus for the gym, as the motivation to build a larger gym came from the successful growth of Brown's Brazilian Jiu-Jitsu and Self-Defense training gym located on U.S. 95 at Three-Mile.
As part of the gym grand opening, a special guest will be visiting in early March.
On Friday, March 6, from 5:30-7:30 p.m., world-renowned self-defense and Jiu-Jitsu instructor, Sylvio Behring, will be conducting a women's self-defense seminar. Behring teaches law enforcement, military, and civilians, and has been doing so, worldwide, for decades.
The Behring seminar has a fee associated with it and Brown encourages anyone interested in attending to contact the gym for more information.
Apex Fitness & Martial Arts offers a large assortment of group physical fitness classes, gymnastics for kids, Brazillian Jiu-Jitsu, and Taekwondo.
A high intensity interval training (HIIT) class happens throughout the week, along with a conditioning class, Zumba, a strength class, cardio kickboxing, and a few other interesting classes specific to the gym; Blitz, Apex Blender, Mountain Fit, and Jits Fit.
The Blitz class occurs during the lunch hour, Monday, Wednesday and Friday, for 25 minutes. This class is primarily focused on conditioning, cardio and strength drills.
The group class that appears to be a signature activity of the unique gym is the Apex Blender, which is scheduled on Saturday from 9-11 a.m. This two-hour workout is divided into 30-minute segments of strength training, kickboxing, conditioning and finally, no Gi Brazilian Jiu Jitsu Flow Roll, which is basically positional sparring and drills.
Apex Fitness & Martial Arts also offers an open gym option for gym-goers in between certain group sessions.
There is a cost for the upcoming self-defense seminar on March 6. Call 208-946-2739 for more information. The gym is open from 4 a.m. to 11 p.m., for members, Monday through Saturday and is closed on Sunday's for deep-cleaning and maintenance. The front desk is open from 9 a.m. to 6 p.m., Monday through Friday, to sign up.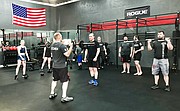 ---