Your animals are in Gentle hands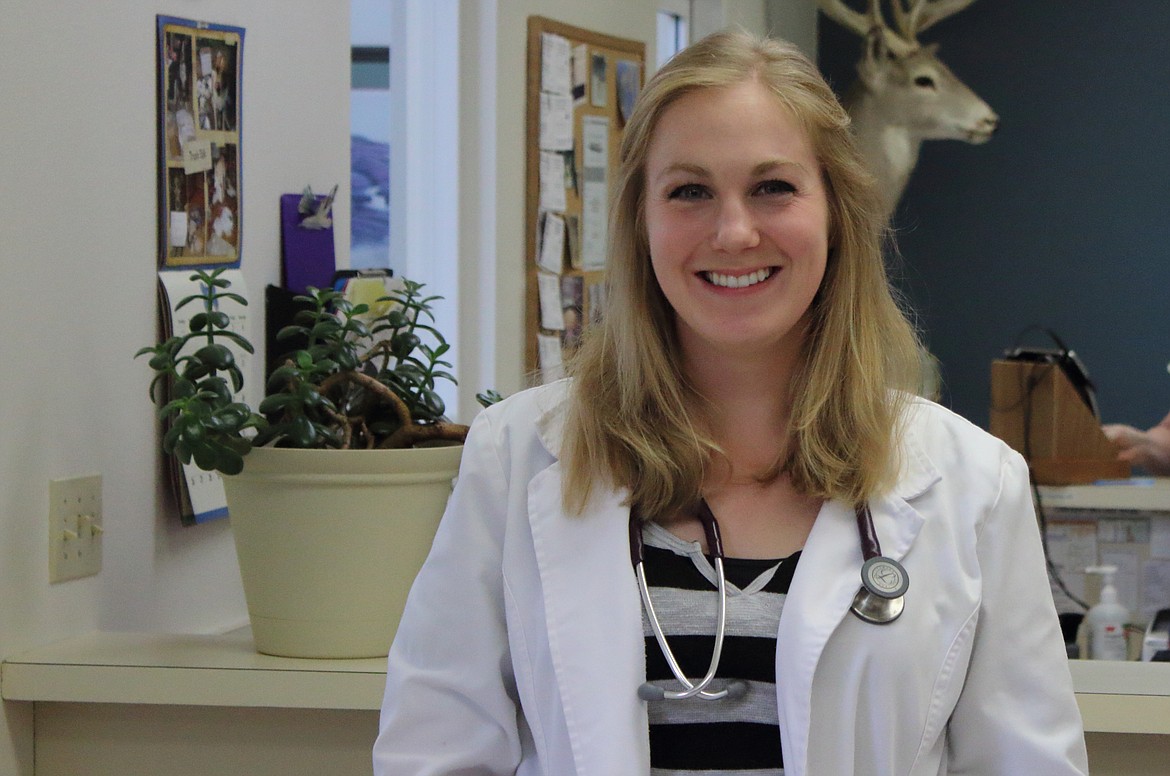 Dr. Lauren Gentle has joined Bonners Ferry Veterinary Clinic. The clinic's new veterinarian majored in zoology at Oregon State University and attended veterinary school where she received her graduate degree in veterinarian medicine at the University of California, Davis.
Photo by VICTOR CORRAL MARTINEZ
by
Victor Corral Martinez
Staff Writer
|
July 16, 2020 1:00 AM
BONNERS FERRY — Bonners Ferry Veterinary Clinic welcomes Dr. Lauren Gentle, the new veterinarian with experience and research in mixed animal practice.
Gentle majored in zoology at Oregon State University and attended veterinary school where she received her graduate degree in veterinarian medicine at the University of California, Davis.
The UC Davis School of Veterinary Medicine is the largest veterinary school in the United States and is currently ranked first among veterinary schools in the United States by US News & World Report.
"I always knew I wanted to be a veterinarian," Gentle said. "I loved animals more than people as a kid."
Most of Gentle's family live in Eastern Washington, which allowed her to grow up around animals — riding mules, horses, and feeding cattle.
A fellow veterinarian, Casey Watt from Bonners Ferry, worked with Gentle during her externship.
"We were out on a call prep checking a herd of 300 cows," Gentle said, when Watt said, "My hometown clinic is hiring a vet, are you interested?"
On a whim, at school during lunch, Gentle decided to call Rolland Hall, owner, and operator of the Bonners Ferry Veterinary Clinic.
"Sure enough they flew me out here, interviewed me and here I am." Gentle said.
According to Gentle, the clinic is the busiest clinic she has worked at, but everyone works together to look at cases and collaborate as a team.
"Everyone is amazing," she said. "It is fun being a mixed animal practice."
The clinic allows Gentle to see cats, dogs, chickens, turkeys, horses, cows, pigs and everything in between. Gentle said she will be on call for 24 hours with her colleague Dr. Damby during fair week.
Gentle credits having a mentor in Hall, who has helped her and is always willing to answer her questions. He has provided guidance that has allowed her to thrive in her work.
Shopping at the local grocery store, Gentle runs into clients who have been to the clinic, approach her and thank her for the great work.
"This small-town feel is incredible," she said, "I can't wait to be active in the community helping people and their animals."
According to Gentle, she is closer to her family in eastern Washington, and she has seen an increase of calls to go out and check out the family's animals. This summer, she has many events planned with her family that include birthdays, reunions and mule riding.
"We're just going to be hanging out all the time now, lots of mule riding with the family," Gentle said.
Often it is expensive to receive treatment at the veterinarian clinic, but Gentle wants to make sure people understand that although the clinic is a business, it does not mean they do not care.
"I want us to be seen as a positive part of the community and a place people are happy to come to with questions and concerns," she said.
---