Mirror Lake Ladies' Golf Report - July 23,2020
The Mirror Lake Ladies' Golf Association held their special annual summer "Margaritaville" open, an 18-hole golf tournament, on Wednesday, July 15.
Twenty-eight golfers ranging in age from 18 to 85 from all over the area participated under strict COVID-19 separation rules. The participants were divided into 14 teams for the game of the day, which was a modified "Scotch Doubles," in which team members hit each other's balls and the best ball is not necessarily their team score on each hole. By the end of the morning, the following winners emerged:
• First place: Deanne Shillington and Lauren Malpelli (net 66.4;)
• Second place: Maureen and Emily Blackmore (net 69.6;)
• Third place: Jenny Link and Etta Mae Schnueurele (net 70.4);
• Fourth place: Anne Bonar and Marie Villelli (net 72.6;)
• Fifth place: Renee Murphy and Bridget Basenberg (net 74.4)
Other winners were Linda Rupley and Sue Bonnett (Jimmy Buffett's consolation prize); Robin Gray (closest to pin on Hole No. 2 — 60 inches;) Lauren Malpelli (longest putt on Hole No. 9 — 8 feet, 7 inches); Gail Thompson (most accurate drive on Hole No. 6); and Julie Williams (longest drive on Hole No. 4).
After the tournament the ladies stayed for a picnic lunch under the trees with a raffle and prizes. The raffle winners were Jenny Link, who cleaned up with three wins of a wheeled travel bag and two beach baskets; Annie Swift, who won the lucrative 50/50 pot; Robin Gray, who won beach basket No. 1; and Michelle Fassler, who won the cooler basket.
Thanks to all the Mirror Lake ladies who donated raffle prizes, and special thanks to Rachael Bonar Stippich, owner of Boardwalk Boutique, Coeur d'Alene, for donating the beautiful travel bag. A fun day was had by all.
The Mirror Lake Ladies meet every Tuesday evening at 4:30 or 5 p.m., and/or every Wednesday morning at 9 a.m. Each week features a different game challenge for nine hole play. Ladies may stay longer and play a second nine if they wish. There are still many more nice golf days to come. The group welcomes any interested lady golfer to join the group.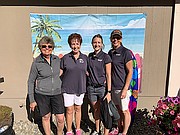 ---