Überleben bushcraft brand comes to Bonners Ferry
by
Victor Corral Martinez
Staff Writer
|
July 30, 2020 1:00 AM
Company sells fire starters, other outdoors gear
BONNERS FERRY — Überleben is a German word, meaning "to survive, or to live," and the name of Tim Garcia's bushcraft brand.
According to Garcia, "As a lifestyle brand in the outdoor industry, we believe a fire is an essential component to the outdoor experience."
Garcia cites influence from German design with a focus on durability and simplicity.
Überleben sells products that range from ferrocerium rods (flint and steel fire starters), flatpack wood stoves, and wooden Kuksa cups.
"If you love building fires, cooking over an open flame, or drinking coffee in the woods, we've got something for you," Garcia said.
Garcia moved to Bonners Ferry to open up a brick and mortar location at 6389 Kootenai St., bringing his wife and four children from Southern California in the spring of 2017. The move came a year after starting Überleben.
Before Überleben, Garcia spent 10 years in the music industry as an artist manager and concert producer.
The goal of the business is to encourage people to go outside and practice their "bushcraft" skills — the practice of primitive survival skills.
Überleben's focus is specific to fire-craft, the art of building a fire.
"We just want people to get outside and not feel intimidated by their lack of survival skills," Garcia said. "We want this experience to be accessible to everyone."
The company first began selling product on amazon's marketplace and quickly became a best-seller. There was no website, and Überleben was only an e-commerce business.
"We're now shipping our products to outdoor retailers all over the world, including REI," Garcia said.
According to Garcia, the goal is to bring fire-craft to the mainstream and encourage all people to incorporate fire into their outdoor adventures.
The future vision for Überleben is to lead the charge in the fire experience and expand production to Northern Idaho.
"We're also in the process of moving the majority of our manufacturing to Idaho — which is something we've wanted to do since moving here," Garcia said.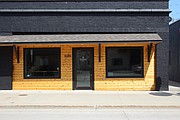 ---