Veterinarian moves into new location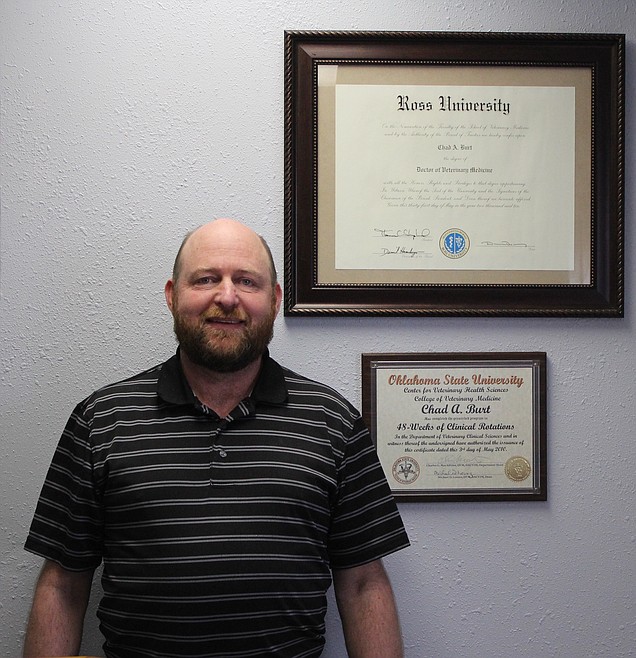 Chad Burt, DVM, opens the doors to all creatures great and small at his newly-established clinic, located at 35 Automation Lane, in Bonners Ferry.
Photo by TONIA BROOKS
by
Tonia Brooks
Staff Writer
|
March 12, 2020 1:00 AM
Dr. Chad Burt opens his own practice
BONNERS FERRY — Dr. Chad Burt tends to all animals, big and small. The accomplished veterinarian has experience treating elephants, sea lions, and even a pelican.
Today, Burt primarily works on large and small animals in Boundary County for things like vaccines, routine health concerns, dental healthcare, reproduction issues, breeding and delivery help, surgery and even chiropractic care.
Burt has been a resident of Boundary County since 2015 when he, his wife, Paula, and three daughters moved to the area from Somerset, Pa.
Prior to opening his own veterinary practice, Dr. Burt was practicing veterinary medicine at the Bonners Ferry Veterinary Clinic for the past four-and-a-half years.
The new veterinary office is located within the E.L. Internet property in the location that used to house the Bamboo Room Crafts Store.
At this time, the clinic has a treatment room, a surgical room, an exam room, the pharmacy/laboratory and reception area.
"The only thing we don't have right now is an x-ray machine," said Burt.
In speaking of how his practice differs from others, Burt said, "All of our records are online for access at any time, it's something that not a lot of clinics do."
The change in seasons bring changes in animal care needs that Burt and his clinic and staff are ready to address.
"Last month was dental prevention month, this month we are getting into large animal vaccines," said Burt. "People are getting ready for shows, competitions and trail riding; I can come out to them, or people can come in to get vaccines, and they can do them themselves."
"April is flea and tick month, ticks will start coming out at that time," said Burt. "I like to use the Bravecto, a chewable tablet that lasts about three months; it treats ear mites and demodex as well."
When Burt isn't caring for his patients, he can be found refereeing both Boundary County High School football and soccer as well as the various sports events for the Boundary County Parks and Recreation Department.
Raised in New Mexico and Texas, Burt attended undergraduate courses at Utah State University. He went on to study veterinary medicine at Ross University, which is located on St. Kitts Island, a Caribbean island. The Ross University Doctor of Veterinary Medicine program was founded in 1982 and accredited by the American Veterinary Medical Association Council on Education.
Burt said his favorite procedure to do is reproduction work such as cesarean sections and surgical artificial inseminations.
"We are going to start offering semen storage, and will offer insemination if needed," said Burt. "We have actually done a non-surgical artificial insemination with sheep, which is not very common at all. Most have to have laparoscopy, but I have learned a technique that gets us 75 percent to 80 percent conception rate."
Along with the services available within the clinic, Burt offers housecalls for a variety of pet care and farm animal needs.
Dr. Burt Veterinary Care can be found on Facebook and may be reached at 208-274-5550 or for emergencies at 208-610-0129. The clinic address is 35 Automation Lane and the website is drburtvetcare.com.
---