GoFundMe account set up for man who was killed in Bonners Ferry
by
Mandi Bateman
Editor
|
March 19, 2020 1:00 AM
BONNERS FERRY — Brian Drake, a 45-year-old Kootenai County man, was shot and killed on March 12 in downtown Bonners Ferry. Law enforcement officials believe the incident was "an intentional act."
The Bonners Ferry Police Department, assisted by the Boundary County Sheriff's Office, responded to a call of shots fired at 6811 Main St., Bonners Ferry, at 7:29 p.m. They arrived on scene to find Drake dead as a result of a gunshot wound.
According to a press release from the Bonners Ferry Police Department, an extensive investigation is underway and they are being assisted by the Boundary County Sheriff's Office, Boundary County Prosecutor's Office, Idaho State Police, the Kootenai County Sheriff's Office and the FBI federal task force.
According to the press release, a person of interest was detained and questioned, but was released. That individual remains under investigation.
Bonners Ferry Police Chief Brian Zimmerman expressed in the press release that he felt it, "important to inform the residents of Bonners Ferry that, although this was a tragic loss of life, evidence thus far indicates this was an intentional act, not random in nature."
The press release also stated, "the law enforcement community of Boundary County extends their deepest condolences to the family and friends of the deceased."
Drake, a father of four, was a chiropractor and practiced both in Hayden and in Bonners Ferry.
"Brian cherished his wife and children very deeply, and he was a fun-loving, caring, talented, engaged family man," said Linda Rohlinger, a longtime friend of the family. "His joy came from his family, his faith in Jesus Christ, and his community, in which his dedication to all were impeccable."
Drake and his family moved to Idaho in 2012 to be closer to his wife's family. He loved the outdoors, and was known for always having a guitar close by.
"Brian's family is beyond heartbroken by the loss of their beloved husband and father, and the pain they feel is excruciating," Rohlinger. "Fortunately, their faith is exceptionally strong and they find comfort knowing Brian is with the Lord."
A GoFundMe page has been set up to help his wife, Jennifer, a stay-at-home mom, and their four children: https://bit.ly/2UkvGSK
The Bonners Ferry Police Department is anyone with information which might assist in this investigation to contact on-duty police officers at 208-267-3151.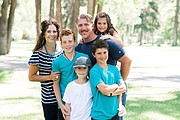 ---