Voters asked to vote absentee for May election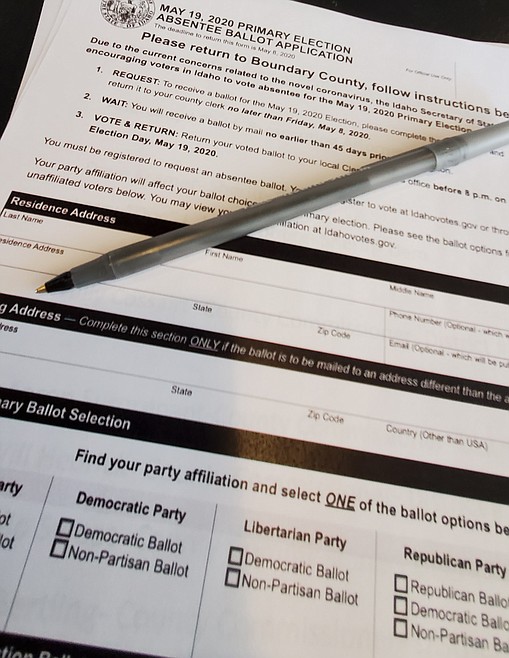 Boundary County voters are being asked to vote absentee for the May 19 Primary Election.
Photo by MANDI BATEMAN
by
Mandi Bateman
Editor
|
March 26, 2020 1:00 AM
BONNERS FERRY — Due to the COVID-19 pandemic, the Boundary County Courthouse is not open to the public, so Boundary County voters are asked to take part in #VoteEarlyIdaho and vote absentee for the May 19 Primary Election.
"What we are going to strive to do is get everybody to vote — that wants to vote — by absentee," said Boundary County Clerk Glenda Poston, who called this an evolving situation.
While registered voters may receive an Absentee Ballot Application by mail, Poston recommends that voters be proactive in this fluid and changing time, and go online to request an absentee ballot.
"You can do it all online right now," said Poston. "It is actually kind of cool."
It is important to note that the Absentee Ballot Application does not register a person to vote.
"Don't complete this form and think that makes you a registered voter. It doesn't work that way," said Poston. "You need to be a registered voter, but it is easy to register. Go online and register."
Another important note is that the Absentee Ballot Application is only valid until the end of the year. If a voter would like to receive an absentee ballot for the November General Election, they must check the box near the bottom of the application, as well as sign and date it.
• • •
To request Absentee Ballot: https://idahovotes.gov/vote-early-idaho/
To register to vote: https://apps.idahovotes.gov/OnlineVoterRegistration/
The Absentee Ballot Application can be submitted via mail, email, or fax.
Mail: Boundary County - Elections, P.O. Box 419, Bonners Ferry, ID 83805
Email: gposton@boundarycountyid.org or cgrainger@boundarycountyid.org
Fax: 208-267-7814
---