Nine Badgers receive All-IML football recognition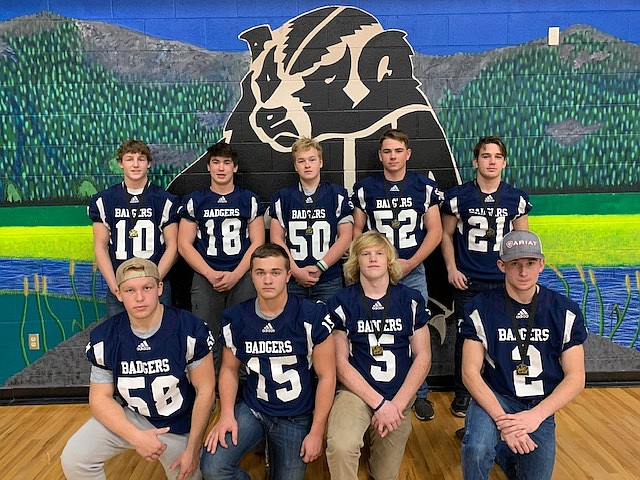 Back row rom left to right: Eli Richards, Blake Rice, Bo Bateman, Dillon Mai and Nathaniel Varelman. Front row from left to right: Travis Petersen, Teigan Banning, Wilson Newell and Sky Reinhardt. Photo contributed by Travis Hinthorn.
by
JAKE CACCAVARO
Staff Writer
|
November 12, 2020 1:00 AM
BONNERS FERRY — Nine members of the Bonners Ferry High School football team were selected to the 3A Intermountain League first or second team.
Junior safety Wilson Newell earned first team All-IML honors and was named the 3A Intermountain League Defensive Player of the Year.
"We were much better defensively this year than last year," said Bonners Ferry head coach Travis Hinthorn. "And Wilson was a huge part of that. He was our leading tackler last year which was great for him, but not great for us since he was our safety. Our defense plays with confidence knowing that Wilson is back there covering everything."
Senior two-way star Nathaniel Varelman was voted first team All-IML at running back and second team All-IML at linebacker.
"Nathaniel really committed to working out during the whole COVID shutdown," Hinthorn said. "He changed his body from March until August and you could see the difference in his speed and power."
Junior kicker Sky Reinhardt was an offensive weapon all season for the Badgers. High school football doesn't typically lend itself to high-caliber kickers, but Reinhardt proved to be invaluable to Bonners Ferry, earning first team All-IML honors at the kicker position and also second team recognition at cornerback.
"It's great to have a legitimate kicker in high school," Hinthorn said. "Other schools know that once we get to about the 25-yard line we have a great chance of at least three points. He has made a 40-plus yarder the last two years at Priest River."
Rounding out the Badgers' first team selections were a pair of juniors, center Bo Bateman and linebacker Eli Richards, and sophomore defensive lineman Dillon Mai.
"Eli is becoming a force at linebacker and is one of our best tacklers," Hinthorn said. "Bo was our center all year except for the Moscow game. We realized how valuable he is during that game he missed as we had all sorts of snap miscues. We started Dillon as a freshman and haven't been able to get him off the field defensively or offensively."
A trio of Bonners Ferry sophomores were named to the All-IML second team: Blake Rice, linebacker; Teigan Banning, quarterback; and Travis Petersen, offensive line.
---