Senior-heavy Badgers ready to build on last season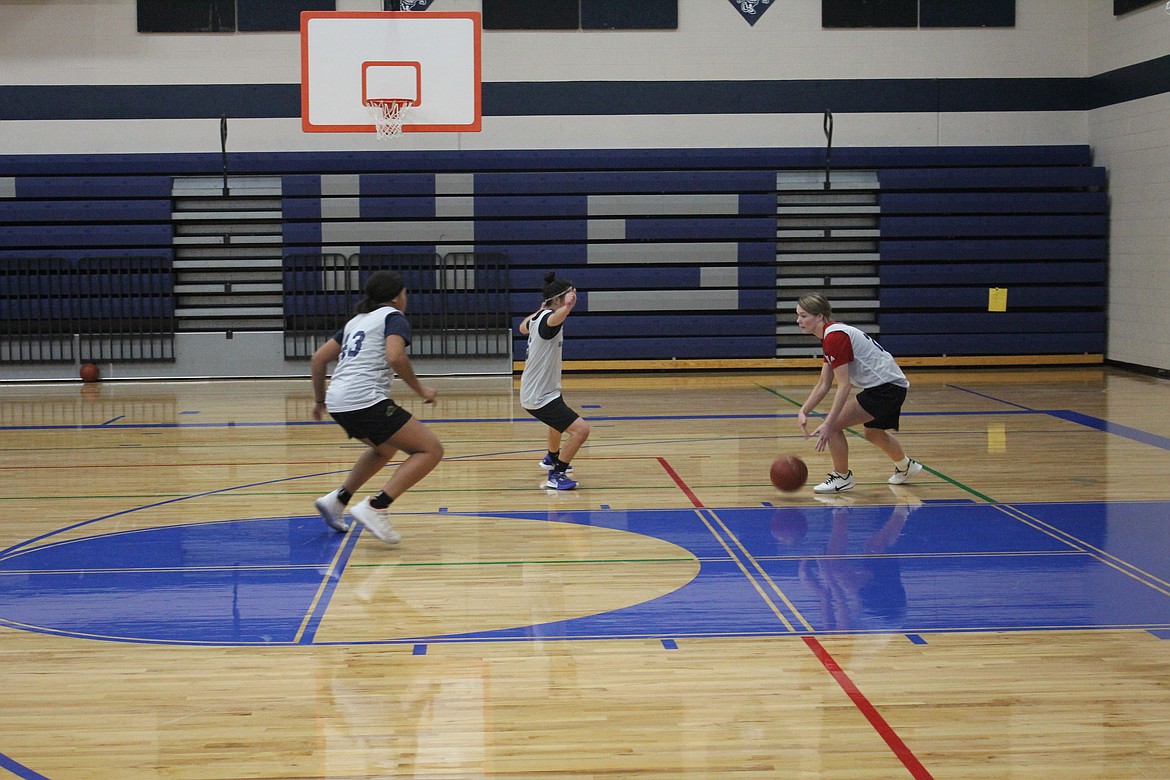 Senior Emma Pinkerton dribbles while defended by sophomore Kara Villaluz and freshman Asha Abubakari during an in-practice drill.
by
JAKE CACCAVARO
Staff Writer
|
November 12, 2020 1:00 AM
BONNERS FERRY — The Bonners Ferry High School girls basketball team is primed to pick up where it left off at the end of last season, when the Badgers won eight of their final 11 games to close out the season.
With all-IML senior guard Holly Ansley and star senior wing Sierra Hill back to lead the Badgers, Bonners Ferry has an elite veteran duo that is able to compete with any team in the state.
Experience should be a huge boon for a Bonners Ferry team that ultimately fell short in the 3A state playoffs play-in game last year to a Teton squad that boasted a starting lineup consisting entirely of seniors.
"We were excited to reach the play-in game last year," said Bonners Ferry head coach Travis Hinthorn. "But we ran into a Teton team with five senior starters. We want to be that senior-led team this year."
Seniors Sadie Hill and Emma Pinkerton are both back for the Badgers after strong junior seasons last year, and sophomore guard Kara Villaluz is primed for an uptick in playing time now that the small-but-quick guard has a year of experience under her belt.
Although the Badgers lost leading scorer and rebounder Baylee Blackmore to graduation, Blackmore's younger sister, Mia, will be in line for a bigger role. The sophomore guard was a strong backcourt defensive presence for Bonners Ferry last year, but she'll need to step in as a key ball handler now as well.
Bonners Ferry should be better than last year's iteration that nearly made the playoffs, but the strong 3A Intermountain League will pose some challenges. Defending 3A state champion Timberlake is back and as good as ever, while IML runner-up Kellogg should be improved as well.
"We always look forward to battling against Kellogg for the half seed to state," Hinthorn said. "We also look forward to competing against Timberlake to see where we are compared to them."
The Badgers have an intriguing addition to the team this year in forward Asha Abubakari. The 6-foot freshman quickly became a star on the volleyball court during the fall, and Hinthorn expects her to translate that quick adjustment to the hardwood as well.
The Bonners Ferry girls basketball team's first game is Friday, Nov. 20, when the Badgers will open the season at home against St. Maries. Tipoff is scheduled for 7 p.m.
---