BFHS boys, girls soccer drop weekend games to Post Falls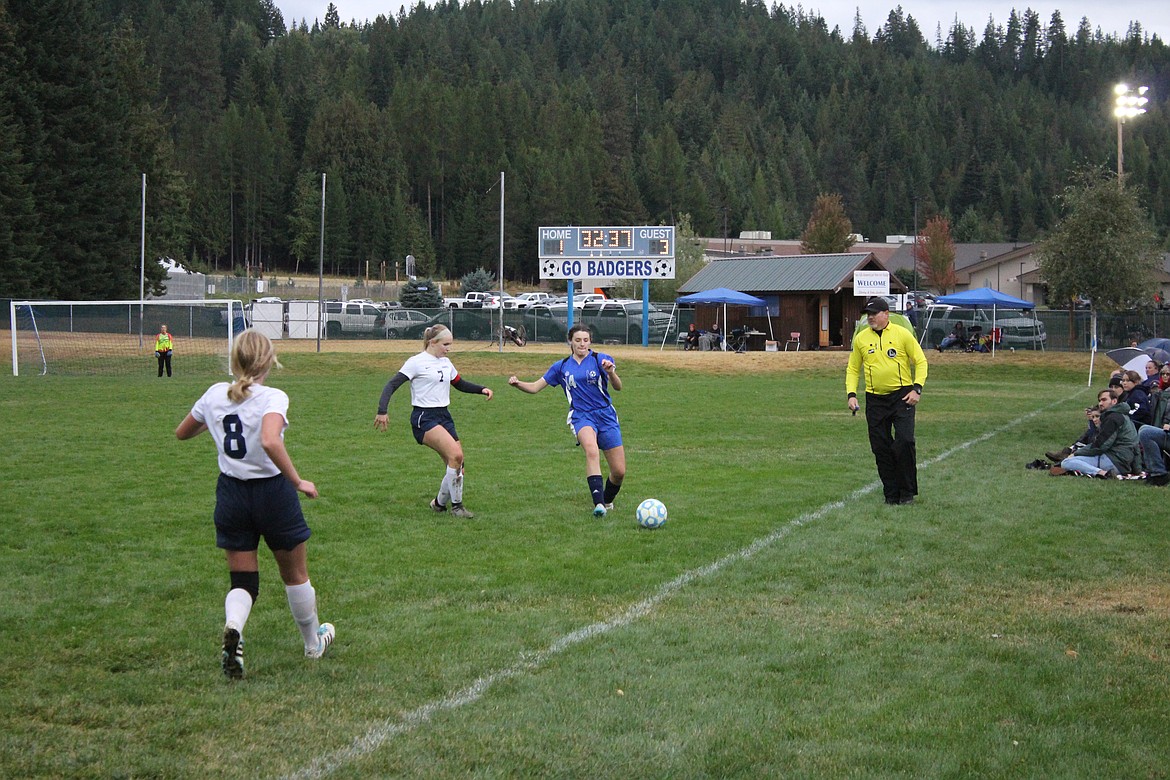 Sophomore Mia Blackmore dribbles down the field in the Badgers' 3-1 loss to Grangeville on Friday, Sept. 25.
by
JAKE CACCAVARO
Staff Writer
|
October 5, 2020 10:45 AM
BONNERS FERRY — It was a tough weekend for the Bonners Ferry High School boys and girls soccer teams, as both squads dropped Saturday matinee non-league games against Post Falls.
Playing in their first game against a 5A team, the 3A Badgers (5-1-3, 3-0-2 IML) struggled to score as they suffered their first loss of the season after spending the first two months unbeaten.
Bonners Ferry battled the visiting Post Falls to a 0-0 tie through the first 60 minutes, but Post Falls scored the eventual winning goal with about 20 minutes left, scoring on a corner kick that hit the post and trickled in behind Badgers senior goalkeeper Josh Beazer.
"Post Falls is 5A and we are 3A, so to say it was a mismatch is an understatement," said Bonners Ferry head coach Brycen Lunger. "But I feel like our guys stepped up and made it a very hard fought, interesting game that otherwise could have been a blowout."
Senior forward Daniel Walker and the Bonners Ferry forwards had a number of good looks, but Post Falls goalkeeper Kael McGowan deflected away every Badgers shot as he turned in his second clean sheet in a row.
"Daniel had a few looks but the Post Falls goalkeeper is really good," Lunger said. "He is the best goalie I've seen since I have coached for six years."
The BFHS boys' soccer team will be back in action on Monday at 4:30 p.m. when it takes on Immaculate Conception Academy on the road in Post Falls.
It was a much rougher go of it for the BFHS girls, as they lost 7-0, marking their third loss in a row since returning from a two-week hiatus due to a COVID-19 case on the team.
Senior goalkeeper Anna Bliss had another busy game and junior forward Morgan Burt led the Badgers in shots, but to no avail.
The BFHS girls' soccer team currently sits at third place in the IML and has its last game before districts on Friday on the road against Grangeville.
---