Boys soccer picks up two big wins, secures No. 1 seed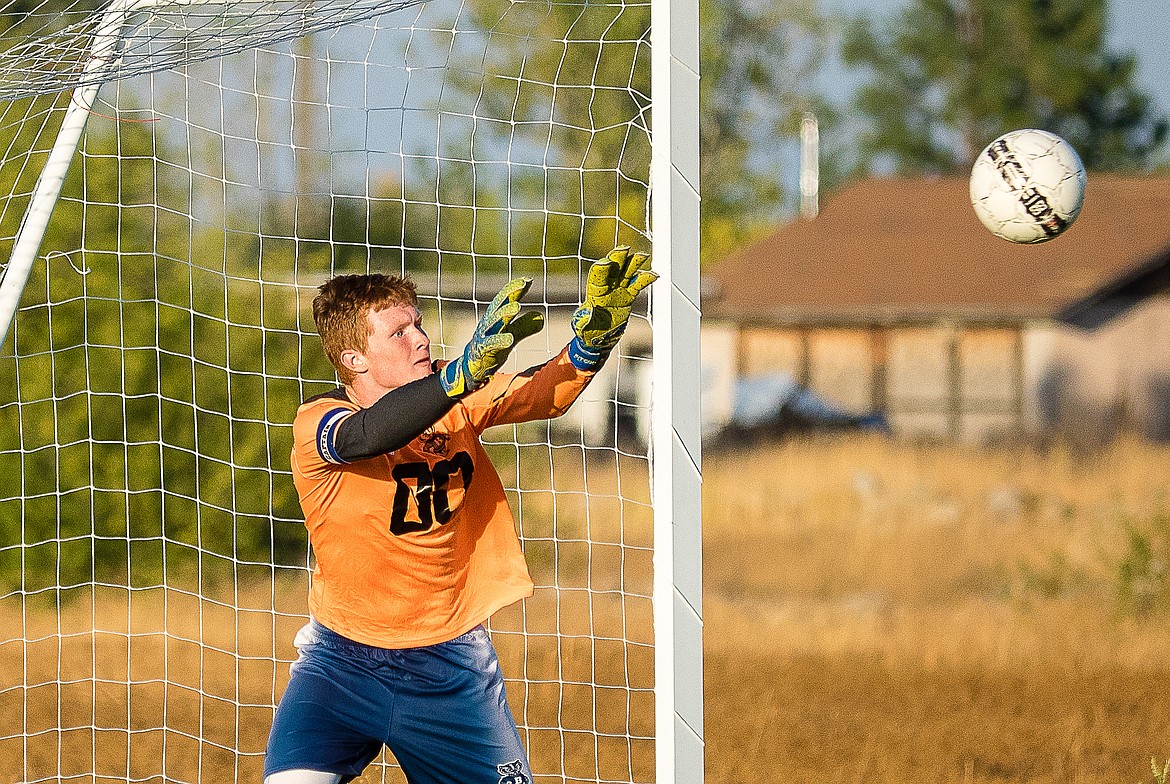 Senior goalkeeper Joey Beazer saves a shot in the Badgers' 2-1 win over Immaculate Conception Monday afternoon. Photo by Doug Beazer.
|
October 9, 2020 11:25 AM
BONNERS FERRY — The Bonners Ferry High School boys soccer team notched two huge victories this week, beating Immaculate Conception Academy 2-1 and shutting out Coeur d'Alene Charter 2-0.
The Badgers (8-1-3, 5-0-2 IML) first ended ICA's 10-game unbeaten streak, enacting revenge after blowing a two-goal lead earlier in the season that led to a tie.
After a scoreless first 20 minutes, sophomore Ridge Williams broke the deadlock with a nice shot from the 18 to put the Badgers up 1-0. Then with around five minutes to go in the first half, senior forward Daniel Walker netted another Badgers goal, giving Bonners Ferry a 2-0 lead at halftime against ICA for the second game in a row.
Once again, ICA answered back with the first goal of the second half, but this time the Badgers clamped down and prevailed. Senior goalkeeper Josh Beazer saved a penalty kick in the final minutes that could have tied the game up, and Bonners Ferry dealt ICA its first loss of the season.
"Our guys really wanted to win this game," said BFHS head coach Brycen Lunger. "We felt we let the last game get away from us."
Thursday's game against CDA Charter was a battle of unbeaten IML teams, as both the Badgers and Panthers stood atop the standings with no league losses.
Walker got Bonners Ferry on the board first with a goal less than 10 minutes in and senior defenseman Dalin Foster nailed a penalty kick with under 10 minutes to play for a 2-0 Badgers lead, where the score would remain for the rest of the game.
"I thought our team finally got it going in the second half," Lunger said. "We just have to be better at finishing great opportunities when they are in front of us."
With the win, Bonners Ferry secured the No. 1 seed and a first-round bye in the district tournament.
The Badgers play at 4 p.m. Friday, Oct. 17, against No. 4 seed Timberlake, which beat St. Maries 1-0 on Tuesday. The winner of the semifinal advances to the 3A state tournament, and earns a berth in Saturday's district championship game, also at 4 p.m.
All district games are at the Real Life Ministries soccer complex in Post Falls.
---