BFHS girls shut out St. Maries in district tournament opener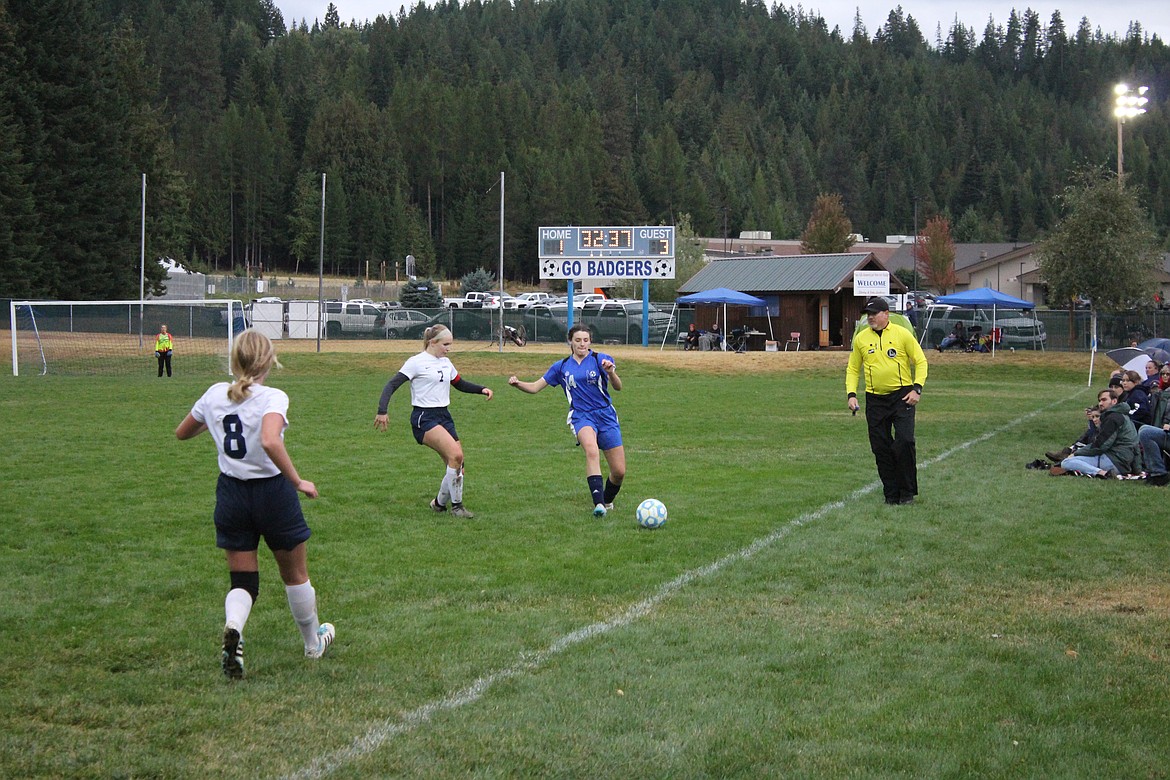 Sophomore Mia Blackmore dribbles down the field in the Badgers' 3-1 loss to Grangeville on Friday, Sept. 25.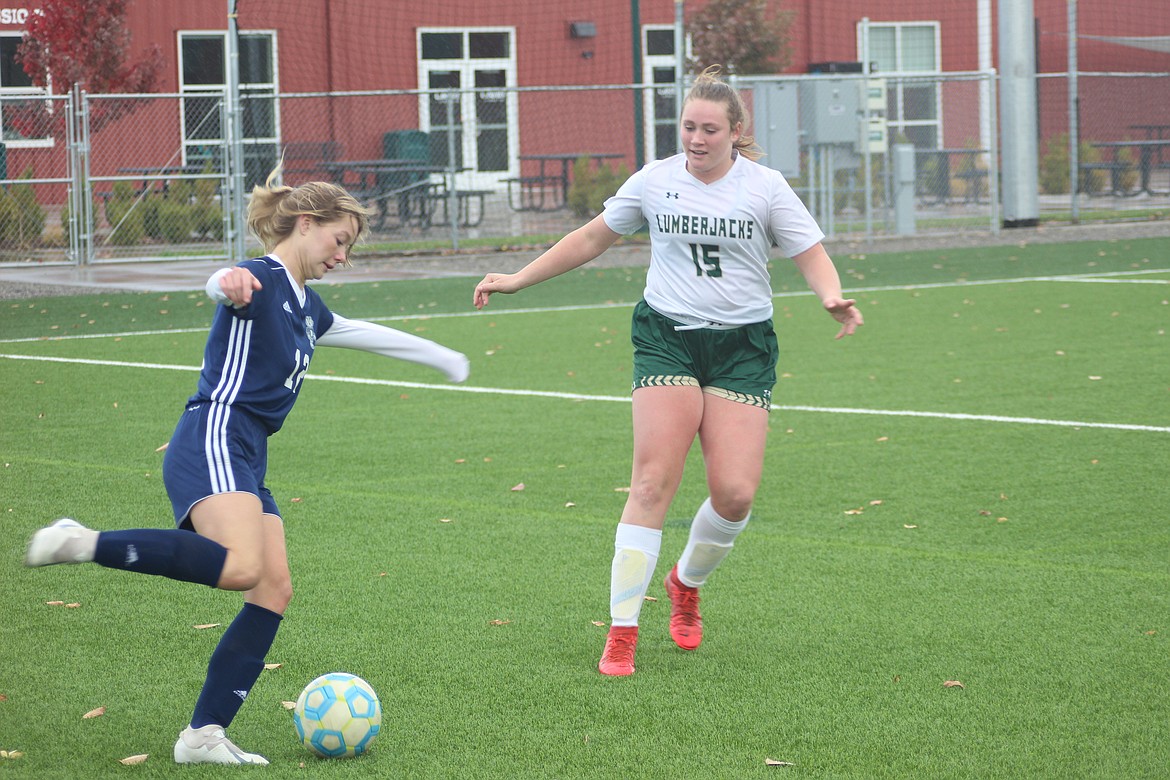 JOEL DONOFRIO/Hagadone News Network Bonners Ferry's Emma Pinkerton sends a ball toward a teammate as St. Maries defender Stacie Mitchell closes in during the Badgers' 4-0 victory on Monday, Oct. 12.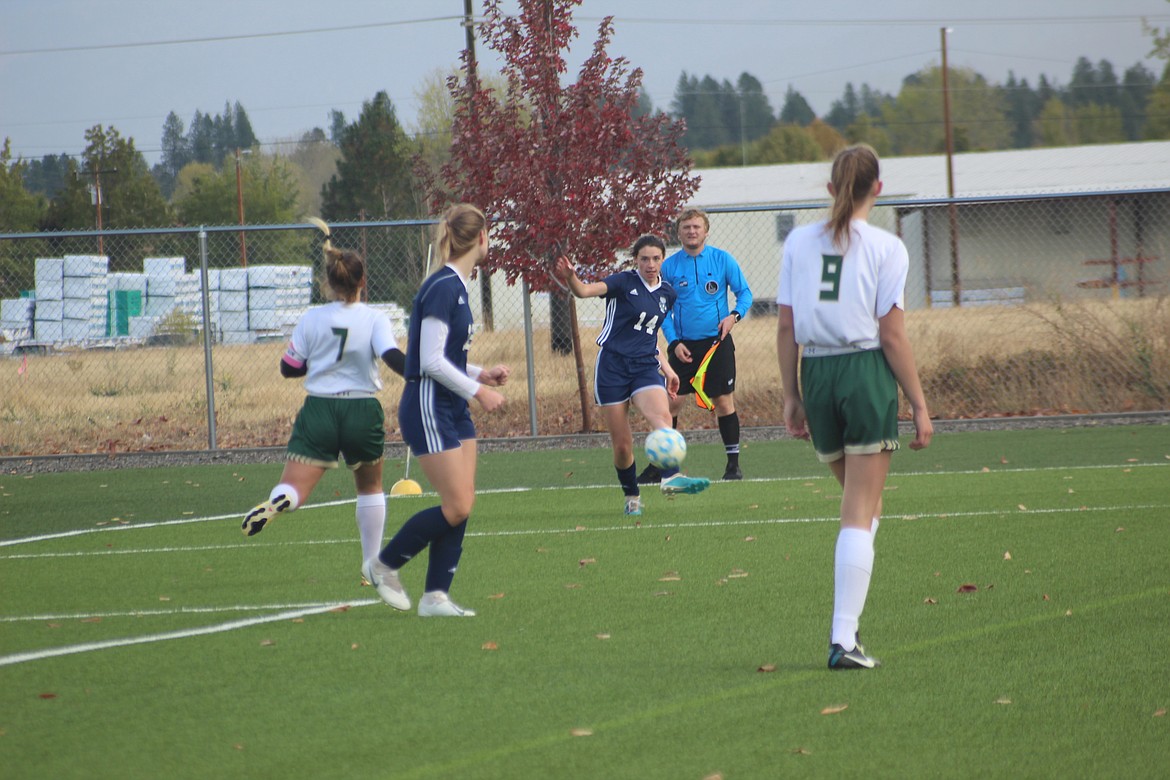 JOEL DONOFRIO/Hagadone News Network Bonners Ferry sophomore Mia Blackmore passes to a teammate during the Badgers' 4-0 victory over St. Maries on Monday in their district tournament opener in Post Falls.
Previous
Next
by
JAKE CACCAVARO
Staff Writer
|
October 13, 2020 2:00 PM
POST FALLS — The Bonners Ferry High School girls soccer team trounced St. Maries 4-0 Monday afternoon in the first round of the Class 3A district tournament.
Bouncing back in a big way after a four-game losing streak, the Badgers (3-5-1, 3-4 IML) received contributions from up and down the roster as they coasted to an easy win and a spot in the district tournament semifinals.
"I saw a lot of improvement in young players (Monday)," said Bonners Ferry head coach Emily Winebark. "Every single one of the girls got playing time. It was evident that our freshmen and sophomores have improved and are gaining more confidence in the game as they prepare for increased playing time next season."
All four Badger goals were scored by a different player, as junior forward Sophie Roemer, senior forward Madi McIntrye, senior defender Lily Blackmore and junior forward Eika Willis all found the back of the net. Blackmore's goal was the first of her high school career.
She has done an outstanding job at sweeper for the last couple years, Winebark said. "Earning her a spot on the all-league team last year, but not giving her many goal scoring opportunities. She was very excited to get her first goal."
The win was Bonners Ferry's first since a 2-0 home win against Priest River on Sept. 8. The Badgers have struggled since a return to play following a two-week hiatus due to COVID-19, but a big playoff win may have gotten them back on course.
Friday's semifinal will be against the league — and probably the state's — top 3A team, Coeur d'Alene Charter (11-1-1), which has won the past four 3A state titles. The winner of Friday's game, which starts at 4 p.m. at Real Life Ministries soccer fields in Post Falls, earns a state tournament berth and advances to Saturday's district championship.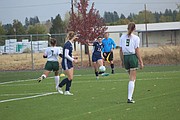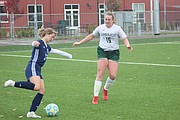 ---