Badgers fall to St. Maries in straight sets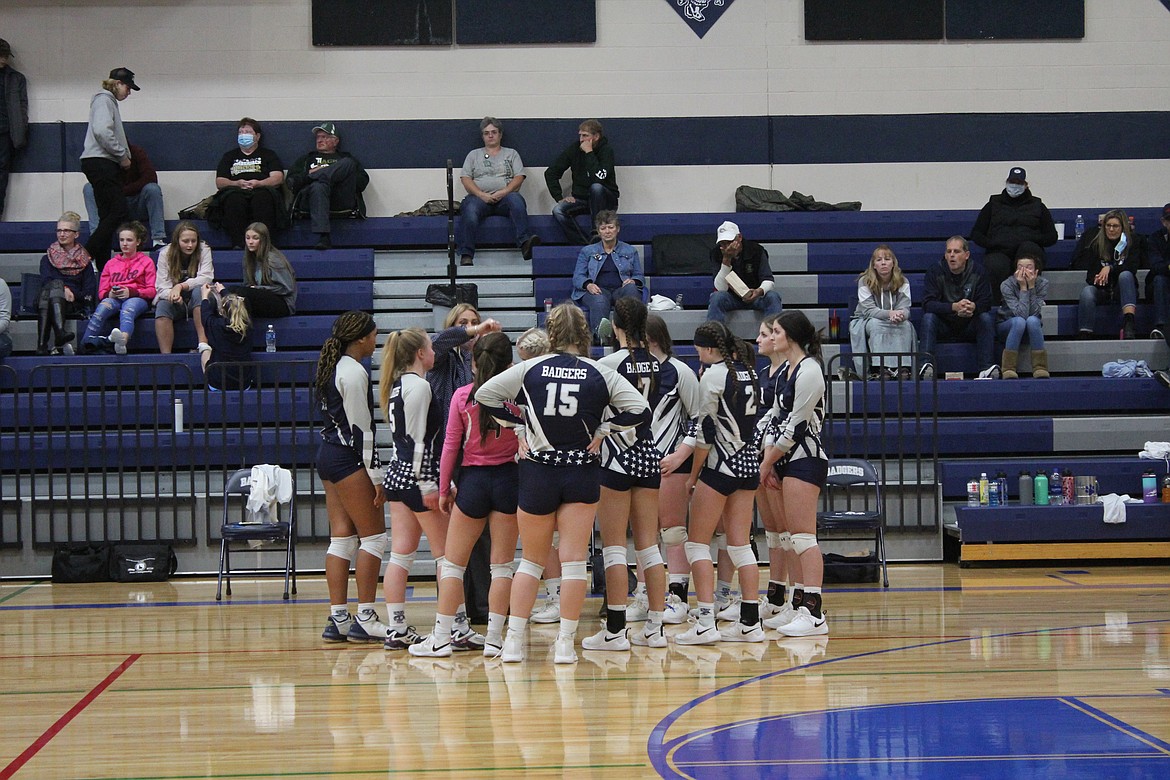 The Badgers huddle during a timeout in the team's 3-0 loss to St. Maries on Saturday, Oct. 10.
by
JAKE CACCAVARO
Staff Writer
|
October 14, 2020 8:30 AM
BONNERS FERRY — The Bonners Ferry High School volleyball team lost to St. Maries, 3-0, in straight sets on Saturday night in its second-to-last home match of the season, dropping the sets 25-20, 25-21, 25-6.
The Badgers (2-8, 1-5 IML) hung tough for the first two sets, battling St. Maries into the 20s both times, but after losing the first two sets in close fashion, Bonners Ferry struggled to put up much of a fight in the decisive final set.
"We do very well when we are doing very well," said Bonners Ferry head coach Kendra Maas. "And then we start to shut down a little bit with less communication when we are far behind or struggling.
Freshman hitter Asha Abubakari led the Badgers with five kills, while senior hitter Avery Pluid paced the team with three aces and two blocks. Senior defensive specialist Lexi Maas chipped in a team-high eight digs from the back line.
Passing plagued Bonners Ferry all night, with the Badgers consistently failing to set up the big or precise hits that St. Maries was always able to counter with.
"Our passing hurt us tonight," Maas said. "We work on it every day, we work on passing all the time."
It was the sixth loss in the Badgers' last seven games, as they've struggled to string together 25 points in a set. A resilient team, Bonners Ferry is competitive in nearly every match and set, but consistently dropping close, hard-fought sets and falling apart late in matches has dropped the Badgers to fourth place in the IML.
"Sometimes when we get so far behind, they don't feel like they can come back," Maas said. "I think they feel like the game is just over, which is never the case."
The Bonners Ferry volleyball team will be back in action on Thursday, Oct. 15 at 7 p.m. when it takes on Priest River in its final home match of the season.
---