Badgers football defeats Priest River in shutout 22-0 victory
by
VICTOR CORRAL MARTINEZ
Staff Writer
|
October 15, 2020 1:00 AM
BONNERS FERRY — The Badgers varsity football team opened Intermountain League play at home on Friday, Oct. 9, and delivered a 22-0 shutout win against the Priest River Spartans.
The Badgers established an early game lead in the first quarter, with two touchdowns and two extra-point kicks putting Bonners Ferry ahead 14-0.
BFHS running back Nathaniel Varelman set the game's pace and opened the scoring with a 15-yard touchdown run in the first quarter.
The second touchdown was set up with a 35-yard completion from Teigan Banning to Sky Reinhardt. Willy Wall finished the scoring drive with a 6-yard touchdown run.
Bonners Ferry received some excellent field position when Priest River went for it on fourth and 21 from their 30-yard line; the field position helped Wilson Newell run in for another touchdown sweep behind a great block from Travis Petersen, Badgers coach Travis Hinthorn said.
The extra-point kick was missed, but Newell's score put the Badgers in front 20-0.
"Defensively, we played well again," Hinthorn said. "We have been pretty solid on that side of the ball all year long."
Quinn Tucker and Bo Bateman tackled Priest River in their end zone, giving the Badgers two points on a safety on the last play of the half.
The second half was a much slower pace, with neither team scoring, but Badgers kept up a strong defensive effort to preserve the shutout.
"We were excited to win our homecoming game because that hasn't happened in a while, but we need to learn how to keep that energy in the second half," Hinthorn said.
The Badgers face the Timberlake Tigers in an away league match on Friday, Oct. 16. The two teams are 1-0 in the IML after the Tigers won at Kellogg last week. Bonners Ferry will attempt to improve on its 3-2 overall record.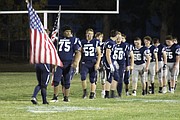 ---