Mirror Lake Ladies Golf - Oct. 15, 2020
|
October 15, 2020 1:00 AM
Although the ladies' golf season is officially over, a few celebratory events remained for the month of October 2020.
The first was the awards banquet which was held on Oct. 6 in the beautiful Tavern at the Lodge dining room in Dodge Peak Lodge. Chef Dirk Van der Kolk and his wife, Kim and their staff served the ladies an elegant six-course meal that was over-the-top delicious and a perfect prelude to the announcement of the awards winners.
Following the dinner, President Carrie Figgins and Vice President Anne Bonar made the awards presentations. The top award winners were Gerry Ann Howlett, Ladies' Club 2020 Champion, and Karen English, Ladies' Club 2020 "Ace of Aces." Other recognitions and awards were accompanied by a special gift to each lady of a personally initialed golf towel designed and created by Anne Bonar.
The following morning, the ladies held their "Impossible Open," in which Manager Ralph Lotspeich re-worked the golf course for the ladies to take on tricky and challenging tee boxes and pin placements on each hole. After hiking up
and down hills and putting up and down slopes, Ruth Ann Wilson and Evelyn Rae ended up in a tie for Low Net winner, each with 40, and Karen English emerged the Low Gross winner with 50. Ruth Ann also had a chip-in on Hole #9, and Karen had a chip-in on Hole #1. Karen also won for Low Putts with 15. All the ladies agreed it was a very enjoyable day.
While the ladies club activities are officially ended, the Mirror Lake Golf Course will remain open for a few more weeks. There may still be more good golf days left to enjoy. The course, consistently well maintained by Ralph Lotspeich and his crew, shows off its best in Spring and Fall. Come down and enjoy it while we still can!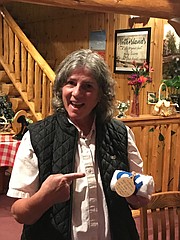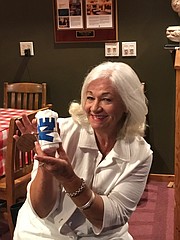 ---