Badgers face tough loss against Timberlake, losing 28-10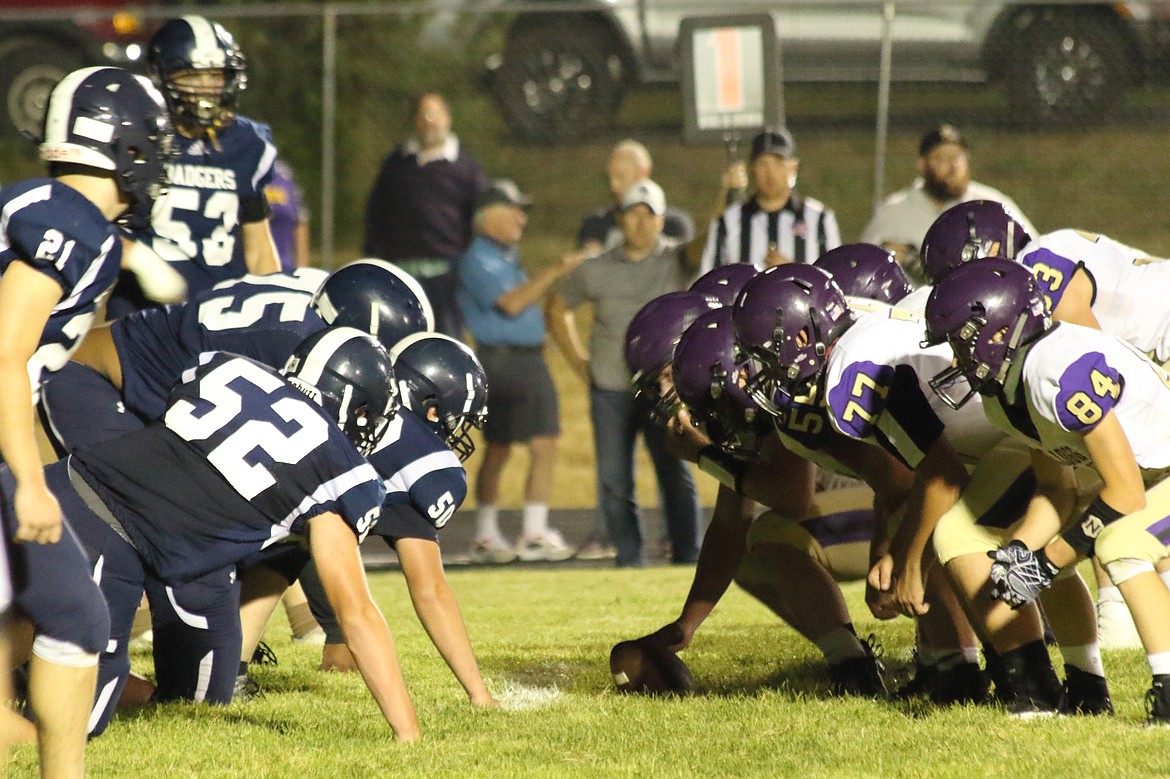 (Photo Courtesy of Victor Corral Martinez) Badgers defense ready to shut down the offense
by
VICTOR CORRAL MARTINEZ
Staff Writer
|
October 22, 2020 1:00 AM
PRIEST LAKE — Bonners Ferry faced a tough loss early in the game against the Timberlake Tigers, losing 28-10.
The Tigers drove from the Badgers 37-yard line to the Badgers 5-yard line on a five-play drive and set themselves up for a first and goal. Fortunately, the Badgers' defense was able to respond.
On first and goal, Nathaniel Varelman broke through the offensive line and tackled Timberlake quarterback Ashton Peightal for a 4-yard loss. Varelman and Dillon Mai pressured Peightal on fourth and goal, which led to an incomplete pass.
Banning was able to get the Tigers to jump offsides and move the Badgers away from their goal line.
According to head coach Travis Hinthorn, the first series was essential for the Badgers team.
"Instead of rolling over because of the onside kick, we stepped up with a big goal-line stand," Hinthorn said. "For Teigan to change up the count and get them to jump shows how he is growing and becoming more calm at quarterback."
Badgers scored early in the second quarter, with Nathaniel Varelman breaking free with a 48-yard touchdown run. Varelman finished the game with 15 carries for 134 yards.
The Tigers then scored twice in the second quarter and led 12-7 at the half.
"In the second half, [Timberlake] controlled the line of scrimmage. They went no-huddle to tire us out, and it seemed to work as they got five yards every carry," Hinthorn said.
The Badgers wanted to win and fought hard but were impressed by their performance compared to previous years of losing by huge scoring gaps.
"Obviously, we wanted to win the game," Hinthorn said. "As a program, we are moving in the right direction."
Junior Varsity won against Timberlake 19-7 and potentially the first junior varsity win against Timberlake in years, according to Hinthorn.
The Bonners Ferry varsity football team has an away conference game vs.Kellogg on Friday, Oct. 23, at 7 p.m.
---