Boys, girls soccer teams fall in district tournament semifinals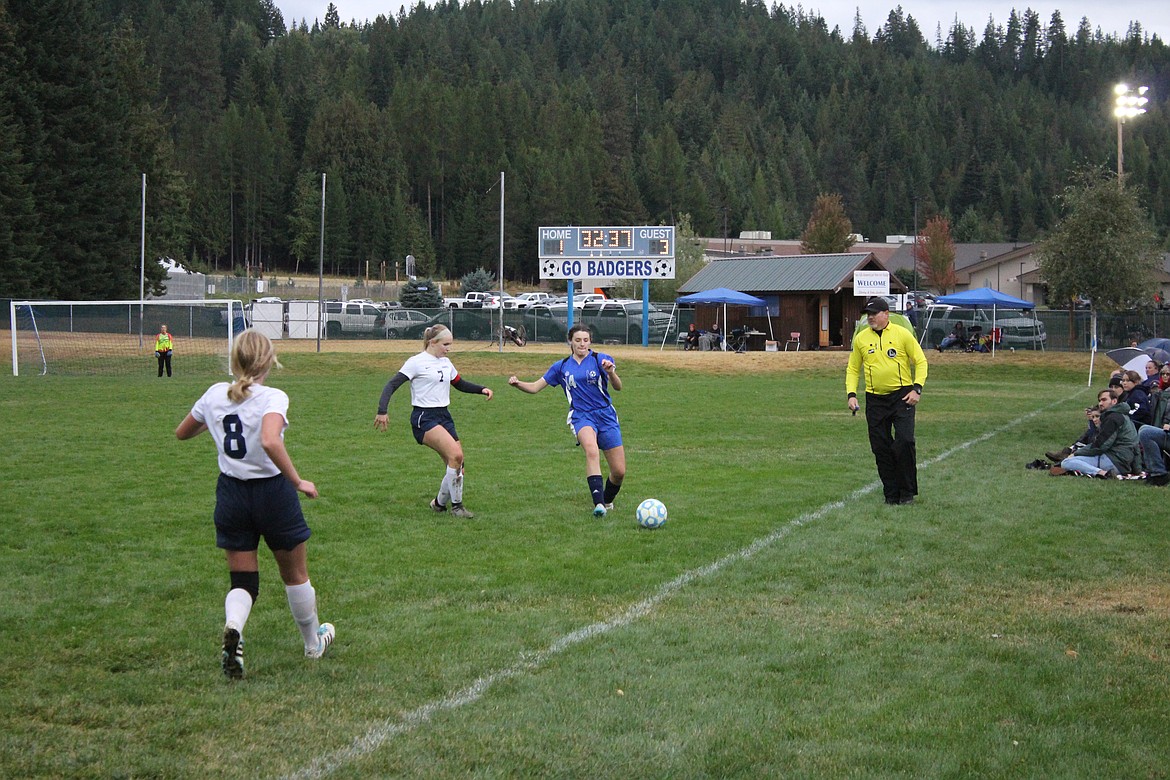 Sophomore Mia Blackmore dribbles down the field in the Badgers' 3-1 loss to Grangeville on Friday, Sept. 25.
by
JAKE CACCAVARO
Staff Writer
|
October 22, 2020 1:00 AM
BONNERS FERRY — The Bonners Ferry High School boys and girls soccer teams both lost in the second round of the 3A District 1-2 tournament Friday night, with the boys losing in penalty kicks to Timberlake and the girls suffering an 11-0 defeat at the hands of Coeur d'Alene Charter.
On the boys side, it was a disappointing upset loss for the No. 1 seed Badgers (8-2-3), which lost to a Timberlake team that was 4-7-2 with just one win in its last nine matches entering the district tournament.
After a scoreless first half, Bonners Ferry drew first blood in the second half, scoring a little over 10 minutes in to take a 1-0 lead. Both teams struggled to find chances for most of the final 30 minutes, but with just under 10 minutes to go, Timberlake netted an equalizer to put the Badgers on the ropes.
Neither team scored in the end of regulation or overtime, so the game went to penalty kicks to determine which team would advance to the district tournament semifinals. That's when Timberlake won the game, scoring in the fifth round of the penalty kick shootout to stun the Badgers.
Bonners Ferry had won 14 of the previous 15 district titles, with its only loss also coming at the hands of Timberlake.
There was much less drama in the girls game, as the Badgers hung tough for the first 15-20 minutes before No. 1 seed CDA Charter pulled away for good in the second half. Senior goalkeeper Anna Bliss faced an onslaught of shot attempts and turned away 11.
"The girls held them for about the first quarter of the game," said Bonners Ferry head coach Emily Winebark. "But we struggled to keep up in the second half … It was our seniors' last game so it was a difficult loss, but the girls fought hard."
It was a tough end to the season for a Bonners Ferry girls soccer team that had been through a lot, with a positive case of the coronavirus on the team forcing the girls to quarantine and suspend in-person practices for two weeks. But the girls persevered nonetheless, winning their first-round district tournament game and advancing to the semifinals.
With both of their respective losses, neither the Bonners Ferry boys or girls soccer teams made the 3A state tournament.
---