Badgers volleyball falls to Kellogg in district semifinals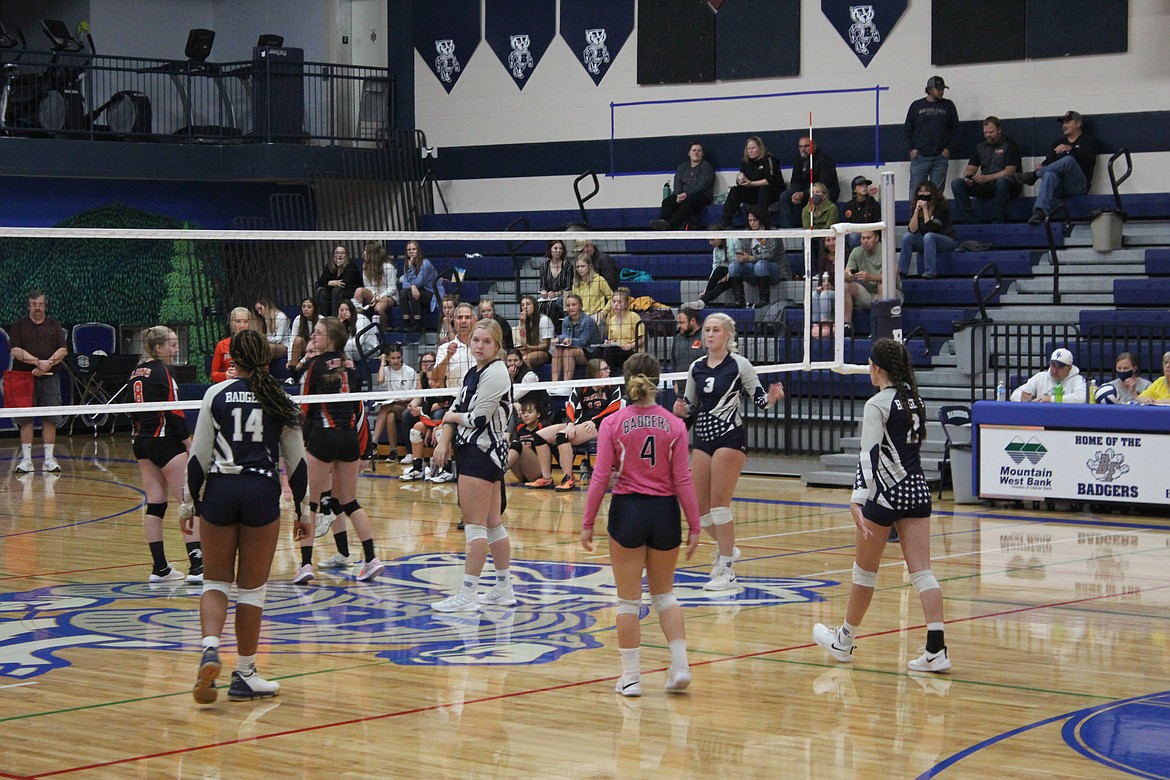 Asha Abubakari (14), Lexie Maas (4), Emma Lucas (2), Avery Pluid (3) and Reese Lane (15) communicate before they receive a serve in a mid-season match.
by
JAKE CACCAVARO
Staff Writer
|
October 22, 2020 1:00 AM
BONNERS FERRY — The Bonners Ferry High School volleyball team won its first-round IML district tournament match on Monday night, soundly defeating Priest River in straight sets (25-12, 25-15, 25-14) before falling to Kellogg in a tight district semifinals match Tuesday night.
Facing off against an 11-2, first-seeded Kellogg team, the Badgers (5-10, 3-5 IML) gave the Wildcats all they could handle, narrowly losing in straight sets, 25-21, 25-18, 25-18.
"We made Kellogg work for their points," said Bonners Ferry head coach Kendra Maas. "Our missed serves at important times of the games is what hurt us the most. I am pleased with the way we played despite missing my other middle and having to adjust players in a different position."
All three sets were back-and-forth affairs, as the Badgers were able to take small leads and battle back from small deficits throughout most of each set before Kellogg managed to pull away in the final points each time.
Junior hitter Sierra Petesch led the Badgers in kills in all three sets, racking up five in the first set, three in the second and four in the third on her way to 12 total. Senior defensive specialist Lexie Maas matched Petesch's kills with digs, totaling 12 on the night.
The Priest River win was the Badgers' second win in a row, their first time all season with consecutive wins, and it couldn't have come at a better time. After sweeping Priest River last week, Bonners Ferry didn't miss a beat, taking all three sets convincingly.
"The girls played very well despite having to adjust to normal rotations," Maas said. "I am very happy with the way that they played."
The Badgers started off hot, with three kills from senior setter Allie Weertz and three aces from Maas powering Bonners Ferry to a 25-12 set win and 1-0 lead.
Maas continued her serving excellence in the second set, picking up five aces as Petesch racked up a team set-high three kills and the Badgers handily won the set 25-12.
Bonners Ferry closed Priest River out in the third set, winning by double digits for the third time in a row. Petesch and freshman hitter Asha Abubakari combined for seven kills in the set as the Badgers put Priest River away.
Petesch led the team with eight total kills, while Maas paced the Badgers with eight aces and 14 digs and sophomore setter Emma Lucas recorded a team-high 12 assists. Weertz (six) and Abubakari (five) each knocked down at least five kills.
The Bonners Ferry volleyball team will hit the court one last time on Thursday at 6 p.m. for a match against Coeur d'Alene Charter at Priest River High School.
---