Rehabbed osprey demonstrates danger of fishing line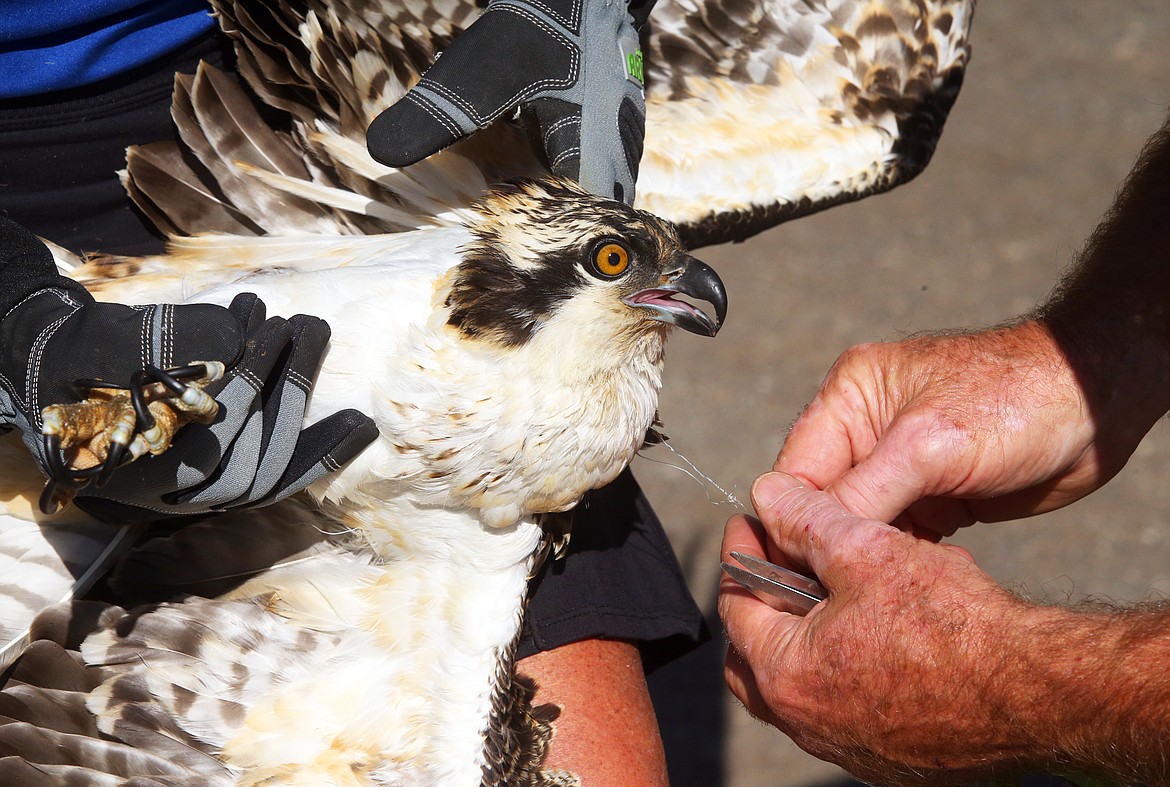 An osprey reacts as Don and Jane Veltkamp of Birds of Prey try to remove fishing line wrapped around it on Tuesday.
BILL BULEY/Press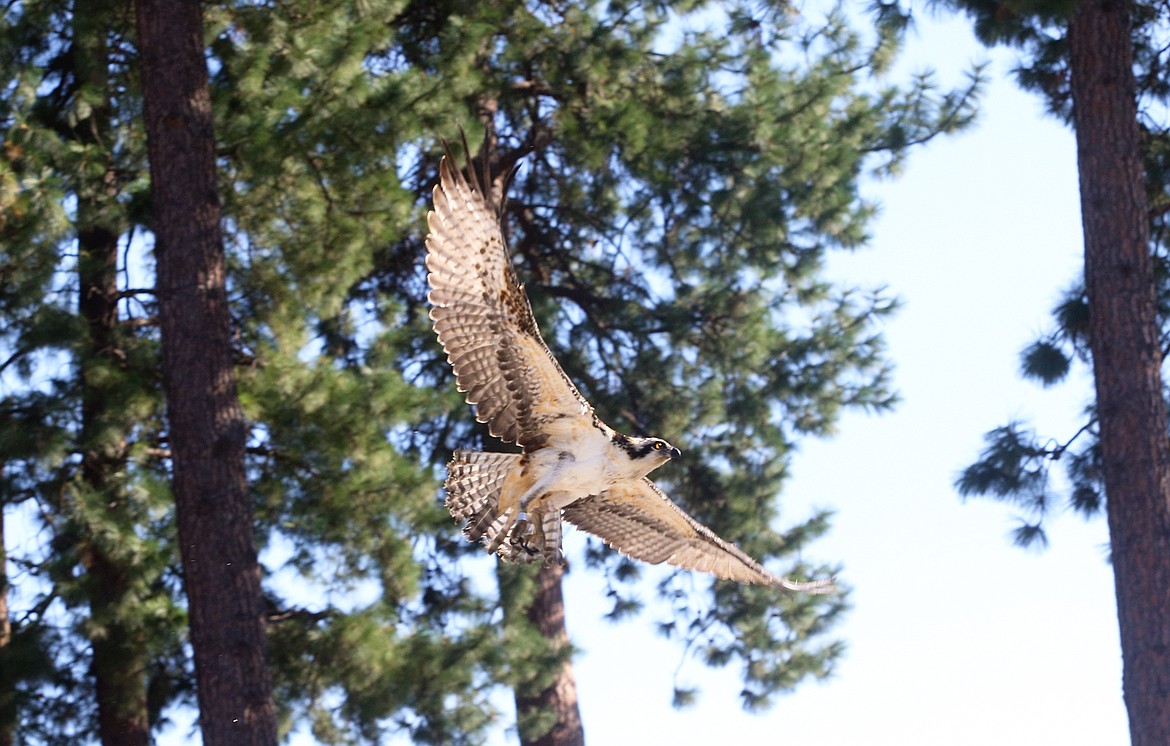 An osprey flies to freedom near the Spokane River on Tuesday.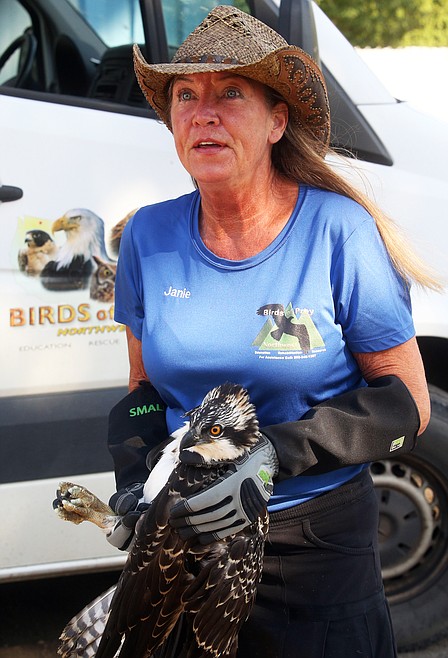 Jane Veltkamp of Birds of Prey Northwest holds an osprey before releasing it Tuesday near the Spokane River.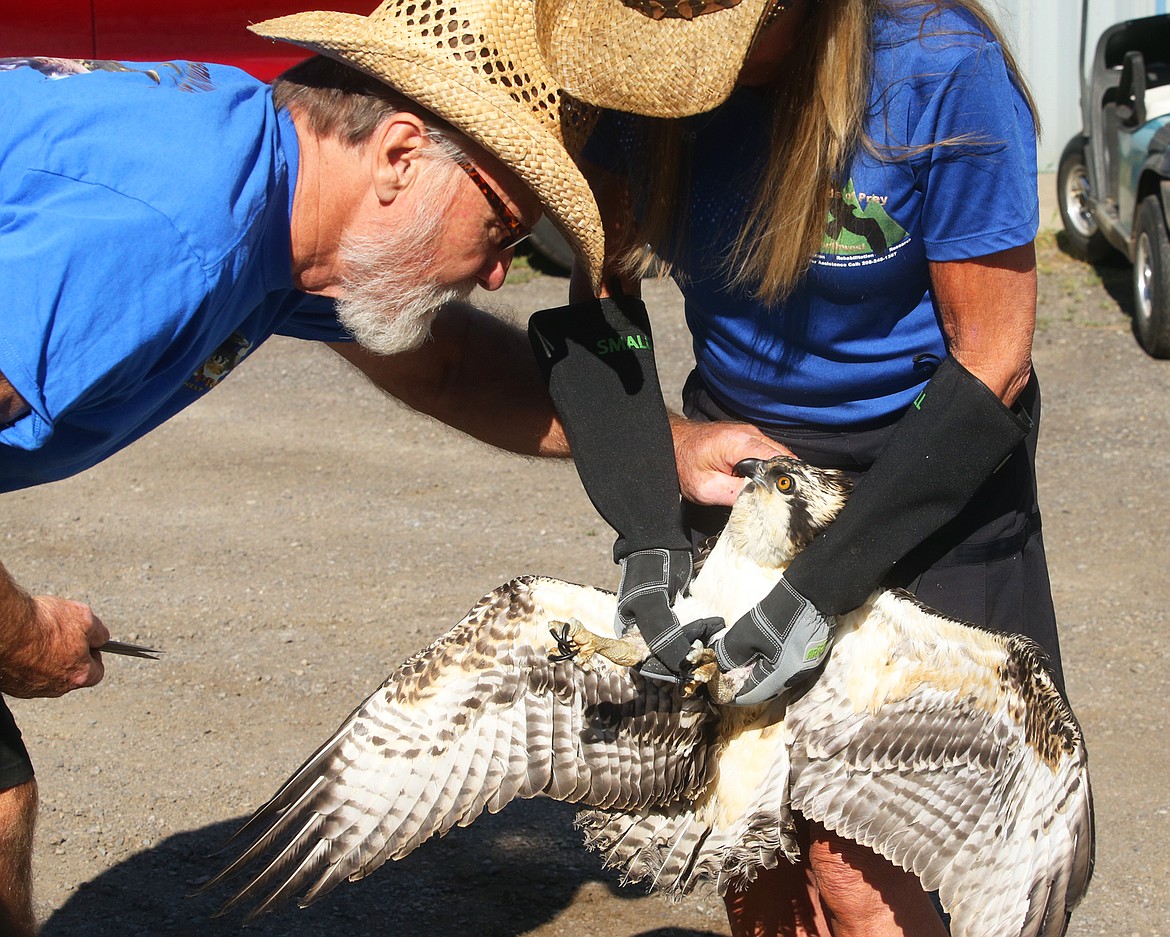 Don and Jane Veltkamp work together to remove fishing line from an osprey before releasing it Tuesday near the Spokane River in Post Falls.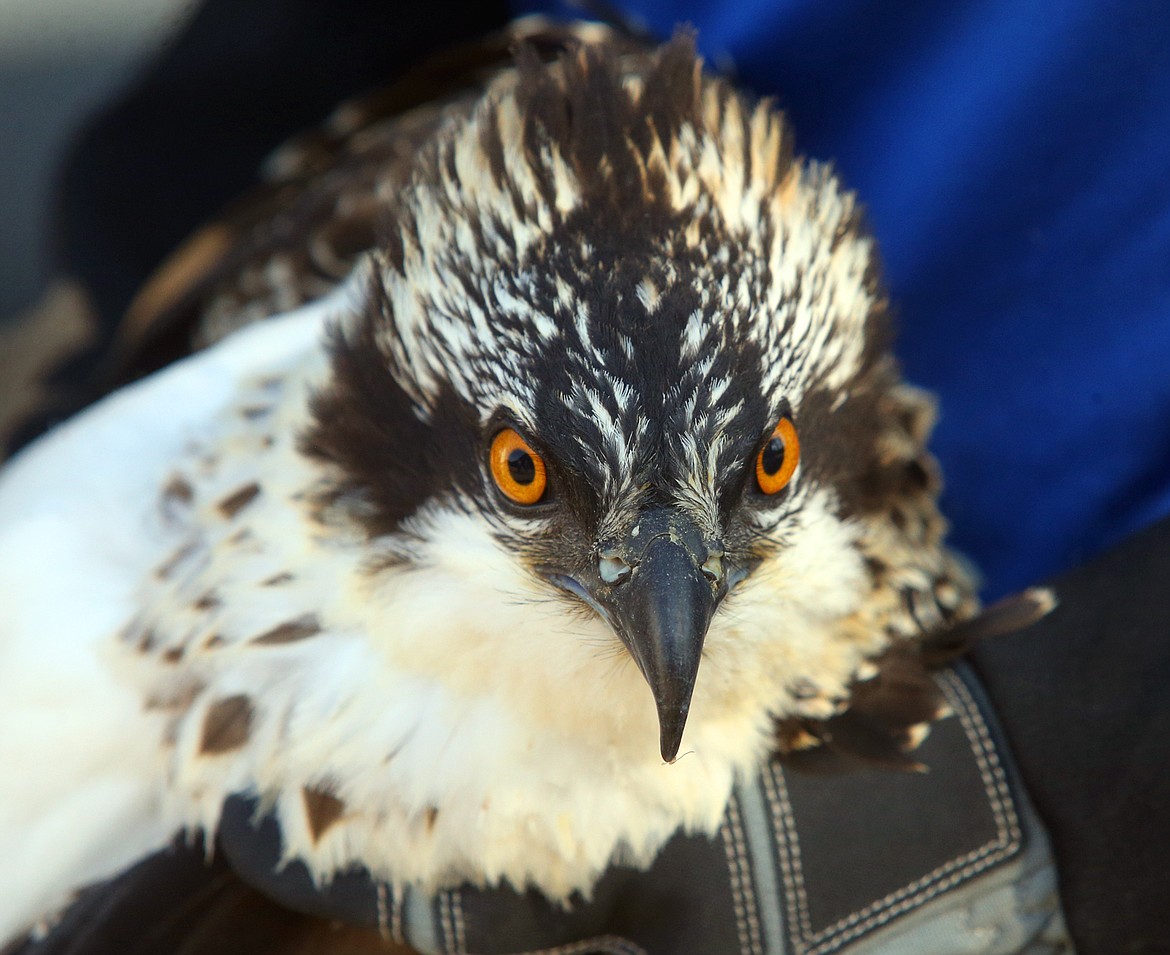 An osprey stares ahead, ready to be released Tuesday.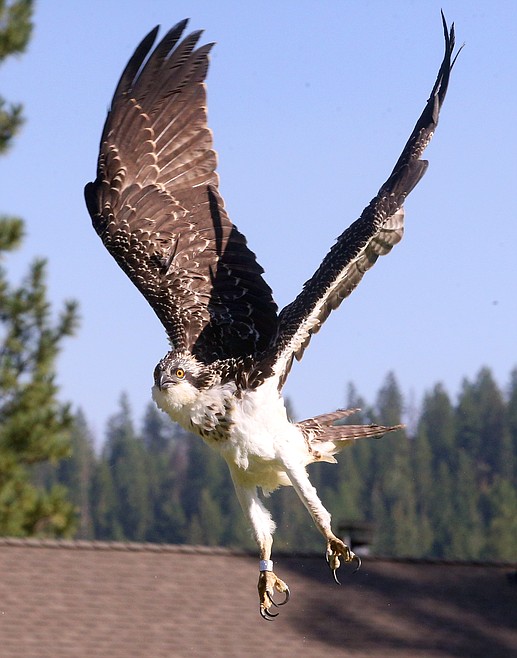 An osprey soars after being released by Jane Veltkamp Tuesday.
Previous
Next
by
MADISON HARDY
Hagadone News Network
|
September 9, 2020 1:09 AM
Do you know where your discarded fishing line ends up? It could be around the neck of ospreys and bald eagles nesting in Coeur d'Alene.
Jane Veltkamp, the executive director and founder of Birds of Prey Northwest, was moments away from releasing a young female osprey into the wild when she noticed a thread of fishing line protruding from her feathers.
According to Veltkamp, human-made problems like discarded fishing lines, pesticides, and poisons are present dangers to birds of prey nationally.
"People discard their fishing line carelessly. It gets tangled around the fish and later around the baby ospreys because they eat the fish," Veltkamp said. "It could kill a bird if they can't get untangled and fly freely from the nest."
According to Veltkamp, the osprey, named Finney, had been rehabilitated at the Birds of Prey Northwest facility in St. Maries after falling from her nest after a windstorm. Finney was one of two eight-week-old ospreys released Tuesday afternoon after being rescued two weeks prior.
As Veltkamp held Finney in her arms, her husband, Don Veltkamp, the Birds of Prey Northwest board of directors chairman, started cutting and untangling the two pieces of fishing line and fishing weight wrapped around her neck, chest, wings, and legs. According to the Veltkamps, if the wire had not been found now, it could have seriously damaged Finney's body or killed her prematurely.
"One of the things people ask us is how do these birds get in trouble," Jane Veltkamp said. "It is always human-caused problems like discarded fishing lines or other things like electrocution, car strikes, poisoning."
Ospreys spend the months between May and early October in North Idaho and tend to nest around the water because of their diet. Eating only small shallow-water fish, ospreys can be very susceptible to littered fishing lines and contaminated water, Veltkamp said.
While osprey populations have increased since the 1990s, they were once designated an endangered species across the nation. According to Veltkamp, ospreys were suppressed from hatching eggs because of the use of the insecticide DDT from 1950 to 1972.
"The osprey was once critically endangered and heading towards extinction because of our use of a pesticide, DDT," Veltkamp said. "What we learned from that era is when we poison the environment, birds of prey get sick first."
Birds of Prey Northwest is a state and federally permitted nonprofit organization that rescues about 150 birds of prey annually and treats them with medical aid. Veltkamp first started the program when she lived in Indiana 30 years ago, but when the couple moved to Coeur d'Alene 20 years ago, they began focusing on birds prominent in the Northwest.
"That's why I founded the Birds of Prey Northwest, to provide medical care to injured birds just like these two ospreys today," Veltkamp said. "This way, they have the opportunity to get a second chance and go back to the wild."
Info: www.birdsofpreynorthwest.org , 208-245-1367
---