Don Bartling: Heading down the trail
After retiring from education 10 years ago, I realized a river that meanders, can run dry, go to the sea, grow wider, deeper or shallower over its course. Consequently, I began something I feel very passionate about, that is the adventures of "outdoor and wildlife photography."
During my writings with my "Outdoor Column," I have tried to explore some areas of interest in Boundary County and some species of plants and animals that frequent our area.
Bonners Ferry is a naturally beautiful environment in a relaxed atmosphere. A visitor need only experience the quiet streams, the peaceful alpine lakes, and the majestic forested mountains abundant in wildlife to truly fall in love with this area. Entertainment can range from the most genuine of times, through enjoying the land. Fishing, horseback riding, cross country skiing, target and trap shooting, rafting, golfing, canoeing, swimming, camping, bird watching, photography ... the community of Bonners Ferry continues to be a family-based environment. 
I remember one of my university professors saying that "people will forget what you said, people will forget what you did, but people will never forget how you made them feel." I hope some of my articles made you feel close to nature and the beauty of Boundary County and if you couldn't be in the outdoors that day at least you remembered the good times and made plans for the future. We live in such a wonderful area and we need to enjoy the outdoors.
I have enjoyed writing the "Outdoor Column" for the past five years. It was an interesting adventure for me to go out each day and explore Boundary County and write about the experiences and take pictures of this beautiful country and all of its plants and wildlife. I drove over 36,000 miles throughout this county and wrote approximately 260 weekly articles for my column, which I was delighted to have the opportunity to accomplish.
I greatly appreciate your support and cooperation, but my wife and I have other plans for the future, some of which is to visit our grandchildren and travel.
The decision to retire was hard to make since I have enjoyed sharing my outdoor explorations and discoveries with everyone every week since March 2016. However, I am going to retire from the column, but not retire from photography or outdoor adventures.
I want to thank everyone for your kind words, encouragement and suggestions over the years. Our common interest has been the outdoors and I enjoyed it every day. Thank you for reading my column and enjoying the outdoors! I will see you down the trail.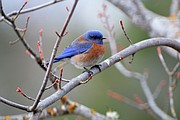 ---