Walker, Blackmore recognized for academic excellence
by
VICTOR CORRAL MARTINEZ
Staff Writer
|
April 8, 2021 1:00 AM
BONNERS FERRY — Daniel Walker and Lily Blackmore recipients of the North Idaho Student Teacher Achievement Recognition
According to Bonners Ferry high school counselor, Emily Winebark, NISTAR is an award that honors both students and the teachers who have impacted their lives.
"This year, our 2021 NISTAR recipients are Lily Blackmore and Daniel Walker," Winebark said.
Student recipients are voted on by the staff from a pool of students who have succeeded academically and in multiple extracurricular activities.
"This year's recipients are extremely academically gifted, in the top 10 percent of their class, with GPAs over 4.0. Not only that, they balance their school work with involvement in multiple extracurriculars." Winebark stated.
Walker made headlines for his work on the boys soccer team, scoring hat tricks and helping lead his team to wins. Walker was an All-league soccer team, league MVP and other extracurricular activities.
Some of the extracurricular activities include soccer, Track & Field, Spartan races, and a National Honor Society member.
Walker chose advanced math teacher Russell Thorman as a teacher with the most impact on his life.
"I chose Thorman because he taught me to strive for the best that I could do." Walker stated, 'The main thing I remember him talking about was forcing yourself to "think about the problem and solve it, not just give up because it looks hard'"
Walker stated Thorman had been a great teacher, and he will remember him forever.
"Now, when I do things and push myself, it will be a direct result of his belief in me, as well as his choice to push his students to be better," Walker said.
Blackmore was 2020 Distinguished Young Woman of the Year, all-league soccer-junior year and team captain senior year. She also participates in golf, dance, track and field and is a National Honor Society member.
According to Blackmore, the teacher who most impacted her was science teacher Judy Wages, teaching Blackmore to love learning.
"Her dedication to students is impressive and very comforting to see in the classroom environment." Blackmore said, "I love that Mrs. Wages always makes it possible for her students to succeed and learn as much about the topic of interest as possible."
Blackmore stated, Wages has encouraged her and many other students to put in the work to get where they need to be and remember that learning isn't about testing knowledge; it's about knowing new things to carry with you.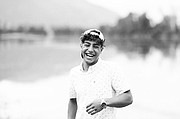 ---