Badgers score big at track meet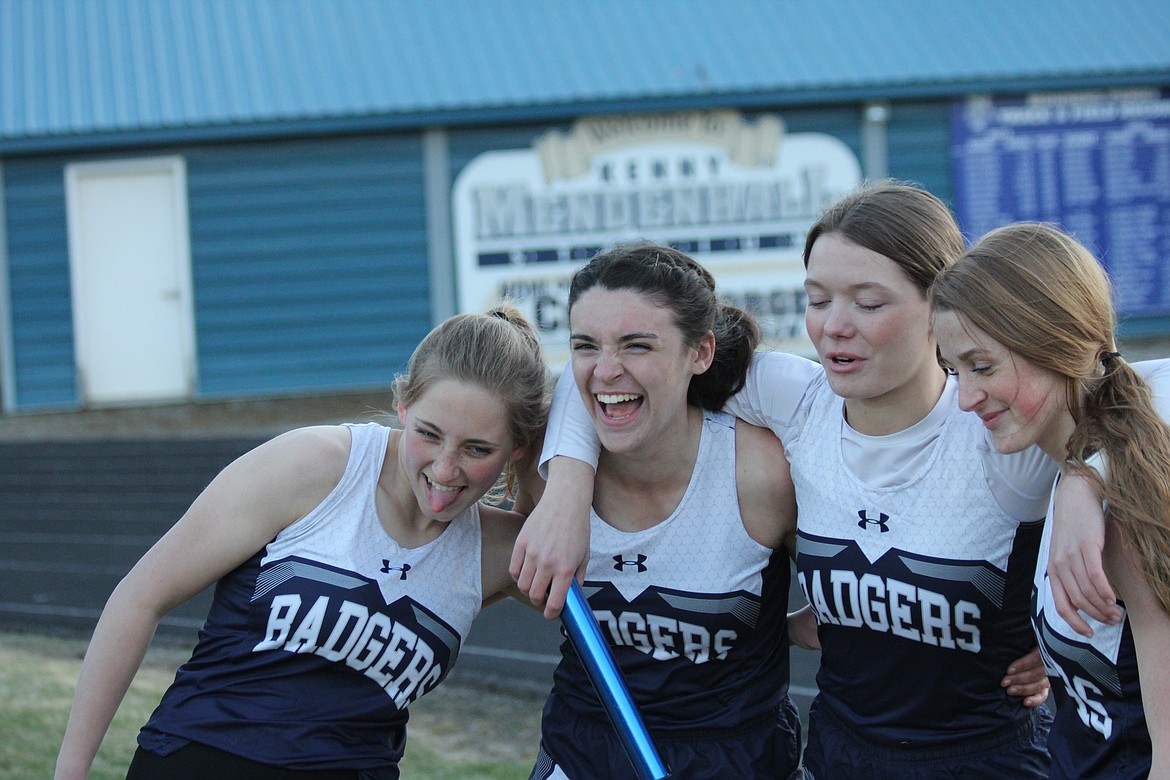 Members of the 4x400 relay team celebrate their victory at Tuesday's track meet. Team members are: Emmaline Pinkerton, Camille Usher, Madi McIntyre, Mia Blackmore (Photo taken by Rose Shababy)
by
ROSE SHABABY
Staff Writer
|
April 14, 2021 1:59 PM
The Bonners Ferry Badgers hosted a three team track meet Tuesday afternoon. The Bonners Ferry girls swept Timberlake and Priest River, while the boys split against the Tigers and the Spartans.
Mia Blackmore won both the 100 and 300 meter hurdles as well as being part of the winning 4x400 meter relay team, along with Emmaline Pinkerton, Madi McIntyre and Camille Ussher. Holly Ansley won the long jump and the triple jump.
Coach Travis Hinthorn was very happy with the results of the meet, in particular highlighting the girls team saying, "this is a great step for our girls to try to repeat as league champs."
He said the boys had a great meet as well. Charles Henslee won both the 800 and 1600 meter runs and Daniel Walker took the 100 and 200 meter dashes.
"A lot of kids stepped up and did events they normally didn't do to try get some different points," said Hinthorn, also adding that "it came down to the 4x4."
Hinthorn also commented on the level of sportsmanship among all the teams. "You cheer for your team but you cheer for everybody."
The results of the meet gets the Badgers one step closer to the Intermountain League title they are hoping for as well as district. Timberlake has been league champion for a number of years, tying with Bonners Ferry two years ago, with no season in 2020.
For now, Hinthorn is going to focus his efforts on their next meet with Coeur d'Alene Charter and Kellogg. He isn't looking at state just yet, but seemed confident that the league championship was within their reach. "We'll see how we do next week," he said.
---