Deadline for flag football and T-ball fast approaching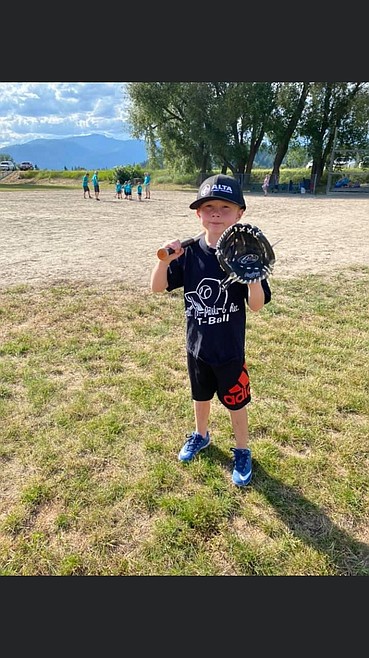 Chase Bartoe pictured, 2020 T-ball (Photo by Lauren Bartoe)
by
ROSE SHABABY
Staff Writer
|
April 22, 2021 1:00 AM
BONNERS FERRY — Summer is almost here, which means it's time to register your kids for flag football and T-ball through Boundary County Parks and Rec. Parents are encouraged to volunteer as well.
Flag football is for boys and girls, ages 8 to 12. T-ball is also for boys and girls, ages 5 to 6. Practice for both is every Tuesday and Thursday at 5:30 p.m.
The registration deadline for flag football is May 8, while T-ball participants have until May 15 to sign up. Cost is $25 for both activities, which include a game shirt for both plus a hat for T-ball.
All practices are held at Memorial Field , 7171 Fifth St., across from the tennis courts and next to the skate park. There is also a dropbox for registrations at this location.
Flag football was cancelled for 2020, but there were 50 players in 2019. Sarah Skinner, Boundary County Parks and Rec youth sports director, said she is hoping for the same number of participants for this year. Flag football season runs from May 25 to July 8.
In 2020, there were four T-ball teams made up of about 35 players. The T-ball season runs a little shorter than flag football; from June 1 to July 1.
Skinner stressed the importance of these programs for area children. She herself grew up in Bonners Ferry and participated in all the same programs, playing at the same facility and field as kids today.
There are spots open for sponsors as well, according to Skinner. Parents often sponsor other children but businesses can sponsor a team as well which comes with the benefit of their name on team shirts.
Volunteers are a vital part of the program, Skinner said.
"The Boundary County Parks and Recreation Youth Sports Program would not be possible without volunteers and sponsors," she said. "We would like to thank all of our past and present sponsors and volunteers and encourage people in our community to become involved in our program."
There are various areas in which people can volunteer, from fundraising to coaching and officiating to score keeping and more. But the goal of the program remains the same, Skinner said, "to provide safe, fun and positive activities that add value to young minds."
Those interested can register for sports, sponsor or volunteer at www.boundarycountyparksandrec.org.
For more information or to register, call Sara Skinner at 208-304-3603.
---