Badger softball rally together, deliver win against Spartans
by
VICTOR CORRAL MARTINEZ
Staff Writer
|
April 27, 2021 11:52 AM
BONNERS FERRY — Badger softball quickly dominated the game with many steals and flawless pitching to win against Priest River 22-12 in the first match and 18-2 in the second matchup in April 23.
The first matchup started slow and quickly shifted for the badgers in the fourth inning. The badger's original catcher broke her collar bone; according to head coach Kassy Skeen, the new catcher had very little time to prepare, but it was clear there was chemistry between the pitcher and catcher.
"We came out really slow, it wasn't until the fourth inning that we came alive." Skeen said.
Both matches showed the cohesion of the badgers to rally and close out the games by always staying positive.
On hitting the field, the team was shouting "G-D-N-E" a slogan that the badgers used to rally themselves to shut out the innings. When asked about the slogan, Skeen stated it meant, "Good defense, no errors," a slogan the badgers lived up to in the doubleheader.
Anna Bliss did well on both sides of the field, and when closing out the last game, she felt the pressure but playfully stated to her team, "I do better under pressure," a sign of a talented athlete looking to deliver for her team.
The team showed much aggression and improvement on the mental game, an effort the team and Skeen worked on in previous weeks, but it came together for them and led to many steals.
Skeen enthusiastically stated, "We definitely improved from where we came from but we can always get better."
According to Skeen, calling plays, timing slower pitches, bunting and adjusting to pitches are all goals to prepare for districts.
The team as a whole was highly focused, but you could clearly see the team was having fun, and the energy was high with coach Skeen motivating her team and encouraging them to have fun, do well and work on what they practiced.
When Skeen was asked about Bliss as a pitcher, Skeen ecstatically said, "Even when she knows shes not in it, she pep talks herself, constantly in it and giving a smile."
Game 1:
Priest River 2 6 3 1 0 — — 12
Bonners Ferry 8 1 4 9 — — — 22

Game 2:
Priest River 2 0 0 0 0 — — 2
Bonners Ferry 11 2 5 0 — — — 18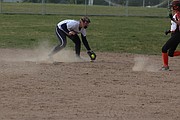 ---