Badgers track team dominate events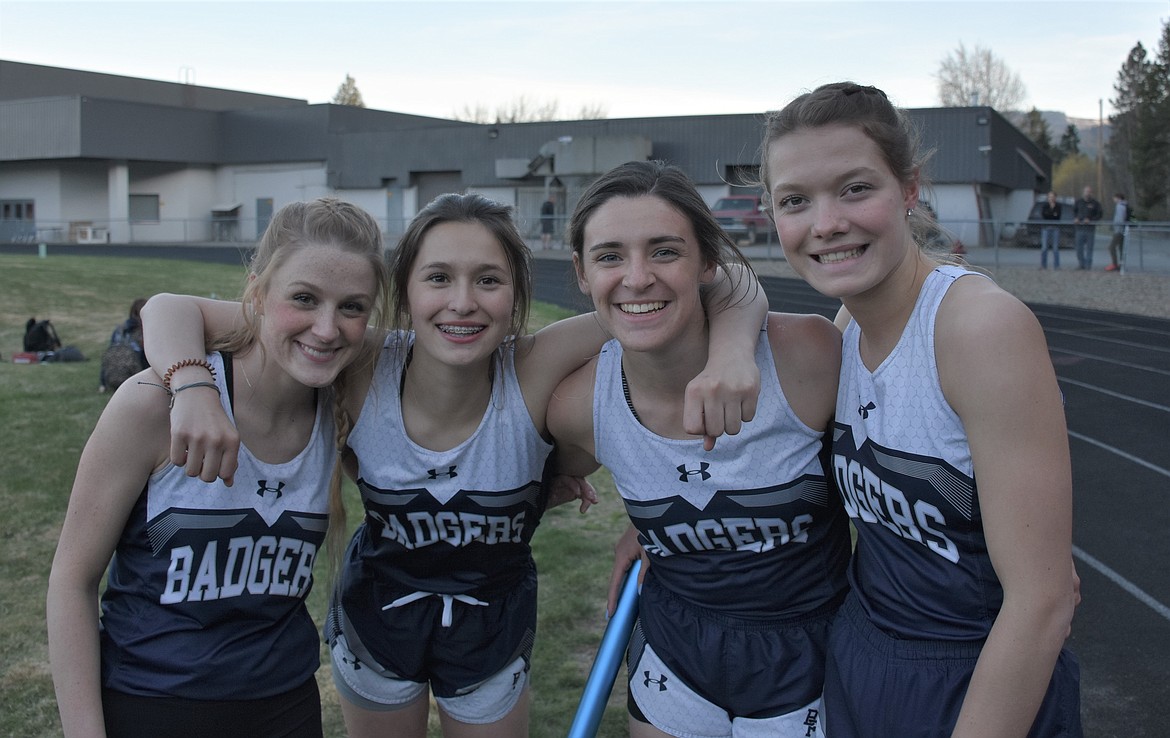 (Photo by Maureen Blackmore) Mia Blackmore, Camille Ussher, Madi McIntyre and Emmaline Pinkerton placed first in the 4x200 and 4x400 relays.
by
VICTOR CORRAL MARTINEZ
Staff Writer
|
April 28, 2021 1:13 PM
The Badgers track team performed well in the latest track invites to dominate the field against multiple schools.
Bonners Ferry attended the 10-team Kellogg invite on April 17. Both boys and girls track teams took first place.
Ian Beazer, Charles Henslee, Daniel Walker, Hayden Stockton dominated the boys varsity 4x400 relay, with the second team trailing by 16 seconds.
Mia Blackmore, Camille Ussher, Madi McIntyre and Emmaline Pinkerton placed first in the 4x200 and 4x400 relays.
Pinkerton and Stockton both placed first in the 400-meter race; Charles Henslee dominated the 800 and 1600 meter race.
Holly Ansley and Asha Abubakari placed first and second, respectively, in the long jump and triple jump; Abubakari placed first in the 4 kg shot put. Riley Petesch took first place in the triple jump.
On April 24, girls and boys track teams won the Priest River track invite, with 12 schools competing.
Senior jumper Holly Ansley was a double winner in the long jump and triple jump.
"The girls were way ahead early, but the boys were down 30 some points after nine events scored," head coach Travis Hinthorn said, "The boys ended up winning by almost 80 points.
According to Hinthorn, the total numbers of participants are down this year compared to past years, but athletes' talent makes up for the smaller roster.
This year there are 58 athletes on the track team; in previous years, there were around 80 athletes in the last two years.
On April 21, lady badgers remain league track champs and defeated Kellogg and Coeur d' Alene Charter last week in league duals to claim the Intermountain League dual title. The Badgers defeated Timberlake and Priest River in an earlier dual this season.
Girls dual scores:
Bonners Ferry 77 Timberlake 69
Bonners ferry 126 Priest River 17
Bonners Ferry 117 Kellogg 24
Bonners Ferry 133 Couer d' Alene Charter 10
According to Hinthorn, the Lady Badgers tied Timberlake 73-73 two years ago to share the league title after Timberlake had won the league for 11 straight years. Last spring, the season was canceled due to covid.
"It just became the norm for Timberlake to win the league. It's exciting for the girls to tie and then win outright this year," Hinthorn excitedly said, " It was unfortunate we had last season taken away, we would have had a great season with Abigail Gorton and Victoria Rae who were seniors and returning state champs."
Boys track took second in league duals:
Bonners Ferry 65 Timberlake 81
Bonners Ferry 110 Priest River 31
Bonners Ferry 127 Kellogg 13
Bonners Ferry 110 CDA Charter 33
Badgers are going to the Timberlake Invite this Friday, April 30; badgers and the tigers will battle for the District title at Timberlake on May 13 and 14.
---