From The Archives - Dec. 2, 2021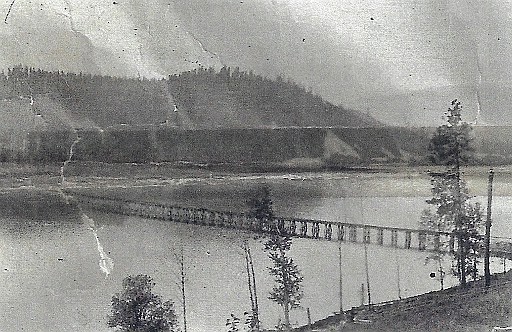 This faded photograph shows the Great Northern Railway trestle across Mirror Lake.
(Photo courtesy BOUNDARY COUNTY MUSEUM)
|
December 2, 2021 1:00 AM
On Aug. 11, 1894, the Bonners Ferry Herald reported: "Last Wednesday morning an eastbound extra freight train went through the long trestle about three miles west of Bonners Ferry. The accident occurred about the middle of the bridge and sixty feet or more of the structure gave way. The tender to the Great Northern Railway engine and thirteen freight cars went down into the water below. None of the train crew were injured but there were six tramps abroad, two of whom were killed and the other four injured.
"Great Northern trains were delayed about 48 hours. The wreckage has been pretty well cleaned up. The cars were loaded with lumber except one car of flour and one car of merchandise.
"That the engine did not go down was a mystery. Paul Logan, the engineer, says the first impression he had of danger was the cracking of the timbers and the feeling of his engine sinking. He pulled the throttle wide open. The engine trembled for a moment, then broke loose from the tender and shot ahead. The engine certainly must have hung over the broken and ragged edge of the long trestle for a moment."
This faded photograph shows the Great Northern Railway trestle across Mirror Lake.
• • •
Your Boundary County Historical Society and Museum, 7229 Main, Bonners Ferry, Idaho, sponsors this column.
Visit the museum Thursday through Saturday 10 a.m. to 3 p.m., and you can visit the website at www.boundarycountymuseum.org or the museum's Facebook page for historical photos and stories, and to see upcoming events. Or we can be reached at doyouremember@meadowcrk.com or telephone 208-267-7720. Thank you for your continued support.
Recent Headlines
---