From the Archives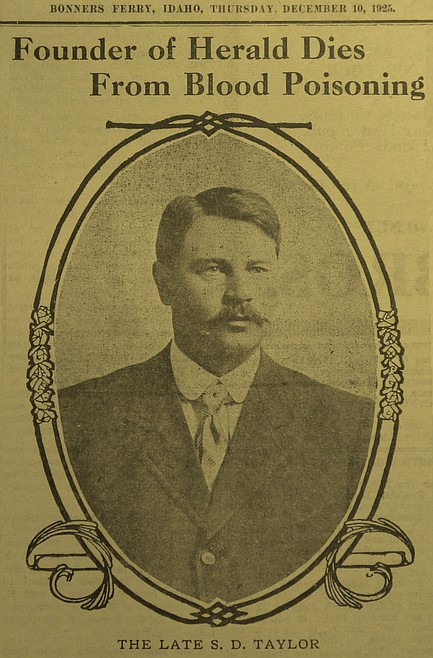 Mr. Taylor sold the Herald to the present proprietor, C.W. King. Taylor died of blood poisoning.
(Photo courtesy)
|
December 9, 2021 1:00 AM
Bonners Ferry Herald, Dec. 10, 1925 — "Word was received here this week that Stephen D. Taylor, former editor and owner of the Bonners Ferry Herald, died last Friday at Strawn, Texas, following an attack of blood poisoning. The body was to be shipped to Boise for burial. Mr. Taylor was about 60 years of age."
S.D. Taylor started his newspaper, the "Kootenai Herald," on July 11, 1891, printing it in Kootenai, Idaho, near Sandpoint. Two years later he moved his printing press north to Bonners Ferry. He sold yearly subscriptions for $3, and single copies of the newspaper sold for 10 cents. Taylor operated from a small wooden building next to the Catholic Church on Cottage Avenue (Ash Street). He later moved into a building at the south end of Main Street. Taylor renamed the newspaper the "Bonners Ferry Herald" on Dec. 31, 1904.
"Mr. Taylor was prominent in politics and served two terms as state auditor. It was while holding this office in 1912 that Mr. Taylor sold the Herald to the present proprietor, C.W. King." (1925)
Your Boundary County Historical Society and Museum, 7229 Main, Bonners Ferry, Idaho, sponsors this column.
Visit the Museum Thursday-Saturday 10 a.m. to 3 p.m., and you can visit the website at www.boundarycountymuseum.org or the museum's Facebook page for historical photos and stories, and to see upcoming events. Or we can be reached at doyouremember@meadowcrk.com or telephone at 208-267-7720. Thank you for your continued support.
---