Coffee Corral open for business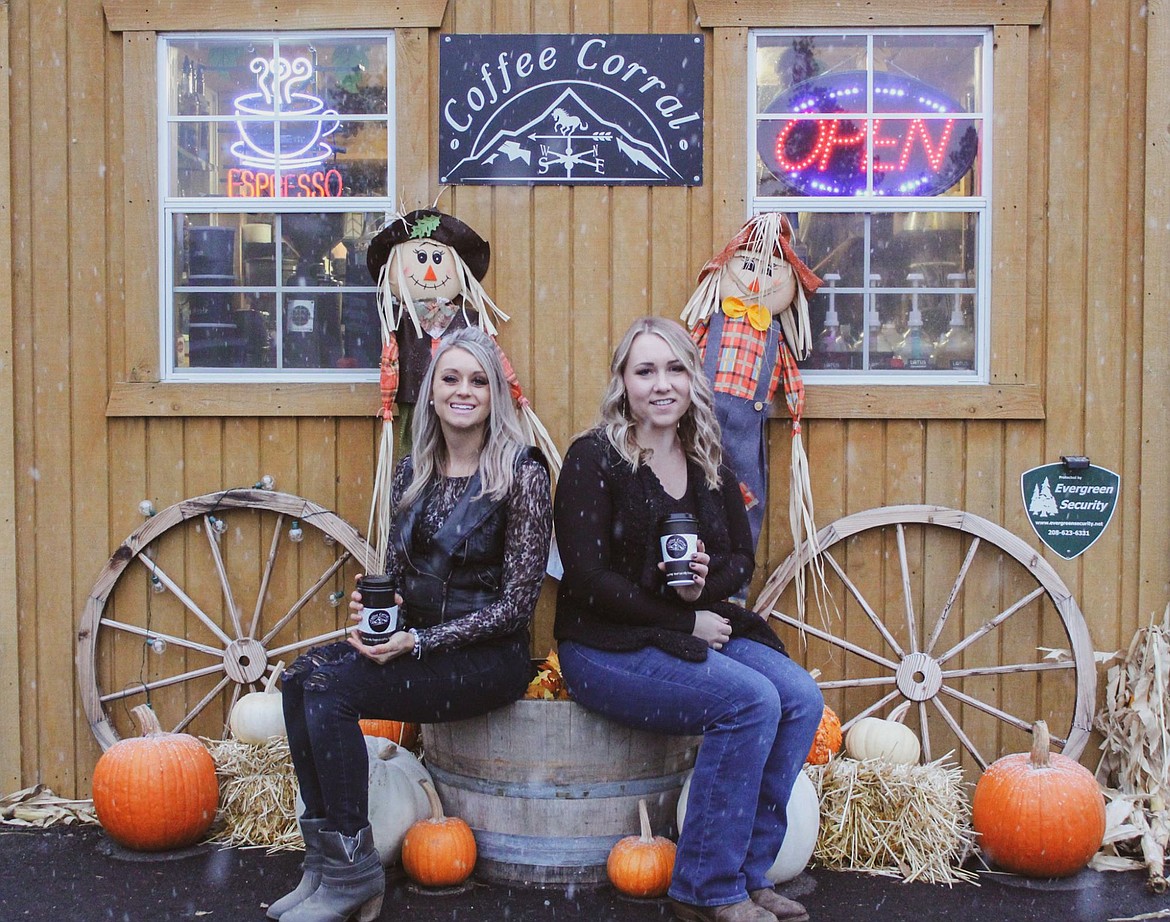 From left: Chelsea Bruner and Kaeleen Tobin of Coffee Corral outside the Athol location Coffee Corral stand.
Courtesy photo
by
EMILY BONSANT
Hagadone News Network
|
December 9, 2021 1:00 AM
THREE MILE — Chelsea Bruner and Kaeleen Tobin, co-owners of Coffee Corral, have opened a second location in Three Mile.
The pair opened their first location in Athol two years ago right before the start of the COVID-19 pandemic. They said that they always wanted to have a business and the land they purchased was perfect for a coffee stand. They called it Coffee Corral due to their love for horses and riding.
Athol's Coffee Corral stand opened in November 2019, only a few months before the March 2020 COVID-19 shutdowns.
Tobin said that at the time they were unsure how the shut downs would affect their business. She was surprised when their business was very successful and how busy their stand and the roads were with people traveling.
Tobin said that their first summer of business was atypical due to COVID-19.
"I feel like people were traveling and we didn't know what to expect but our sales blew up [over that time]," Tobin said.
She said that the stand was very busy. Bruner and Tobin said that after the rush of the first year and how two summers they were not satisfied with taking things slow. That's when they decided to take a leap and open another location.
Tobin and Bruner said that they looked at other stand locations in Coeur d'Alene and Post Falls, but none of them had the potential as the location in Bonners Ferry. They plan to move farther north in the next few years, since they are small town girls and it is so important to them to know their customers personally.
At the grand opening in Bonners Ferry Coffee Corral did a special $2 coffees and $3 energy drinks all day.
"[All day] it seemed pretty steady. Honestly I didn't realize how busy it was up there," Bruner said.
She had been up to Bonners Ferry and Moyie Springs all summer because her horse was staying in the area, but she did not realize how much traffic there was in the Three Mile area until she got in the coffee stand.
Bruner said that at the grand opening and the first days of the Three Mile location saw locals being very supportive and receptive of the new businesses. She said she liked the feeling of returning to a small town, since she and Tobin are just small town girls.
Bruner and Tobin are still living in the Athol area, but an employee who has worked at their southern location, is now heading up the Bonners Ferry stand.
Bruner said that they would have done the Bonners Ferry route regardless of having reconnected with a past employee, because they were so excited with the opportunity. They said that the stars aligned with the opportunity to expand to Bonners Ferry and with Gracie, who was their first employee at the Athol location.
Brunner and Tobin had planned to be up at the Bonners Ferry stand to cover shifts regularly, but have not needed to do that since they have found great and experienced staff.
"We did have a few 17-hour days in the beginning," Tobin said.
Coffee Corral uses Union Roasters Coffee beans from Coeur d'Alene. They also serve Sweetwater Bakery bagels, cookies, muffins and other baked goods. There are also daily specials which can be found on their social media accounts or at the stand. They have a happy hour from 1-4 p.m. which has different deals every day for coffee, tea and energy drink drinkers.
Recent Headlines
---