Spirit of Freedom awardees receive honors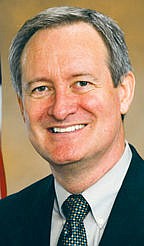 by
U.S. SEN. MIKE CRAPO/Contributing Writer
|
December 9, 2021 1:00 AM
Since 2002, I have had the great honor of recognizing Idaho veterans and volunteers who assist Idaho veterans with the Spirit of Freedom: Idaho Veterans Service Award. It provides an opportunity to recognize the outstanding service to our nation of area veterans and many Idahoans who dedicate considerable time to supporting those who have served our country. As of this year, 350 Spirit of Freedom Awards will have been presented since the award's creation. Veterans organizations across Idaho nominate the awardees. Sixteen Idahoans are recipients of the 2021 Spirit of Freedom Award. 
The Spirit of Freedom Award is presented in two categories: veterans and volunteers who assist veterans. Often times, the award categories overlap, as countless Idaho veterans who have served our country return home and continue to give generously of their time and resources to helping fellow veterans, military families and many others. The awardees represent some of the many deserving individuals who strengthen our communities and set exemplary standards of service. 
For example, the Idaho State Veterans Home — Boise nominated Parker Harger, a Marine Corps Veteran, who continuously helps others through various groups and inspires others to join his efforts. In October of 2020, he started his own nonprofit, SoGood!, dedicated to spreading kindness and helping others. His first of many thoughtful projects was making mobile video-call carts to enable veterans and the elderly to call family members during the pandemic. Parker puts his ingenuity and know-how to use in helping his fellow veterans and others.
The Veterans of Foreign Wars (VFW) Post 3646 of Glenns Ferry nominated Colonel Dale Smith due to his decades of military experience, tenure and leadership within VFW and his service in the community of Glenns Ferry. Dale served nearly 27 years in the U.S. Air Force, earning the rank of Colonel and numerous recognitions for his honorable service. Since attending a VFW Post 3646 meeting in 1995, at which he was promptly elected Post Commander and held the post for 25 years, Dale has also served as the Department of Idaho VFW Commander, and received the VFW Lifetime Achievement Award in 2014. He has been a high school baseball coach since 1997 and has enabled opportunities for the VFW Post to greatly transform the baseball field and upgrade the softball complex as well. He is an example of the great Idaho veterans who served our country extensively, and continue serving others long beyond the completion of their military commitment.  
In addition to these great Idahoans, a complete list of the 16 recipients of the 2021 Spirit of Freedom Award is provided below. Summaries of their service along with summaries of the service of past Spirit of Freedom Award recipients are posted on my official website, www.crapo.senate.gov. 
Veterans:
• Michael J. Crowley, Idaho Falls;
• Preston Funkhouser, Clearwater;
• Kenneth "Parker" Harger, Meridian;
• Todd Johnson, Pocatello;
• Cynthia Jones, Boise;
• Rondal H. Lang, Filer;
• Oscar Mirl Nye Jr., Kuna;
• Rick Sample, Boise;
• Donald Shaffer, Boise;
• Dale Smith, King Hill;
Volunteers:
• Paul Anderson, Pocatello;
• Estela Benavidez, Burley;
• David A. Blanton, Priest River;
• Tressa Brophy, Boise;
• Wendell Thomas, Grangeville; and
• Diana Titus, Fruitland.
Thank you to the veterans organizations that submitted award nominations this year: American Legion District No. 5; Bannock County Veterans Services; Idaho State Veterans Cemetery; Idaho State Veterans Home — Boise; VFW Posts 2909, 3043, 3520, 3646 and 7019; and Vietnam Veterans of America, Idaho State Council. And, thank you to this year's award recipients, and the many other Idahoans like them who may not be recognized yet, for your thoughtful and unwavering efforts to help others in our communities.  
• • •
Mike Crapo represents Idaho's First Congressional District in the U.S. Senate. He can be reached at crapo.senate.gov.
Recent Headlines
---