Teaching music hits the right notes for Novinger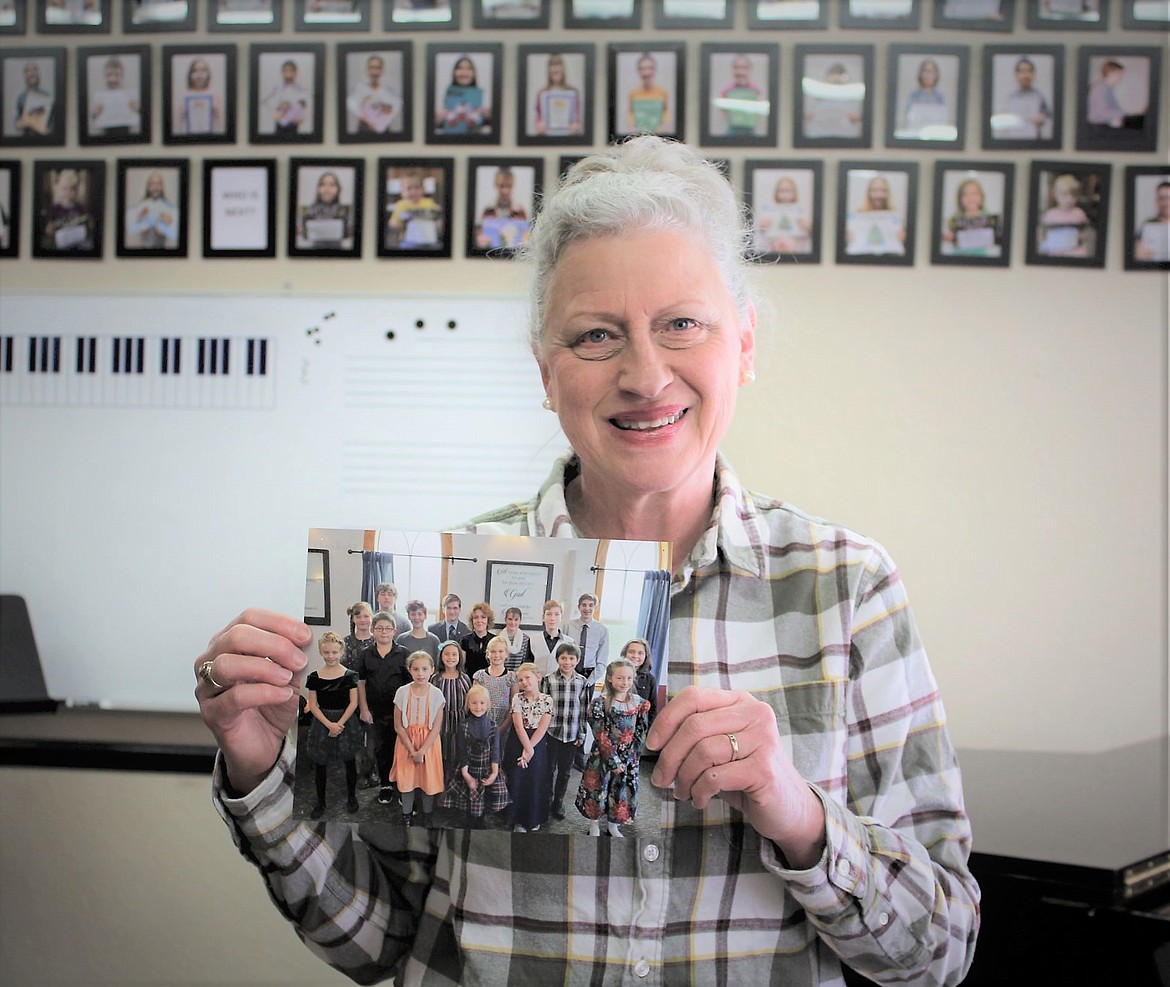 Glenda Novinger, who has been teaching music for almost 40 years, holds a picture of her students with pictures of other students behind her.
Photo by CYNTHIA BONSANT
by
CYNTHIA LOUGHNEY
Staff Writer
|
December 23, 2021 1:00 AM
BONNERS FERRY — Glenda Novinger of Novinger Music Center lives for her students and the music she teaches them.
Novinger, who has been teaching music for nearly 40 years, proudly displays her students on her wall above the piano. Each student is recognized once they complete a book or play in a recital.
After being laid off from the California public school system in 2009, Novinger opened her own music studio where she was able to fill the need for music education especially at the elementary level.
"I love kids, and I love education. I am not the kind of person to sit home and draw unemployment," Novinger said.
As a professional, Novinger found that running her own studio made a big difference rather than teaching music lessons at her home. Moving to a commercial space changed the perception of her clients.
"I learned a lot in those six years, while running my business in Vacaville, Calif., Harmony Road Studios," Novinger said.
The studio had eight teaching rooms, a recital hall, multiple teachers that Novinger trained, along with an office manager and the bookkeeper.
It was a steep learning curve from being an employee in the public school system to being an entrepreneur, she said. It was a lot of work but she enjoyed being the one that gets to call the shots.
"I like being my own boss," Novinger said. "I'm a highly motivated workaholic."
After she left California, Novinger said she was very tired from the heavy workload. Besides, she had challenges of what she said were high taxes, numerous fees and regulations and because she was learning how to be a business owner.
Her husband, Ross, moved to Bonners Ferry in 2013 as Novinger was finishing up the business in California. She said that she was ready to rest during retirement, but that was not the case.
One day when walking downtown Bonners Ferry, the Novingers noticed a for rent sign in a shop window. Upon Ross's encouragement Novinger called and asked the rent price. She said she was shocked at how inexpensive the rent was compared to her other business.
Novinger's focus is different this time around.
"I just want to enjoy teaching music since I love it and love people," she said. "It is amazing to be involved in the familiies; the kids, teens or adults who are coming for lessons.
"What you celebrate is what people work for," Novinger said. "When you celebrate the completion of a book, or you celebrate a student's courage to get up and perform in front of an audience, that is what they're going to be motivated to work toward."
Students are never pushed to perform publicly. But when they are ready to perform in public, performing in recitals develops poise, courage and confidence, Novinger said.
"Mrs. Novinger is a very good piano teacher. Thanks to her, I've gone from knowing nothing to being able to play quite a few favorite songs in one year," said Kyler J. Bushnell, age 10.
"I love playing piano, especially playing duets with Mrs. Novinger, and singing on a mic. I love how she teaches me," said Rosalyn Anne Bushnell, age 8. "It is really simple and easy to understand. Mrs. Novinger is kind, wears really pretty jewelry and tells me interesting stories."
Novinger shared a picture that one of her homeschooled students drew after a recital. The female student is about 9 years old, and she drew a picture of the pipe organ from François Couperin, a French composer (1668-1733).
Novinger said "She was studying about him in her school. And so she thought I would get a kick out of it, because we were talking about Bach. And she said he lived at the same time. This is what I'm talking about. Connection."
This is an example of what drives Novinger to teach music. Novinger also teaches adults and provides violin lessons with a local instructor.
Recent Headlines
---