Emergency procedures for winter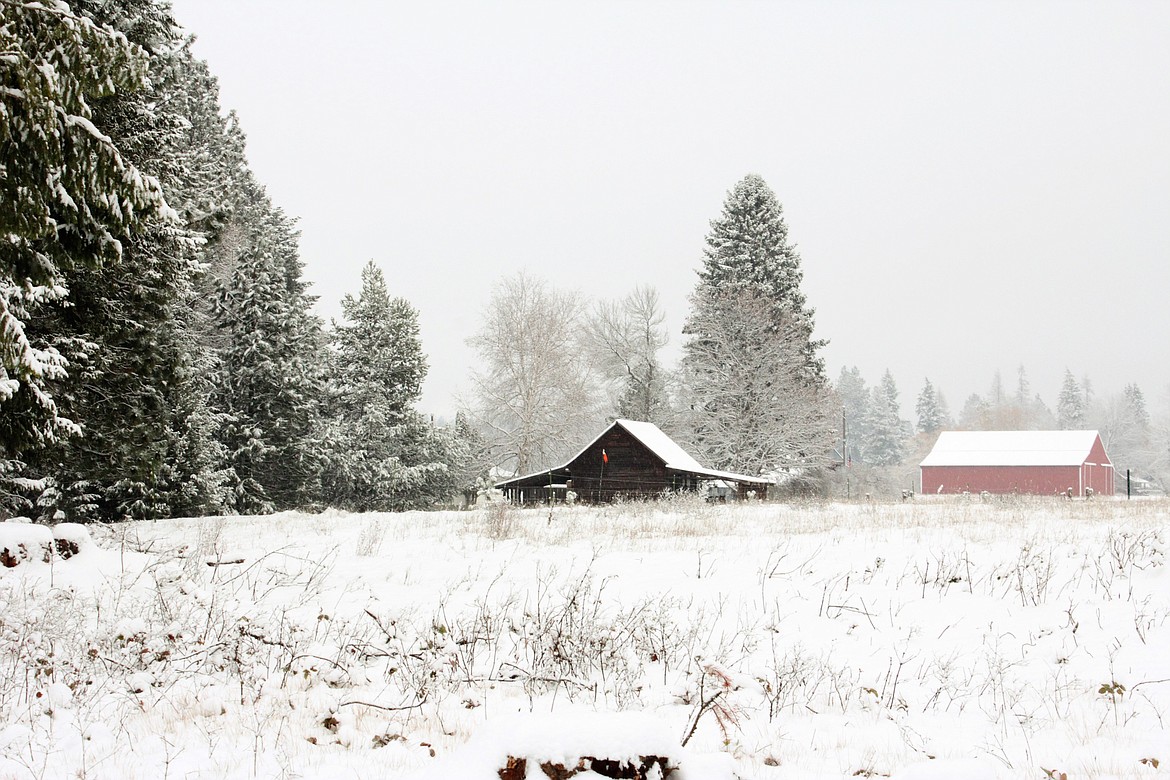 Snow begins to cover a lonely barn in Paradise Valley as winter moves into the area.
Photo by CYNTHIA BONSANT
by
EMILY BONSANT
Hagadone News Network
|
December 30, 2021 7:00 AM
BONNERS FERRY — With the low temperatures the past few weeks, residents should keep in mind emergency procedures and protocol to keep themselves and their property safe.
Andrew O'Nell, Boundary County public information office and director of Emergency Management, said his biggest concern is if drivers slide off the road and decide to shelter in place, that they not wake in the morning.
While staying in the car is the correct response, O'Nell said safety measures must be followed to stay alive. He recommended having a cellphone, a full tank of gas and an emergency kit in a vehicle at all times.
Other helpful equipment includes:
• Cellphone, portable charger and extra batteries
• Items to stay warm such as extra hats, coats, mittens and blankets
• Windshield scraper
• Shovel
• Battery-powered radio with extra batteries
• Flashlight with extra batteries
• Water and snack food
• First aid kit with any necessary medications and a pocket knife
• Tow chains or rope
• Tire chains
• Canned compressed air with sealant for emergency tire repair
• Cat litter or sand to help tires get traction, or road salt to melt ice
• Booster cables with fully charged battery or jumper cables
• Hazard or other reflectors
• Bright colored flag or help signs, emergency distress flag, and/or emergency flares
• Road maps
• Waterproof matches and a can to melt snow for water
Learn the signs of, and basic treatment for frostbite and hypothermia. Frostbite causes loss of feeling and color around the face, fingers and toes, said ready.gov. The signs of frostbite are numbness, white or grayish-yellow skin, firm or waxy skin. If these signs occur, go to a warm room, soak in warm water, use body heat to warm. Do not massage or use a heating pad.
Hypothermia is when there is an unusually low body temperature. A temperature below 95 degrees is an emergency. Signs include: shivering, exhaustion, confusion, fumbling hands, memory loss, slurred speech or drowsiness, said ready.gov. If these signs occur, go to a warm room. First warm the center of the body — chest, neck, head and groin.
Keep dry and wrap up in warm blankets, including the head and neck.
In the event of long-term power loss there will be a shelter at the county fairgrounds. Due to the limited resources of the county, if a big emergency event should occur, the county will act and bring in resources such as the Red Cross, O'Nell said.
When it comes to the protection of livestock, all animals should be protected by the elements and placed in a barn or structure.
Keep old electric heaters and generators outside the animal structure, as they could cause a fire. No heating equipment should give off carbon dioxide as it will suffocate animals and humans.
Also, make sure that all heat lamps are properly installed and can not catch fire. Do not have multiple extension cords used to heat a distant building, get a longer cord.
---