Blumenauer faces 11 counts, pleads not guilty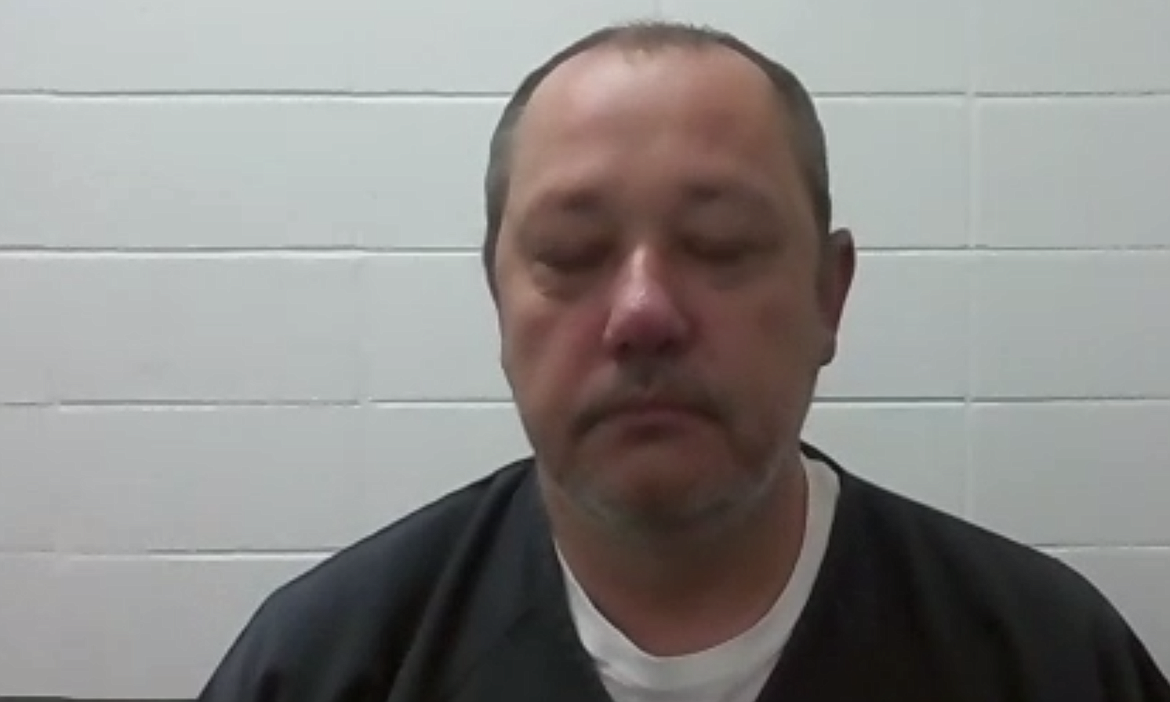 (Photo by Victor Corral Martinez) Blumenauer at arraignment hearing on Feb. 3 2021.
by
VICTOR CORRAL MARTINEZ
Staff Writer
|
February 3, 2021 12:45 PM
BONNERS FERRY — William Blumenauer, 46, faces 11 counts of lewd conduct with a minor under sixteen and plead not guilty to all counts against him at his arraignment hearing.
Initially facing four lew conduct counts, new leads detail allegations with minors from 2006 until 2010 with children ages 11-to-13-years-old.
The new charges include three counts from 2008 until 2010; four counts took place in 2006 and 2007.
Blumenauer, a Boundary County resident, was arrested initially on Jan. 12 on four counts of lewd conduct with a minor under 16.
Blumenauer has waived his right to a preliminary hearing and reading of the counts against him; the case was heard in District Court for arraignment under Judge Barbara Buchanan on Wednesday, Feb. 3.
When asked if Blumenauer understood what the new counts were, he said, "I haven't seen it, but I know what it is,"
Blumenauer understood his rights and waived the right to read all counts against him.
"I haven't seen it, but I know what it is," Blumenauer said
According to Public Defender Amanda Finley, she read the counts to Blumenauer, but he didn't want the new counts to be read to him.
"You understand that each of those counts is punishable by up to a life sentence and up to a $50,000 fine?" Buchanan said.
Blumenauer entered a not guilty plea on all counts.
The original four counts indicate the victims' or victims' ages ranged between 5 and 13 years old, with the alleged crimes happening between 2012 and 2019.
A preliminary hearing is best understood as a "trial before the trial," which the judge decides — not if the defendant is "guilty" or "not guilty," but — whether there is enough evidence to force the defendant to stand trial.
Blumenauer's public defender is Amanda Findlay, who was recently appointed this year as one of two public defenders for the county.
According to criminaldefenselawyer.com, "A defense attorney would recommend waiving the preliminary hearing only if the evidence against the defendant was substantial or overwhelming, and waiving the hearing would benefit the defendant in a significant way."
If you waive a preliminary hearing, you allow the prosecution to proceed on criminal charges against you without presenting its evidence.
"If the case is a high profile matter involving a great deal of publicity, an attorney might recommend waiving a preliminary hearing to limit the release of information and evidence to the public," stated the criminal defense lawyer website.
The jury trial will begin May 11 at 9 a.m., with a pre-trial scheduled for April 21, at 10 a.m.
---