Badgers wrestling triumph over Priest River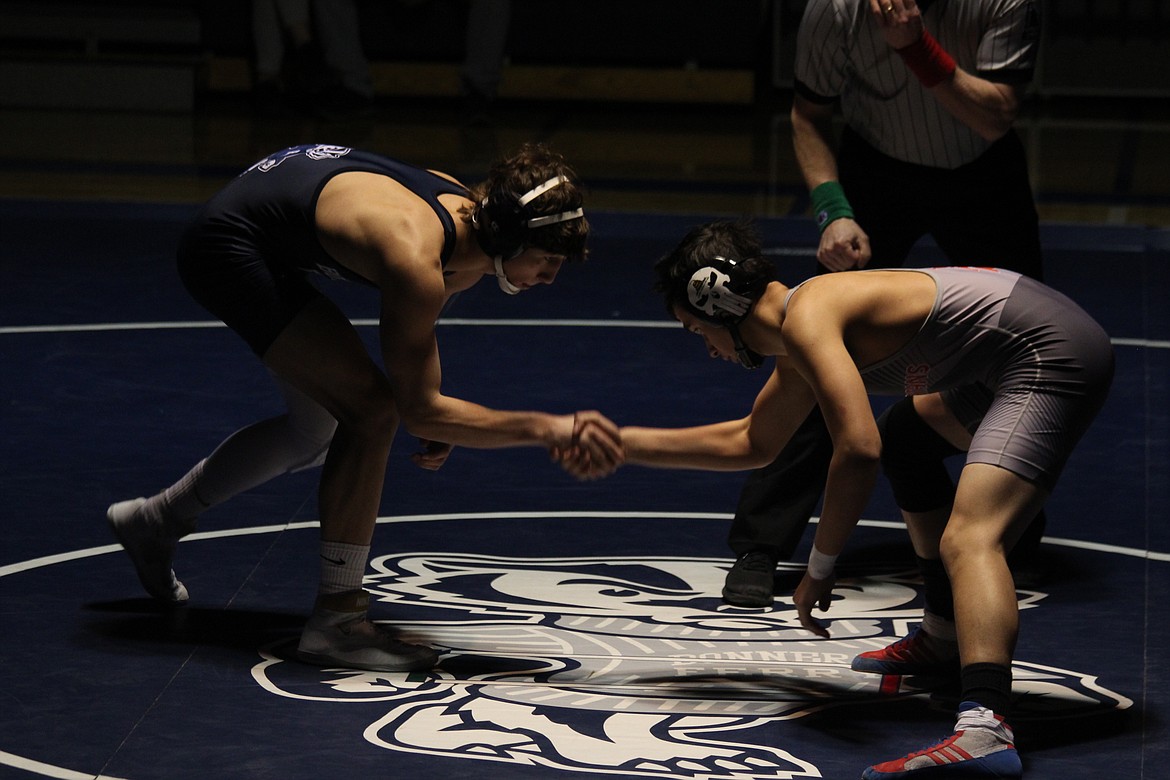 (Photo By Victor Corral Martinez) Barajas at the start of his matchup against Shayd Wongyun
by
VICTOR CORRAL MARTINEZ
Staff Writer
|
February 18, 2021 1:00 AM
BONNERS FERRY — Badgers wrestling made sure Priest River knew whose home they were in by dominating the matchups for the last regularly-scheduled home meet on Thursday, Feb.11.
The final home meet was important for the many graduating seniors, and they fought hard for every point to compile a winning score of Bonners Ferry 53, Priest River 16.
Priest River quickly took the lead in the first three matches, but that was short-lived, with every following matchup going to a Badger wrestler.
According to head coach Kevin Campbell, Thursday's meet was the last dual match of the year, senior night and winning a matchup against a league foe was essential to the team heading into district matches.
Notable highlights are the Evan Barajas and Shayd Wongyun matchup that saw a tough brawl between the two wrestlers, but Barajas, in a gravity-defying cartwheel, managed to take the win.
Campbell jokingly talked about the cartwheel Barajas did and said he hadn't seen that in a while, citing in practice, Barajas successfully completed the move and delivered in the match.
"I just saw one of my favorite college wrestlers Roman Bravo-Young do it last year in a match," Barajas said. "The kid just picked up my leg, and I just did it."
When asked about his success Thursday night, Barajas stated he wanted to show out for his last home match.
Nathaniel Varelman struggled early in his matchup against Matyus McLain. Still, his perseverance, guidance from coaches, and family support saw Varelman overcome his opponent to deliver a win for Bonners Ferry. McLain was so distraught by his defeat that he stormed out of the gym, hitting a door on his way out.
"Nathaniel is a really strong kid, and we been working with him all week on how to defend the legs," Campbell said. "He just kept grinding and grinding, and finally it all came through and got the leg just right and reached, caught the head and got the fall."
Campbell was proud of his team's hard work but still, sees room for improvement that can help in the 3A district meet, which Bonners Ferry hosts on Thursday, Feb. 18.
"Came in with the attitude, we need to polish everything, we need to be crisp, we need to wrestle hard, and I think we did that," Campbell said.
"We always need to work on the bottom," Campbell said, "we were really good on our feet tonight and didn't give up a lot of takedowns, and if we did, we fought and fought," Campbell said.
Bonners Ferry 53, Priest River 16
98: Double Forfeit 106: Double Forfeit 113: Hayden Sorbel (PRRI) over Michael Stindt (BOFE) (MD 12-4) 120: Keith Poirier (PRRI) over Ravi Neumeyer (BOFE) (Fall 1:21) 126: Aidan Troumbley (PRRI) over Dillon McLeish (BOFE) (Fall 0:47) 132: Evan Barajas (BOFE) over Shayd Wongyun (PRRI) (TF 20-5 2:23) 138: Spencer Eby (BOFE) over Egil Williams (PRRI) (Fall 0:17) 145: Double Forfeit 152: Bryan Durette (BOFE) over (PRRI) (For.) 160: Kyle Smith (BOFE) over Bradley Bennett (PRRI) (Fall 1:05) 170: Eli Richards (BOFE) over (PRRI) (For.) 182: Nathaniel Varelman (BOFE) over Matyus McLain (PRRI) (Fall 2:36) 195: Jackson Richter (BOFE) over (PRRI) (For.) 220: Andrew Sandelin-Macintosh (BOFE) over (PRRI) (For.) 285: Isaiah Shottanana (BOFE) over (PRRI) (For.)
---