Lady Badgers heading to state competition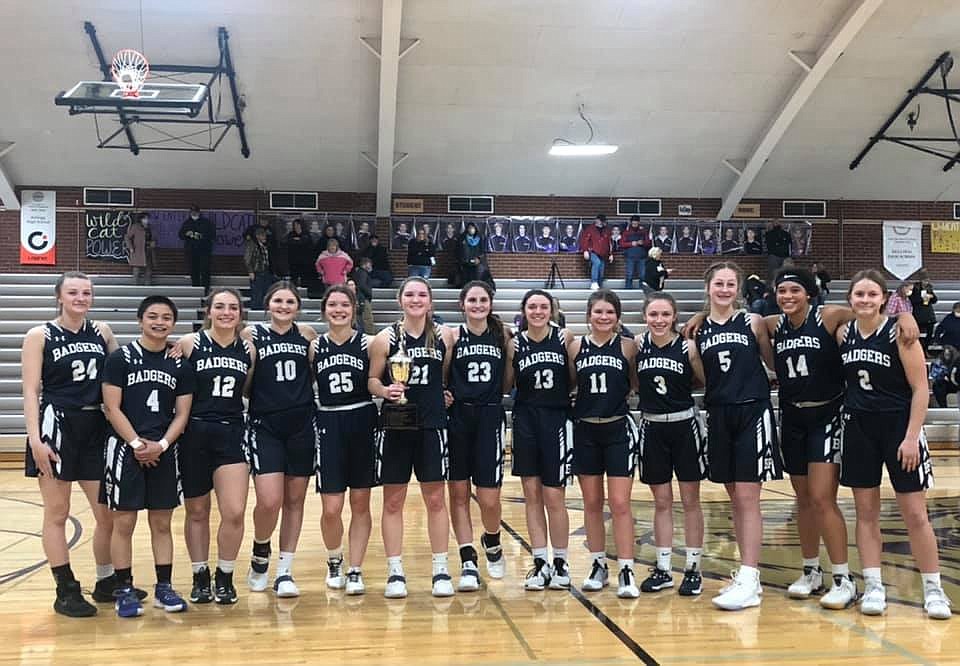 (Photo Courtesy of Kelly Hinthorn) Pictured: Bayer, Burt, Villaluz, Pluid, HillBayer, Bliss, Blackmore, Abubakari, Petersen, Ansley, Hill, Sumpter and Pinkerton. Lady Badgers after winning on Feb. 10 against Kellogg.
by
VICTOR CORRAL MARTINEZ
Staff Writer
|
February 18, 2021 1:00 AM
The postseason journey has taken the Bonners Ferry girls basketball team from Kellogg to Rathdrum, back to Kellogg and down to Grangeville.
But all that traveling was worth it, because the Badgers' playoff train is rolling all the way to the 3A state tournament in Middleton.
Bonners Ferry (14-7) begins state tournament action today with a 1 p.m. PST quarterfinal matchup against Sugar-Salem (22-1), the No. 2-ranked 3A team in the state.
The winner of today's game faces the winner the Filer (16-10) vs. Marsh Valley (15-10) quarterfinal in a 4 p.m. semifinal on Friday, also at Middleton High School. The two losing teams face off in an 11 a.m. consolation bracket game.
Saturday's consolation and third-place games are 9 and 11 a.m. PST, respectively, at Middleton High School. The 3A state championship is 1 p.m. Saturday at the Ford Idaho Center in Nampa.
But before any state tournament games are played, a look back at the Bonners Ferry road warriors is in order.
The Lady Badgers traveled over 1,000 miles last week and won three of their four matches against some of the state's toughest teams, BFHS girls coach Travis Hinthorn said.
A loss against Kellogg on Feb. 4 allowed the Wildcats to claim the second seed in the Intermountain League, giving Bonners Ferry the third seed going into districts, Hinthorn said.
The Badgers won the Feb. 8 district opener at Kellogg, then fell to defending 3A state champion Timberlake on Feb. 9 in a game played at Lakeland High School due to damages to Timberlake's gym floor.
That loss put Bonners Ferry in a loser-out game on Feb. 10 at Kellogg, and the Badgers came out with a 60-50 win. The victory gave Bonners Ferry a second-place district trophy and advanced the Badgers to a state play-in game against Weiser, the third seed from the Snake River Valley conference.
All the excitement and hard work Bonners Ferry put in this season paid off in a significant 51-40 victory against Weiser on Feb. 13 at Grangeville High School, allowing the Badgers to advance to the state tournament.
Feb. 10: Bonners Ferry 60, Kellogg 50
KELLOGG — The Lady Badgers traveled to Kellogg for the second time in three days and again came away with a victory.
Bonners Ferry had a balanced scoring attack led by Holly Ansley with 15 points and 10 rebounds. Asha Abubakari contributed 14 points and also had 10 rebounds. Sierra Hill scored all 12 of her points, including 3 three-pointers, in the second half.
"This loser-out, last game of districts, is Sierra's game. Last year she had 21 and was the difference. She was a huge part of our win this year also." Hinthorn said.
Avery Bayer totaled 9 points, and Emma Pinkerton scored 8.
"This was a great team win. We had a balanced attack and got contributions from multiple players," Hinthorn stated.
Feb. 13: Bonners Ferry 51, Weiser 40
GRANGEVILLE — Holly Ansley led the Badgers with 26 points, scoring 14 in the first quarter, including 2 three-pointers.
"I think Holly wanted our season to continue. She really set the tone in that first quarter. She was fun to watch." Hinthorn said.
Sierra Hill had a team-high 13 rebounds to go along with her 8 points.
"That was Sierra's best rebounding game of the season, at a very important time. That was huge for her to step up on the boards," Hinthorn added.
Mia Blackmore had a season-high 10 points, 5 rebounds and 3 steals. The 5-foot-3 freshman point guard, Avery Bayer, was big down the stretch also. She had two critical free throws late in the game and had 6 rebounds, 5 assists, 2 steals and a blocked shot.
"Mia and Avery were part of a big run we had in the second quarter to get up by 12," Hinthorn said. "Mia picked a great time to get a season-high and had a couple of great spin dribble drives. She was a large part of our success today."
In a post by coach Kelly Hinthorn on Facebook, she wrote, "Big win for the Lady Badgers 51-40 over Weiser. We may not take the easy road, but that makes the journey even sweeter! We are so excited to get one more week with these girls! Let's keep it rolling! Go Badgers!"
District second-place game
Bonners Ferry 17 11 15 17 — 60
Kellogg 12 15 4 19 — 50
Bonners Ferry: B. Bayer 0, Burt 0, Villaluz 0, Pluid 0, Sa Hill 0, A. Bayer 8, Bliss 0, Blackmore 2, Abubakari 14, Petersen 0, Ansley 15, Si Hill 12, Sumpter 0, Pinkerton 9.
Kellogg: A. VanHoose 0, Jerome 8, E. VanHoose 9, Hill 8, Nearing 0, H. Cheney 15, Reed 0, M. Cheney 4, Potts 6.
State play-in game
Bonners Ferry 18 12 7 14 — 51
Weiser 12 11 13 4 — 40
Bonners Ferry: B. Bayer 0, Burt 0, Villaluz 0, Pluid 0, Sa Hill 0, A. Bayer 2, Bliss 0, Blackmore 10, Abubakari 5, Petersen 0, Ansley 26, Si Hill 8, Sumpter 0, Pinkerton 0.
Weiser: Soliz 0, Svedin 9, McConnell 0, Yraguen 7, Juarez 2, Morris 1, Maloney 0, Noyer 11, Erickson 6, Shirts 4.
---