Little: Vaccine supply could triple by end of March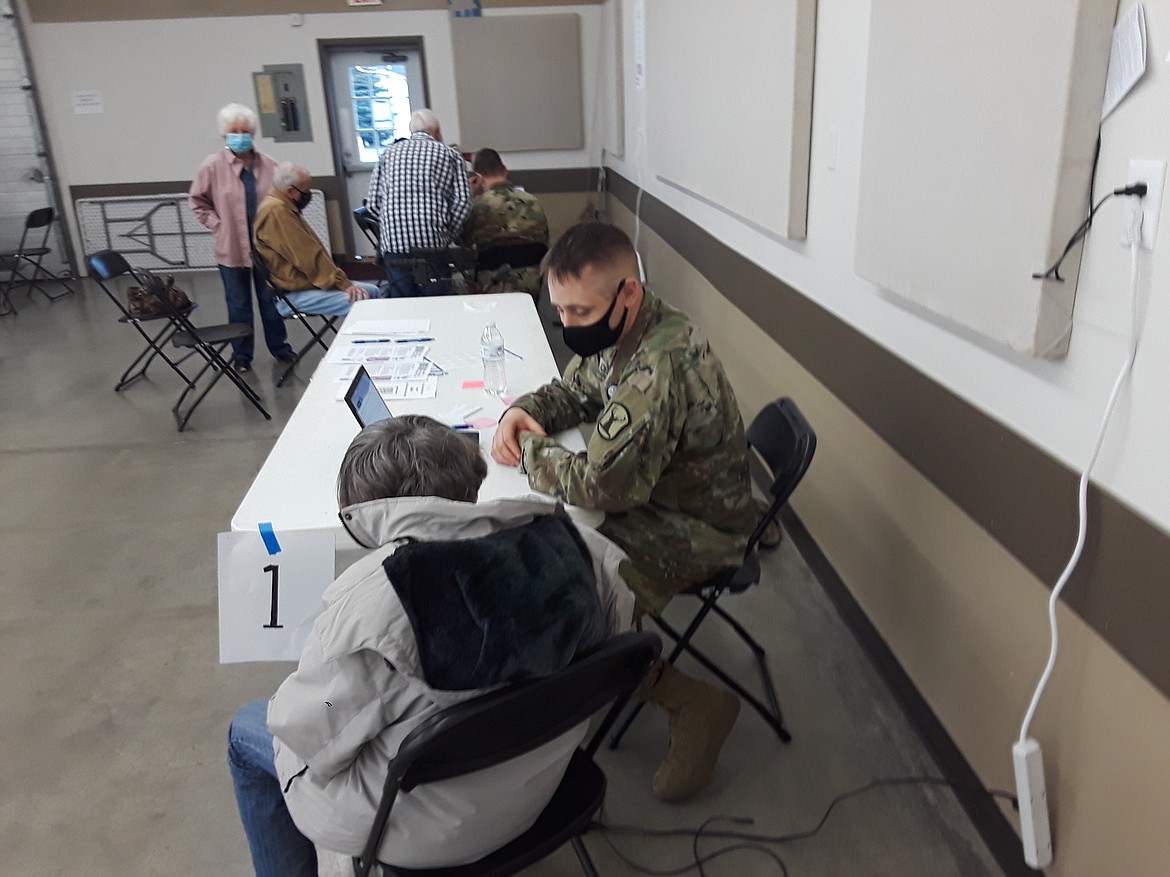 A member of the Idaho National Guard helps process a soon-to-be-vaccinated local at the Kootenai County Fairgrounds, where Panhandle Health is administering a mass-vaccination site. Gov. Brad Little said Tuesday that he expects the state's vaccine supply to triple by the end of March. (CRAIG NORTHRUP/Press)
by
CRAIG NORTHRUP
Hagadone News Network
|
February 18, 2021 1:00 AM
Gov. Brad Little said he expects the Johnson & Johnson COVID-19 vaccine to help triple — or even quadruple — Idaho's inbound dose supply by the end of March.
"I forecast we'll have three to four times more vaccine, hopefully, in 30 or maybe 40 days," Little said Tuesday during a conference call. "The Johnson & Johnson vaccine submitted a request for their Emergency Use Authorization. When that gets approved by the (Food and Drug Administration), there will be — literally — tens of millions of more doses that will be available nationwide."
The FDA is expected to analyze, review and vote on the pharmaceutical giant's request by the end of February. If approved, Johnson & Johnson will join Pfizer and Moderna in the American vaccine market. Little said the nature of Johnson & Johnson's vaccine will help vaccinate rural Idahoans.
"The beauty of the Johnson & Johnson vaccine, as most of you know, is it's a one-shot vaccine," Little said. "So it's more scalable out to rural Idaho."
Little made his remarks during a bi-weekly conference call through AARP Idaho, where he fielded questions about both COVID-19 and its vaccine. He expressed overall satisfaction with Idaho's trending case counts, particularly in comparison to December.
"We've made just incredible progress on the viral loading in our communities on the infection rate, and we're all excited about that," he said.
Dave Jeppesen, director of the state's Health and Welfare Department, said Idaho's COVID-19 numbers — particularly its positivity rate — are much more manageable than in December, so far the height of the pandemic.
"Our overall virus numbers continue to look much better than they did in December, which was really our peak," Jeppesen said. "Our testing positivity most recent number is at 6.6 percent, which is not quite at 5 percent where we like it, but it's much lower than we were, almost touching 20 percent in December."
Friday's per capita new case counts fell to 18 per 100,000, down from 68 per 100,000 on December 8. But despite a massive decline in new cases, hospitalizations and deaths since mid-December, COVID-related hospitalizations and COVID-filled ICU beds have both started to rise over the past week statewide, with ICU hospitalizations going from a four-month low of 36 on Feb. 7 to 45 by Feb. 10.
"Our hospital capacity is a little stressed in a couple of areas, but they're way better than they were in early December," Little said. "We're all excited about that."
Little's comments come as Idaho continues its push to vaccinate its seniors, the current phase in his administration's schedule that started Feb. 1. In the two-plus weeks since seniors 65-and-older were authorized to sign up for their shots, 31 percent of the state's seniors have been vaccinated.
To date, more Idahoans have been vaccinated with at least one dose (181,715) than have tested positive for the coronavirus (167,483).
According to the state's COVID-19 Vaccine Administration Transparency Data, 43,450 doses have been distributed in the Panhandle, and 29,557 have been administered. In Kootenai County, 17,525 people have been vaccinated, according to the website.
---