Badgers outlast Spartans in overtime thriller; districts start Monday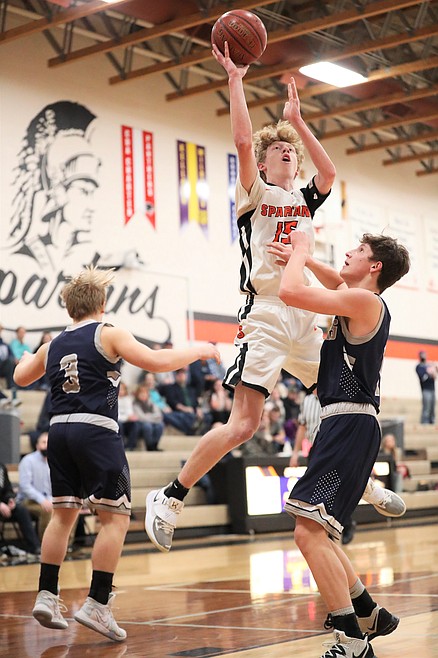 Priest River's Blake Barrett rises up for a shot over Ridge Williams from Bonners Ferry on Saturday at PRLHS.
(Photo by DYLAN GREENE)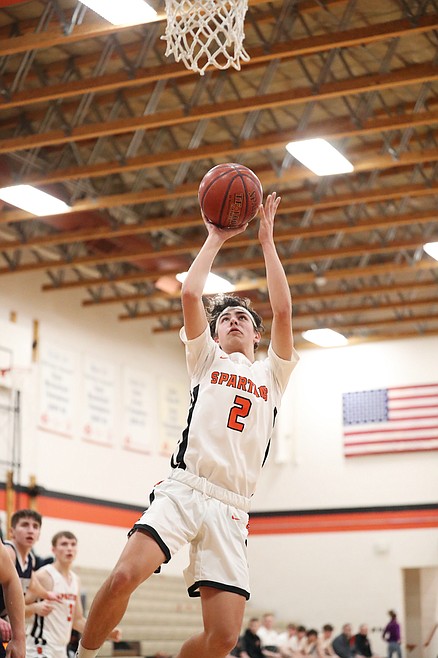 Sophomore Luke Butler breaks through the Bonners Ferry defense and hits a shot in the second quarter of Saturday's game.
(Photo by DYLAN GREENE)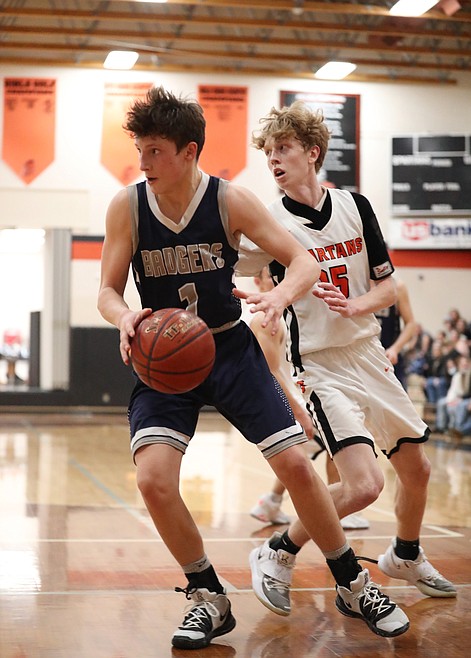 Sophomore Ridge Williams looks to attack the paint for Bonners Ferry on Saturday.
(Photo by DYLAN GREENE)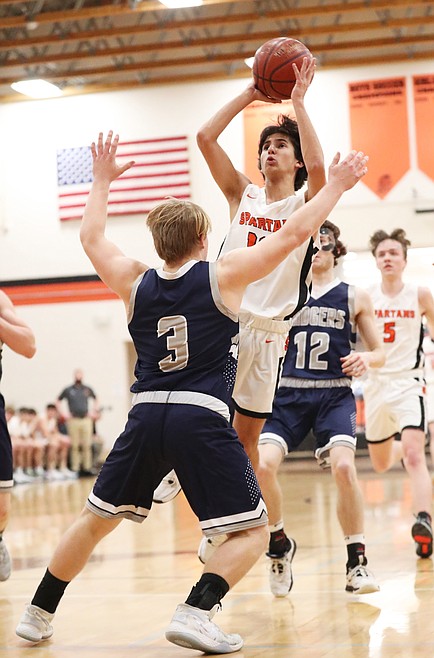 Teigan Marinello pulls up for a shot on Saturday.
(Photo by DYLAN GREENE)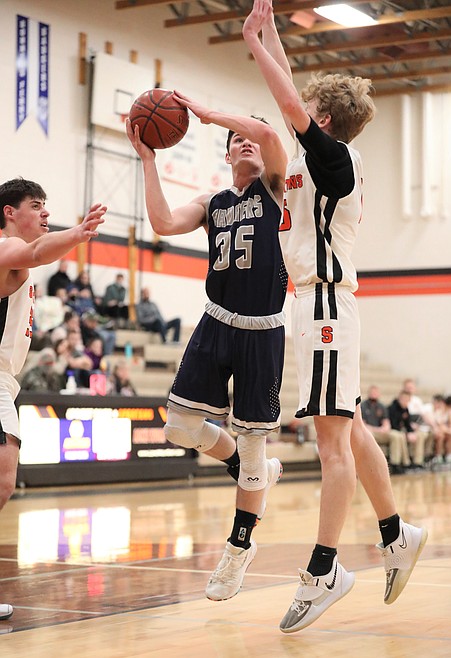 Braeden Blackmore (middle) attacks the paint on Saturday.
(Photo by DYLAN GREENE)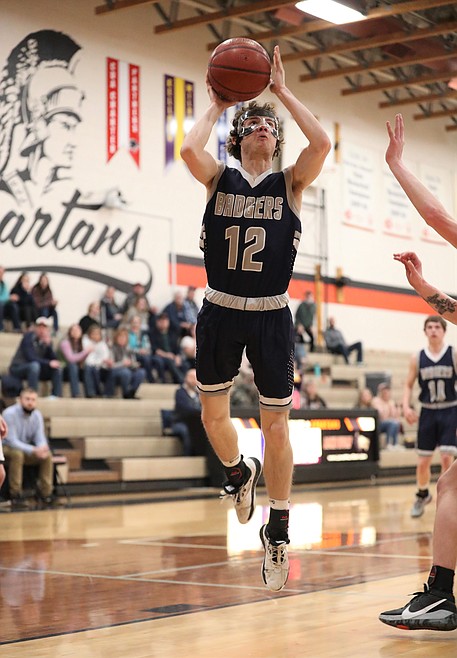 Hayden Stockton converts a layup for Bonners Ferry on Saturday.
(Photo by DYLAN GREENE)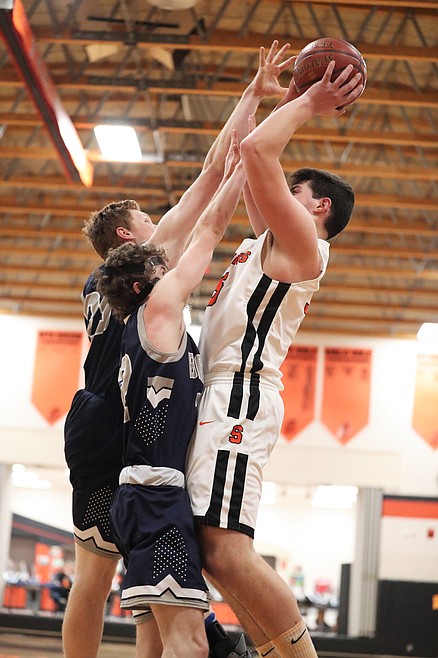 Priest River's Jace Yount attempts a shot over a pair of Bonners Ferry defenders on Saturday.
(Photo by DYLAN GREENE)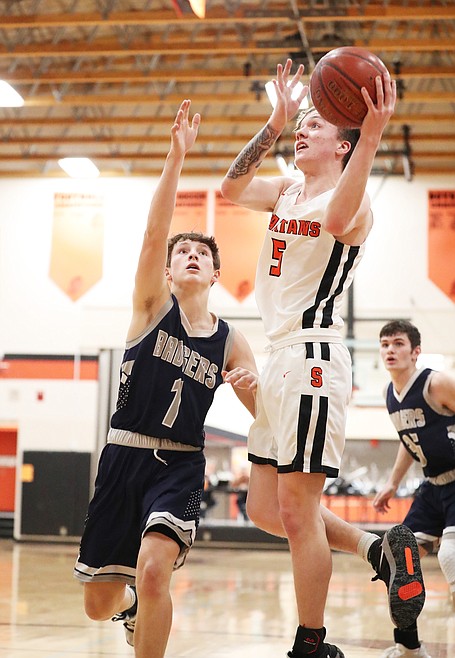 Priest River's Trentyn Kreager attacks the basket and goes up for a shot on Saturday.
(Photo by DYLAN GREENE)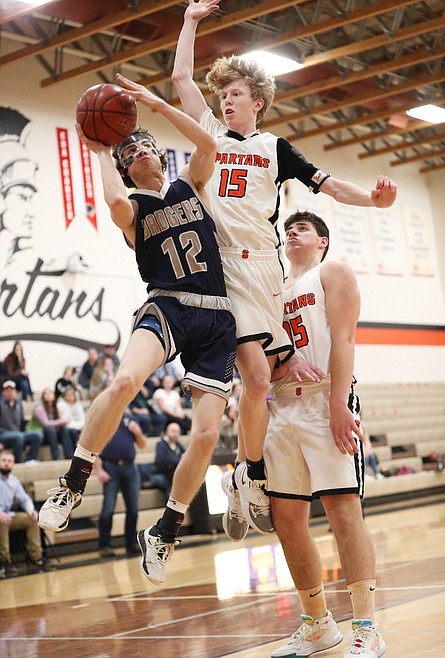 Hayden Stockton from Bonners Ferry attacks the basket and tries to hit a shot while Blake Barrett defends him on Saturday.
(Photo by DYLAN GREENE)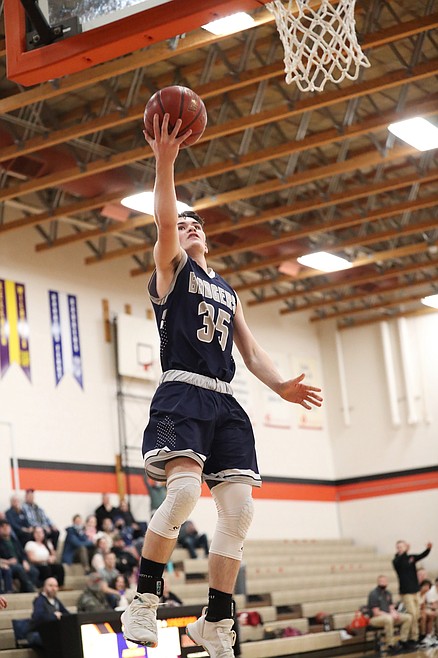 Sophomore Braeden Blackmore converts a layup for Bonners Ferry on Saturday.
(Photo by DYLAN GREENE)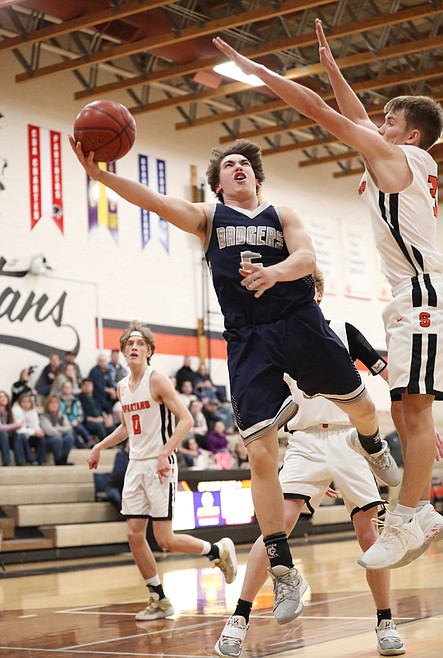 Blake Rice from Bonners Ferry attacks the basket while Priest River's Jordan Nortz defends him on Saturday. Rice hit the game-winning free throw.
(Photo by DYLAN GREENE)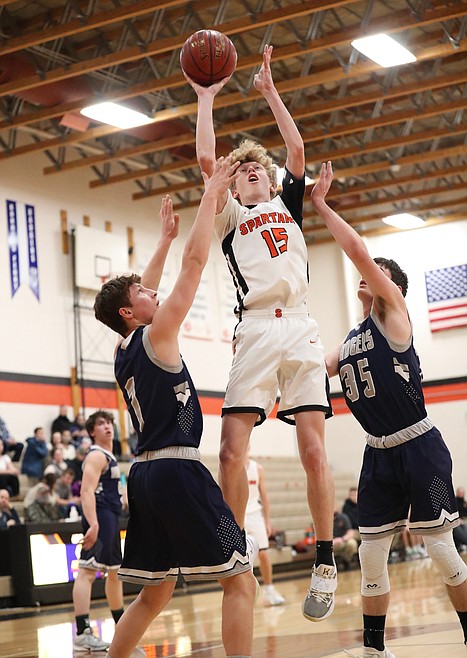 Blake Barrett elevates for a shot over a pair of Bonners Ferry defenders on Saturday.
(Photo by DYLAN GREENE)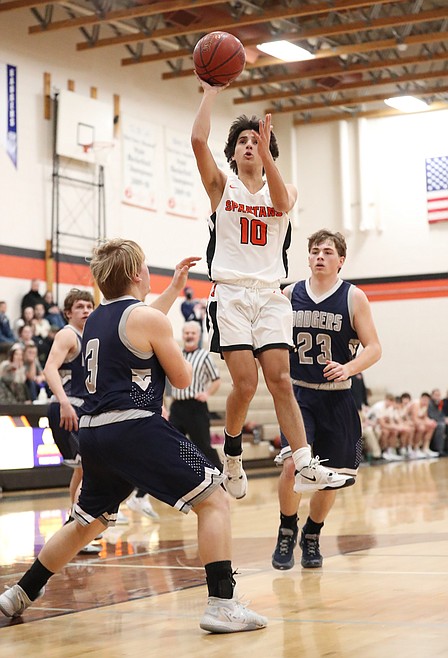 Priest River's Teigan Marinello rises for a floater on Saturday.
(Photo by DYLAN GREENE)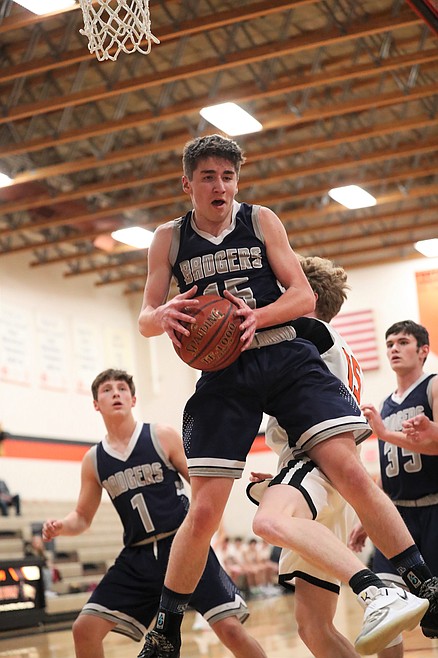 Bonners Ferry junior Ethan Hubbard secures a rebound on Saturday.
(Photo by DYLAN GREENE)
Previous
Next
by
DYLAN GREENE
Hagadone News Network
|
February 22, 2021 8:52 AM
PRIEST RIVER — The Spartans and Badgers left it all on the court Saturday night.
The two teams traded blows until the very end, but a free throw from Bonners Ferry sophomore Blake Rice with 7.4 seconds left in overtime proved to be the difference and pushed the Badgers past Priest River 78-77 in the regular season finale for both teams.
"That was an exciting game to end the regular season going into districts," Bonners Ferry head coach Nathan Williams said. "It was a game that we really needed to get our momentum back going into districts. We had some kids step up and shoot great and the main thing is we played great team defense when we needed to."
The Spartans overcame a fourth-quarter deficit as large as 10 points. Priest River closed regulation on a 13-4 run and junior Blake Barrett hit a shot with about 48 seconds left to tie the game at 67-67.
Then Travis Mathews got a steal with 20 seconds left and Priest River head coach Kevin Wylie called a timeout to setup the potential game-winning shot. Unfortunately, a jumper by Trentyn Kreager didn't fall and the game went into overtime.
The scoring didn't slow down for either side in overtime, but Bonners Ferry was able to open the period on a 7-0 run to create some separation midway through overtime.
However, the Spartans continued to show that no lead is safe when they are on the court. With about 45 seconds left, sophomore Teigan Marinello pulled up and rattled home a 3-pointer to make it 77-76 in favor of the Badgers.
After a Bonners Ferry turnover, Barrett was fouled and he hit one of two free throws to tie the game at 77-77 with 28 seconds left.
On the ensuing possession, Rice drove to the hoop and was fouled on a shot attempt. He stepped to the free-throw line, missed the front end, but buried the second to put the Badgers ahead for good.
Williams said he trusts Rice to come up clutch in those situations.
"He's one of our better free throw shooters," he said about Rice, "and he's pretty good with the ball as our primary point guard and I trust him completely to take the ball in on a last second shot ... and he got fouled and he hit the one free throw we needed to win."
After the made free throw by Rice, Priest River called a timeout with 4.5 seconds left to try and setup another game-winning shot. But Barrett's shot was just off and the Intermountain League champion Spartans suffered their second league loss.
Priest River trailed by as many as 13 points on Saturday and Wylie said his team showed a lot of fight against the Badgers.
"With this group of kids they never stop fighting," he said. "They always stay focused and stay locked in, even when things don't seem like they're going well for us, we seem to fight back and put ourselves in a position to win or be close ... It just would have been nice to seal that win with a good comeback."
Wylie said he can't complain because the Spartans had two chances to win the game, they just couldn't convert. He also added that the team will likely face more nail-biters as they head into districts and a potential state run, and they need to be ready for that.
"We had opportunities at the end of the game and at the end of overtime to win it," he said, "and Trentyn [Kreager] and Blake [Barrett] just came up short. But I got to give both those guys credit. They are definitely skilled players where they can win a game for you, so I think it's going to happen."
Barrett led Priest River with 23 points, three assists and three rebounds. The performance came one day after Barrett dropped 26 on Kellogg to lead the Spartans to a road win over the Wildcats and the team's first IML title since 2011.
"Blake has really stepped up and done his part for the team not just offensively ... but defensively, he just brings so much to the table," Wylie said.
Kreager racked up 11 points, five rebounds and four assists, Jordan Nortz poured in 13 and Marinello added 12. Jace Yount nearly recorded a double-double with eight points and 10 rebounds and Mathews tallied eight points, five rebounds and five assists.
Ridge Williams led Bonners Ferry with 23 points and five 3-pointers. Rice added 18 points and eight rebounds, Hayden Stockton had 14 points and four assists and Braeden Blackmore tallied 12 points and nine rebounds.
Nathan Williams said it was a great team win.
"We had some kids step up and hit some huge shots," he said, "and some kids off the bench come in and play a few minutes that contributed big things to the team ... It feels good to take down the No. 1 seed."
With the win, Bonners Ferry (8-7, 3-3 IML) forced a coin-flip tiebreaker with Kellogg (9-7, 3-3 IML) for the No. 2 seed to the 3A District 1 tournament. The Wildcats won the coin toss on Sunday and will host the Badgers at 6 p.m. Monday to open the district tourney.
No. 1 seed Priest River (12-8, 4-2 IML) will host No. 4 Timberlake (7-13, 2-4 IML) in the first round of the district tourney at 6 p.m. Monday.
Bonners Ferry 22 12 16 17 11 — 78
Priest River 12 16 21 18 10 — 77
BONNERS FERRY — Williams 23, Petersen 2, Rice 18, Henslee 3, Stockton 14, Hubbard 2, Mai 2, Beazer 2, Blackmore 12.
PRIEST RIVER — Mathews 8, Butler 2, Nortz 13, Kreager 11, Marinello 12, Barrett 23, Thompson 0, Yount 8.
---