Gov. Little gave his State of the State address, historic tax relief cuts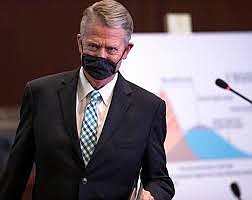 by
VICTOR CORRAL MARTINEZ
Staff Writer
|
January 11, 2021 2:10 PM
BOISE — Gov. Brad Little gave his State of The State address remotely from a Statehouse auditorium, a break from tradition when Idaho lawmakers would generally listen at a packed house chambers floor.
In Little's opening statements, he acknowledged the chaos that erupted at the U.S. Capitol last week.
"While we should be celebrating the openness of our government, a fence is being erected around the U.S. Capitol. I mourn the loss of life and the loss of access and what it means for future generations of Americans." Little said.
Little praised Idaho's lawmakers' conservative nature in rolling back regulations that hindered production and having an economy that has become productive.
"A robust economy cannot exist with burdensome regulations on citizens and business," Little said, "Part of the reason Idaho's economy is catapulting ahead of other states is because of the regulatory rollbacks we achieved together before and during the pandemic."
According to Little, other states faced budget cuts of 20% to 40%, while Idaho is in the enviable position of having a record budget surplus.
In his speech, Little named his new plan called "Building Idaho's Future" to strengthen the state and build on existing programs.
The most significant piece of Little's program is a tax cut worth more than $450 Million; in the hopes of keeping tax rates competitive and business climate healthy.
"To get there, I'm proposing $295 million in one-time tax relief and $160 million in permanent tax cuts to boost Idahoans' prosperity."
Gov. Little stated that curbing government spending should be the goal of lawmakers and an end goal of returning tax dollars is paramount to the government.
"I look forward to working with my partners in the Legislature to get tax relief across the finish line for our citizens."
Another concern outlined by Little is transportation infrastructure and reinvestment to improve transit times, especially as Idaho experiences growth.
"We won't be able to keep our children and grandchildren in Idaho if we cannot alleviate traffic congestion, especially as our state continues to attract newcomers fleeing dysfunctional states." Little stated.
According to Little, the plan will invest $126 million in state and highway infrastructure projects and make targeted investments in safe routes to schools, rail infrastructure and community airports. There will be an additional $80 million in new ongoing transportation funding.
"We cannot ignore a growing problem that steals Idahoans' time and threatens their safety and our economic prosperity." Little stated.
Little made it very clear that law enforcement is supported by the state when other municipalities want to defund law enforcement.
In his plan, Little said, "While other places seek to defund the police, I am proud to say that Idaho defends the police. Idaho backs the blue."
The Building Idaho's Future plan includes investments in needed agriculture and water infrastructure projects to aid in rural Idaho's economic strength.
"My plan makes $60 million in strategic investments in long-term water projects and safe water systems for our communities." Little said.
The governor explained that children are his top priority and making internet access attainable for those students is essential. He even cited some cases where lack of internet affected children's schooling.
The plan includes $35 million for new investments in internet connectivity for underserved areas to improve commerce, economic growth, and education.
"My budget meets our historic commitment to teachers by fully implementing our $250 million investment in the career ladder."
The governor, before giving his closing statements for the State of The State address, jokingly said, "My fellow Idahoans, the pandemic made us appreciate parts of life we took for granted, and I don't just mean the availability of toilet paper."
---