Ansley tops 1,000 career points in BFHS victory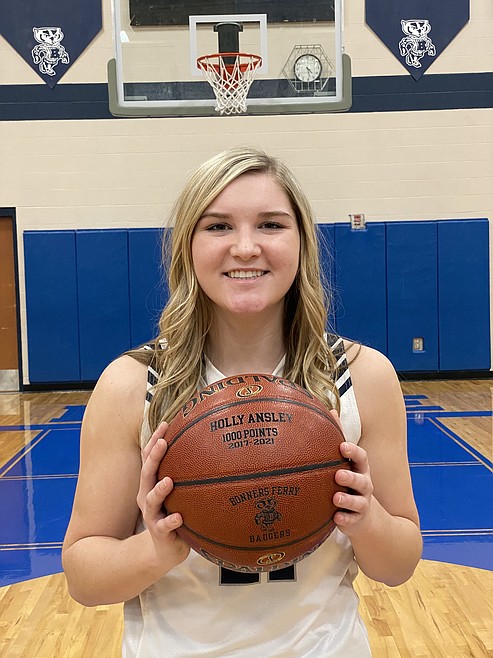 (Photo Courtesy of BFHS) Holly Anslee with the basketball honoring her 1000 scoring record.
by
VICTOR CORRAL MARTINEZ
Staff Writer
|
January 14, 2021 1:00 AM
BONNERS FERRY — Holly Ansley did more than simply lead the Badgers girls basketball team to a convincing win over visiting Priest River on Thursday, Jan. 7.
The Bonners Ferry senior achieved a major career milestone, surpassing 1,000 career points, during the Badgers' 61-24 victory in their Intermountain League opener.
Ansley led the team with 24 points, scoring 12 of them in the opening period, which ended with Bonners Ferry ahead 21-6.
Those 12 first-quarter points gave Ansley exactly 1,000 for her career, and she would add 12 more against the Spartans. Through Thursday's game, she has scored 124 points in eight games this season, an average of 15.5 points per game.
Ansley scored 224 points her freshman year, 367 points her sophomore year, and 297 points her junior year, for a career total of 1,012 thus far.
According to Holly's father, Merle Ansley, she has always been a determined person who never needs to be pushed, never procrastinated, and still needs to be first at whatever endeavors she strived to pursue.
"She's always been driven," Merle Ansley said.
Ansley is the first Badger girls basketball player to reach the 1,000-point mark since Becky Lowther, a 2007 BFHS graduate.
Coach Travis Hinthorn has been coaching Holly Ansley all four years of her career and has been privileged to see her growth as a student-athlete.
"I have enjoyed coaching Holly these four years and watching all the growth and success she has had as a player and a person," Hinthorn said, "She deserves all the recognition she gets because of her commitment and hard work over the years."
The BFHS standout had plenty of help against the Spartans, as the Badgers opened a 41-15 lead at halftime en route to the convincing win.
Asha Abubakari added 8 points and Kaylee Sumpter scored 7 points; both also had six rebounds.
Emma Pinkerton had another great defensive game, recording seven steals to go along with her 6 points.
In addition to being a four-year starter for the basketball team, Ansley is also a straight-a student earning a 4.0 grade-point average.
According to Merle Ansley, Holly is preparing for track and field and plans to study dentistry at Idaho State University.
The Lady Badgers (6-2 overall, 1-0 IML) host Lakeside at 7:30 tonight, Jan. 14. Senior night is Saturday against visiting Kellogg, with the girls set for a 3 p.m. tipoff.
Priest River 6 9 7 2 — 24
Bonners Ferry 21 20 14 6 — 61
PRIEST RIVER — Rantala 2, Freitas 4, Pound 2, Burgess-Duquette 0, Fitzmorris 4, Thompson 0, Palfrey 8, Kingery 2, White 0, Barton 2, Shockey 0.
BONNERS FERRY - Bayer 3, Burt 0, Villaluz 4, Sa. Hill 0, Bliss 1, Blackmore 3, Abubakari 8, Ansley 24, Si. Hill 5, Sumpter 7, Pinkerton 6.  
---