Boys basketball goes into overtime, wins with 4 players on court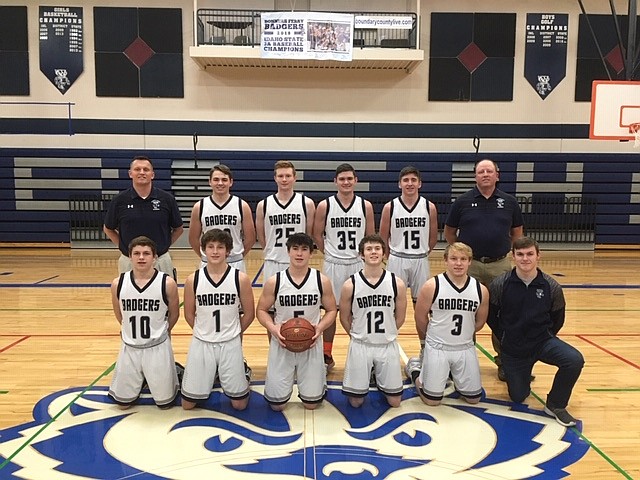 (Photo Courtesy of BFHS basketball) Front row from left to right: Charles Henslee, Ridge Williams, Blake Rice, Hayden Stockton, Travis Petersen, and Cleo Henslee Back row from left to right: Coach Nathan Williams, Dillon Mai, Josh Beazer, Braeden Blackmore, Ethan Hubbard, and Coach Ryan Mai
|
January 18, 2021 12:45 PM
BONNERS FERRY — Badgers boys basketball deliver a last-minute upset against Kellogg in overtime in a hard-fought game that ultimately saw badgers persevere with a 75-70 score.
The atmosphere was intense, with just 3.9 seconds left in the game and Travis Petersen on the free-throw line with immense pressure to lead the team to overtime. According to the head coach, Nathan Williams, the best was yet to come.
"I had no doubt that Travis was going to make those free throws," Williams said, "Since these sophomores were in the 5th grade, I've been telling them that all close games come down to free throws."
Williams has always made free throws a critical part of practice and training, so he was confident that his players make those shots.
"We shoot free throws every practice after conditioning, and I knew Travis had these," Williams said, "I event told the ref who was standing next to me before the first shot that I would like a timeout after the second made free-throw."
And with those two free throws, Petersens pushed the team into overtime.
The badgers quickly took a 6 point lead with the help of a layup by Blake Rice, but a technical foul was called on Rice, which fouled him out of the game.
Williams felt the call was wrong after looking at footage but acknowledged how the game is sometimes played.
Moments later, senior guard Hayden Stockton was fouled out of the game, leaving just four players on the Badgers' roster available to continue playing.
"I remember looking up at the clock and seeing over two minutes left in the game and knowing that five of my nine total players are fouled out with four of my five being starters," Williams said.
At that moment, the referee asked Williams for another player to put in, but no one else left to put in the game.
"I said I have no more players and that we will have to play with four," Williams said.
The badgers faced an uphill battle but have prepared for this moment many times during practice.
"I've been telling them all year that our strength is our depth, and it is hard to beat a team with a solid bench," Williams passionately stated.
Petersen stepped up huge in overtime, scoring 6 points and coming up with some vital rebounds down the stretch. According to Williams, Petersen plays every game with tenacity and grit at all times on the court.
The excitement began to fill the court as the 2-2 zone defense could make some significant rebounds in the game.
According to Williams, in his 20 years of coaching, he has never witnessed an overtime game of such importance with only four players in the game.
The badgers ended the night shooting 9 for 14 from the free-throw line and receiving 31 team fouls. Braeden Blackmore and Ridge Williams scored 16 and 14 respectively for the badgers.
"I will always remember this game and how the team stuck together and never stopped believing," Williams stated.
The badgers will play a home game against Timberlake on Jan. 23 at 6 p.m.
Bonners Ferry 75
Kellogg 70
BONNERS FERRY — Sophomore Travis Petersen forced overtime with two free throws with 6 seconds remaining, then scored six of his 11 points in overtime as the Badgers rallied past the Wildcats in the Intermountain League opener for both teams.
Kellogg (2-4) made just 6 of 15 free throws in the fourth quarter, and finished 21 of 37 from the line.
"Real frustrating," Kellogg coach Mike Martin said. "We did just about everything we could to lose that ballgame. We played the way we want to play for about two quarters. Things got a little tight down the stretch, and we needed one or two more basketball plays down the stretch."
Braeden Blackmore scored 16 points for Bonners Ferry (6-4), which jumped out on top early in overtime.
"They just kept coming," Martin said of Bonners. "There were times we felt we were going to open the game up, and they never went away."
Logan Jerome scored 19 points for Kellogg, and Riply Luna added 16.
Kellogg plays host to the Post Falls junior varsity on Wednesday.
Kellogg 16 16 17 12 9 — 70
Bonners Ferry 15 11 14 21 14 — 75
KELLOGG — Riply Luna 16, Kolby Luna 13, Groves 7, Frohlich 4, KJ Walker 11, Jerome 19, Hoffman 0.
BONNERS FERRY — Williams 13, Petersen 11, Rice 2, Hensley 10, Stockton 6, Hubbard 8, Mai 0, Beazer 4, Blackmore 16.
---