Treat Your Sweetheart This Valentine's Day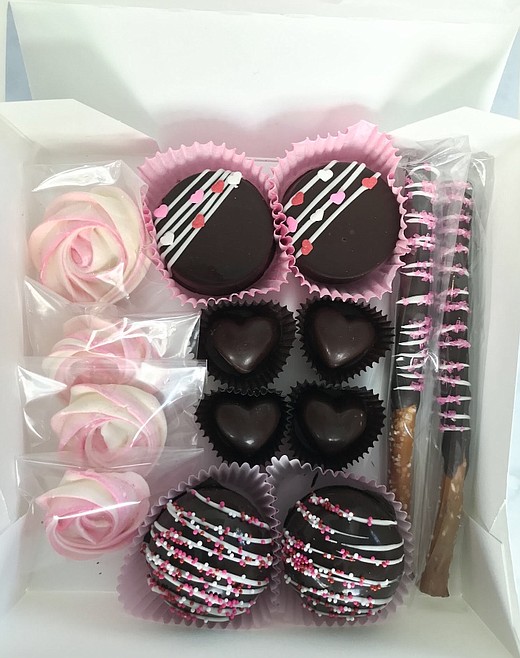 Courtesy of Heather Hodges
by
ROSE SHABABY
Staff Writer
|
January 21, 2021 1:00 AM
Heather Hodges likes sweets. So much so, her husband nicknamed her "Hummingbird" because she drinks sugar water.

Her sweet tooth turned out to be an asset. As a teenager, she started baking for fun but soon parlayed the hobby into a career. She's worked in a variety of bakeries before moving to Bonners Ferry with her family in 2019. In 2020, she turned her experience and her love of sweets into a business.
Hummingbird Sweets is a home-based bakery specializing in custom cakes and other sweet creations. You need a kitty cat cake for your daughter's 8th birthday? Hodges can make it. How about cookie trucks bearing Christmas trees like she made for Riverside Auto Center? She's the person to call.
Hodges likes to make special treats for the holidays too. Right now she's taking orders for her special Valentine's Day boxes.
Her Sweetheart Box contains chocolate covered Oreos and pretzels, cocoa bombs, meringue cookies and peanut butter truffles for $15. If you prefer hand-dipped chocolate strawberries, you can order a dozen for $25. Or maybe those chocolate covered Oreos are your passion? Get a box with bonus peanut butter truffles for $20.
Hodges' favorite? She loves them all, but the chocolate covered strawberries will always be at the top of her list.
No matter which sweet you decide to give your sweetheart for Valentine's Day, don't forget to put your order in before Hodges' deadline of Feb. 7. You can reach her by phone at 208-267-5548, or email at hummingbirdsweets@yahoo.com.

---