Dukes Claybusters earn letters, honors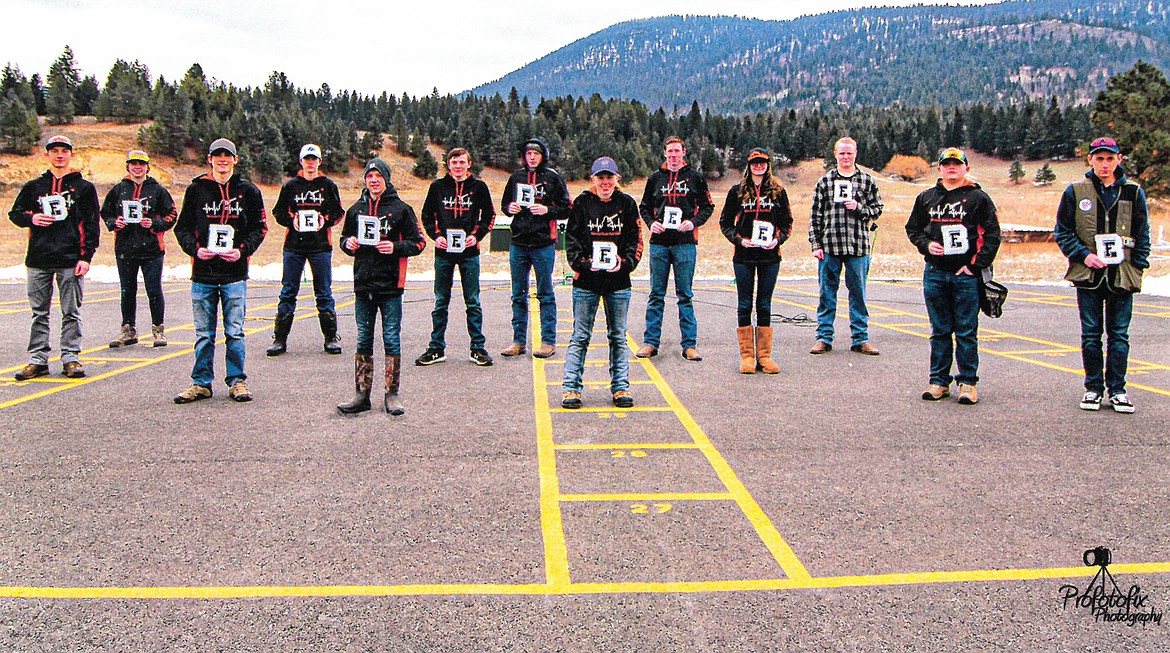 Members of the Dukes Claybusters, the Bonners Berry High School trap shooting team, are pictured with letters and pins for the year of 2020.
(Courtesy photo)
by
LONNY JELINEK Contributing Writer
|
January 28, 2021 12:24 PM
Dukes Claybusters, the Bonners Ferry High School Trap Club is still leading the Big Sky I Net Youth Division, after the fourth week of competition.
Colin Fairchild is tied for high individual score. The Claybusters had a first this week with Cassidy Underhill breaking her first 25X25.
Congratulations being the first lady Claybuster shooter to achieve 25X25, with Melanie Campbell and Milia Steffen on her heels with both previously breaking 24X25s. Kamen Nelson also broke a 25X25, Dillon Mcleish 24X25, and Wyatt McDonald 24X25, making a total score of 98X100 on the 16-yard competition. A great score turned into the Spokesman Review Shoot and a 74X75 to the Camas Prairie League Shoot. High Handicap score was 21X25 by Melanie Campbell and Colin Fairchild.
The Bonners Berry High School Athletic Department and the NRA trap coach on Jan. 23, awarded the eligible school trap club members their letters and pins for the year of 2020. The awards are for academic, good grades, integrity (the quality of being honest and having strong moral principles) and marksmanship (shooting at moving targets with accuracy, with an average of 16x25 or better).
Jan 24, 2021 Bonners Ferry Gun Club — We had 12 shooters today, with two shooting yesterday, making 14 total.
Jason Keate won A Class with 44XS0, and (Jake) Dave Jacobson won by count back B Class with 36XS0. We had four Annie Oakleys that would have been a lot more funner if it hadn't been 20* and snowing. I would like to thank Jake for the wood for our stove, also Bill B., Ron, Kristie and Joe Campbell for help too. Thanks again to everyone who has donated time and money to "Dukes Claybusters."
Lonny Jelinek is coach of the Dukes Claybusters.
---