Boundary County urges public to attend fireworks show, not light fireworks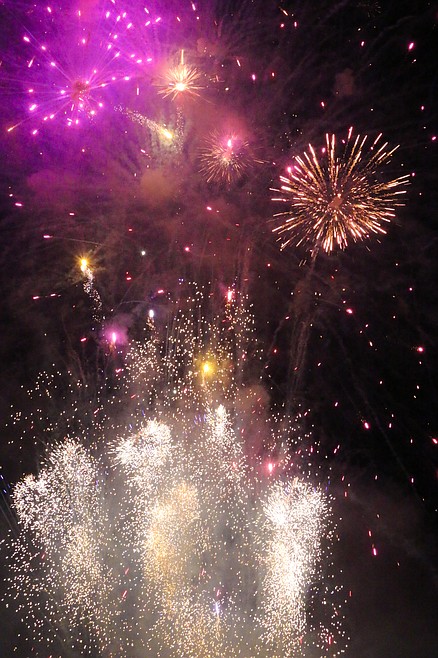 File photo by MANDI BATEMAN The 2018 Fourth of July fireworks show.
BONNERS FERRY — Based on the current extreme heat and hot and dry weather outlook, the Idaho Department of Lands has categorized the current fire danger as VERY HIGH for the North Valleys and North Mountains. Therefore, all open burning has been closed, except for campfires.
While Boundary County Commissioners have not imposed a ban on legal fireworks, they urge extreme caution and recommend residents and visitors attend professional public fireworks displays rather than using their own fireworks.
The State of Idaho already prohibits most fireworks except for those that of the "non-aerial common" type. These include legal fireworks such as ground spinners, fountains, sparklers, smoke devices or snakes designed to remain on or near the ground and not to travel outside a 15-foot diameter circle or emit sparks or other burning material which land outside a 20-foot diameter circle or above a height of 20-feet.
Legal fireworks should be used only in gravel or asphalt areas away from vegetation and buildings, with a fire extinguisher or charged water hose nearby. Other fireworks, typically aerial ones, are illegal to shoot off in Idaho. Aerial fireworks present a huge risk for causing wildfires. While these kinds of fireworks may be purchased legally, Idaho law makes their use illegal.
Illegal-use fireworks include bottle rockets, skyrockets, roman candles, firecrackers, missiles, parachutes, sky flyers, display shells and other aerial items.
As Sheriff Dave Kramer stated in an article last week, "Just because you can buy fireworks does not make them legal to use, and the use of aerial fireworks without a permit could result in having the fireworks confiscated and being charged criminally."
If someone causes a fire through negligent or illegal use of fireworks, they can be held financially liable for any property destroyed, as well as for the cost of putting out the fire.
Firefighting is an expensive activity, especially when it involves firefighting aircraft! Idaho code also holds parents/guardians liable for damages caused by any minor child resulting from the use of fireworks.
Again, we are looking at VERY HIGH fire danger this holiday weekend. If you would like to thank your local firefighters for their service. Please do so by not using fireworks this year.
Recent Headlines
---