Tweedie brings home hardware, wows at tournament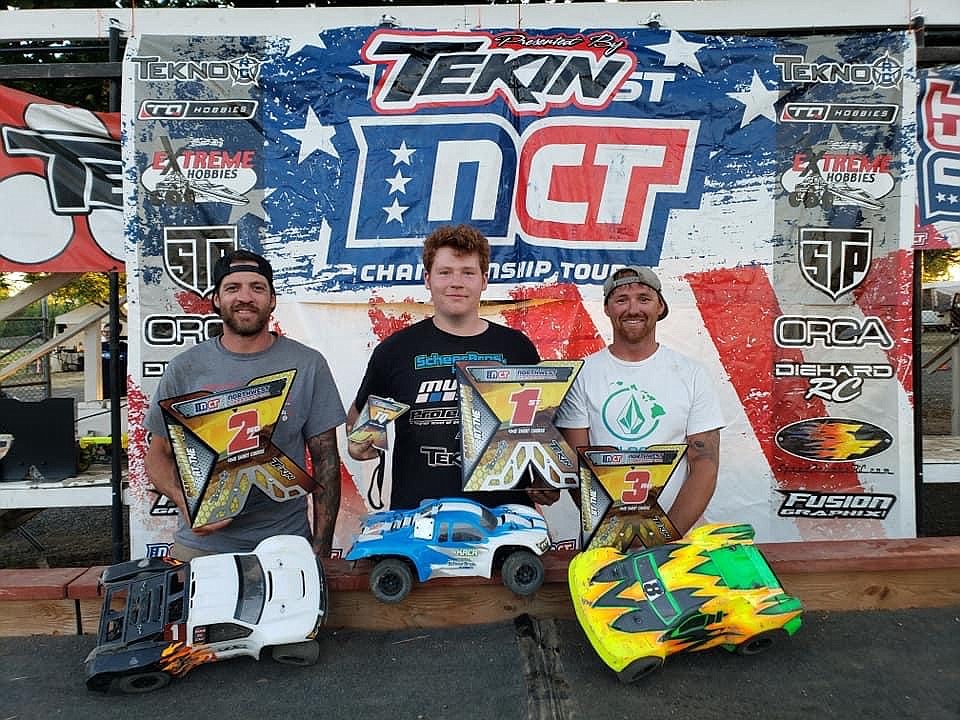 (Photo courtesy of Woody Garwood) Gage Tweedie takes first place on the podium and Rhett Long in second place.
by
VICTOR CORRAL MARTINEZ
Staff Writer
|
July 8, 2021 1:00 AM
Gage Tweedie competed at the Northwest Championship Tour held in Spokane and placed in the top three after multiple days of racing on Memorial Day weekend.
He quickly followed his success by dominating the NCT held in Walla Walla, Wash., which took place on Father's Day, taking home more hardware.
There were many entries, but after seven races, only 14 competitors competed in the final race. Short course trucks were set 8 feet apart in a line.
The race is conducted in 10 minutes, and a 1-second alert by referees helps start the race.
According to Gage's father, Rob Tweedie, "It was a race of some early wrecks."
A conflict with the second position RC vehicle left Gage unable to overcome the driver and crashed on a turn that pushed his time further back.
The amount of time remaining allowed Gage to focus and catch up to the first position. Gage was unable to take first place but was just short of first by half a second.
Gage stated that he was able to update his kit and focused on having the car prepped with the right tires, looking at the course terrain, and using the correct shock and differential oils.
"What a comeback, losing first by only half a second," Rob said.
The next race was in Walla Walla on June 18-20, where Gage swept all three races on the first day. The second day Gage repeated his success with another sweep, cementing his first-place position and garnering the top qualifier spot.
"Being in the first-place spot is always a great thing," Rob said. "The chance of a crowded field and wrecks goes way down."
As the final race began, Gage quickly led the pack of 14 racers and lapped against the second and third place competitors securing his undefeated win in the competition.
Gage was able to take home some hardware that included a first-place trophy and a top qualifier medal.
"It felt good winning on fathers day, since my father is the one who got me into the hobby," Gage said.
According to Rob, a first-place podium position is a highly coveted spot, but more importantly, Rob was ecstatic about his father's day gift from Gage, who dominated the competition.
The father and son have plenty to support and thank their sponsors Scheer Bros., Bonners Ferry Glass and Door, Hobby, General Feed & Grain, Riverside Auto, Far North Outfitters, Les Schwab, Boundary Tractor and Carquest.
"I wish to thank all the local businesses for their support in making a young man's remote control racing dreams come to reality, " Rob said.
Gage's next race is the Hot August Showdown the first weekend of August in Libby, Montana.
---