Bonners Ferry families prepare emergency kits
BONNERS FERRY — Flashlights, bottled water, a first aid kit, and ready-to-eat items fill the Jenkins' living room floor in Bonners Ferry. The family isn't going camping — they are preparing for potential disasters by putting together an easy-to-carry kit, often called a go bag.
Michael and Heather Jenkins never used to worry about natural disasters in the town of Bonners Ferry, but after many unexpected events during the past couple of years, they don't want to leave anything to chance for them and their five children.
"Everybody knows exactly which bag they're supposed to get," said Michael Jenkins. "We actually have a list right by the front door that has each person's assignment so there's no confusion when it happens." They have also created a secondary list which contains the items that they would like to load up in the car if time allows.
Jenkins acknowledged although they have not experienced an emergency yet, he views the effort as worthwhile. "As a parent, you're always trying to protect your children from danger," he explained. "Whether it happens or not, you want to be prepared."
"Having a personal preparedness plan increases your chances of staying safe," according to a training program from the Columbia University's National Center for Disaster Preparedness.
Their go-bags include water, a change of clothes, a small supply of food, phone chargers, and even things to keep the kids entertained. "We also have a packet with all of our important documents that's ready to go," Jenkins said.
Preparing in advance with a disaster-ready kit has assisted families nationwide through extreme and abnormal weather events, which experts warn are on the rise. The Federal Emergency Management Agency (FEMA) recommends collecting what everyone in the household needs to survive for several days.
Jenkins stated that many government websites have been useful in developing their plans, and as Jehovah's Witnesses, they have received guidance on how to prepare themselves physically and mentally for a disaster. "It's been very helpful to get those yearly reminders," he said.
"Life is precious, so we encourage all to heed the Bible's advice to take practical steps to protect ourselves from danger," said Robert Hendriks III, spokesman for Jehovah's Witnesses in the United States.
Disaster-preparedness suggestions and tips for putting together a go-bag are available from FEMA at ready.gov and from Jehovah's Witnesses at https://www.jw.org/en/library/magazines/awake-no5-2017-october/disaster-steps-that-can-save-lives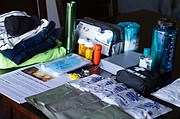 ---